Tweets of the year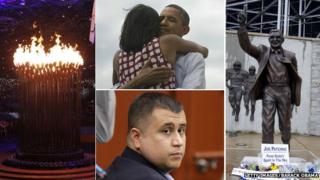 Every week, the BBC Magazine presents 10 tweets to capture the spirit of the news commanding attention in North America. Now, as we bid adieu to 2012, a look back on the tweets that encapsulated the year. As always, some are more serious than others.
1. In a better world, Transvaginal Ultrasound would be a 12-member white funk band from Savannah known for their hit "Smooth You."
27 February: Comedian Sarah Thyre (@SarahThyre) wasn't the only person to find humour in the term "transvaginal ultrasound," a medical procedure used in early stages of pregnancy to determine the age of a fetal embryo. It became part of the news cycle when Virginia debated a bill requiring those who wish to have an abortion to first determine the fetal age, which could require the use of the transvaginal ultrasound. A weaker version of the bill was eventually signed into law, and several states considered, and in some cases enacted, similar measures. The incident served as a harbinger for the charged role that women's health would play in politics in 2012.
2. Is that a lottery ticket in your pocket or are you just really bad at math
30 March: Matt Watson (@biorhythmist), offers a more rational take on the frenzy for the US Mega Millions lottery. The jackpot was worth $640m (£400m) thanks to unprecedented ticket sales. Despite the astronomical odds of winning, this year was a great one for American lotto, with multiple record-breaking jackpots.
3. I am relieved Zimmerman will be tried under evidentiary standards somewhat more robust than those of cable news
12 April: National Review Online writer Daniel Foster (@DanFosterNRO) reacted after George Zimmerman was arrested for second-degree murder, more than 40 days after he shot to death the teenager Trayvon Martin. Zimmerman, who was patrolling the neighbourhood as an unofficial neigbourhood watchman, said he was acting in self-defence. His critics say he stalked and chased the boy. In the days between the 26 February shooting and the 12 April arrest, the motives and culpability of Zimmerman became a topic of national media attention.
4. "Battle Escalates Over Islam's Role in Egypt," the @nytimes headline says. This headline has arguably been valid every day since 1798.
22 April: Andrew Exum (@abumuqawama), a Middle East analyst with the Center for a New American Security, on press coverage of post-Arab Spring politics in Egypt. Throughout the year, Egypt has stayed in the headlines as it navigates life after Hosni Mubarak.
5. AP says it's upheld, CNN says it's not. HOORAY WE ALL WIN
29 June: Buzzfeed.com sports editor Kevin Lincoln (@KTLincoln) after CNN and Fox News initially reported that the Supreme Court had struck down the contentious individual mandate of the US healthcare law. Actually, the law had been upheld, while limiting the requirement to expand Medicaid.
6. To everyone mad about Joe Paterno's statue being taken down - just look the other way & pretend it's not happening.
27 July: Twitter user "Bearded Stoner" (@beardedstoner) confronted supporters of the Penn State university football coach who is accused of covering up child molestation by a former assistant coach. The statue of Paterno was removed after a special investigation found that he didn't take sufficient action to protect children. The emotive case made national headlines throughout the year.
7. CTV is actually touting that we've achieved our best-ever number of bronzes. This may be the most Canadian brag ever.
12 August: As Olympic fever swept the world, Maclean's writer Scott Feschuk (@scottfeschuk) takes modest national pride in his country's Olympic achievements.
8. Newsweek ending its print edition. Soon, the table in my dentist's waiting room will just have a sign that says "Look at your phones."
19 October: Graceland writer Aaron Fullerton (@aaronfullerton) reacts to the announcement that Newsweek would only publish digitally starting 2013. The 79-year old news weekly had floundered for years, and editor Tina Brown, who was brought in to revitalise the publication, oversaw the shuttering of its print editions and the subsequent layoffs.
9. Horrible possibility: if the geeks are right about Ohio, might they also be right about climate?
10 November: In the wake of Obama's resounding win over Republican challenger Mitt Romney - a win that pundits said was unlikely but was predicted by statistics experts - Daily Beast writer David Frum (@DavidFrum) examines the consequences of the 2012 election. Namely, if the statistical analysis so accurately predicted the winner of a tough swing state, might statistical analysis be correct on climate change predictions? ‬
10. Bet Romney hates Santa Claus. That guy gives gifts to *everybody*.
16 November: In a call to donors, Mitt Romney said he lost the presidential election because Barack Obama gave "gifts," such as health care, to young and minority voters. Bloomberg writer Joshua Green (@joshuagreen) responded with this tweet, which encapsulated the impression many people had of Romney after the election. Though he polled better than Obama on some main issues, many Americans felt he didn't care about the middle class. Throughout the year, the Obama campaign targeted ads to reinforce this idea.