How unrealistic is murder on television?
By Lucy Townsend
BBC News Magazine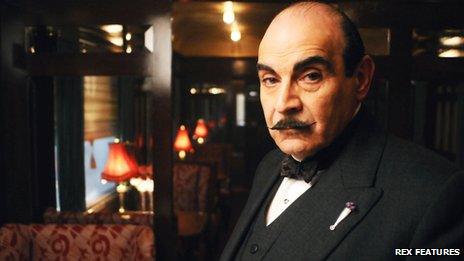 There is a great deal of fictionalised murder on television. But does it give us the wrong idea about crime?
Murder happens a lot less in real life than on television.
There were 636 killings in England and Wales in 2010-11 - that equates to 11.5 for every one million people - or a rate of 0.00115%.
The figure of 636 includes both murder and manslaughter. Every year about 65% of these killings lead to a conviction. Of that two-thirds, between 57-62% end with a conviction for murder.
The results of many cases from 2010-11 are still being collated, but one would expect a final figure of about 247 resolved murders from the total of 636 .
It's a lower figure than many might guess.
"People get it wildly wrong," says Crispian Strachan, former chief constable of Northumbria Police and now a tutor at the Cambridge Institute of Criminology.
"It's not surprising really. There is so much murder on television, in books, in films, and in the news, that people fear it more than they should."
The latest series of tongue-in-cheek detective show Midsomer Murders is drawing to a close. The murder rate in the fictional county of Midsomer has been estimated at 32 per million, in excess of the England and Wales figures.
In Murder, She Wrote, Jessica Fletcher's sleepy home town of Cabot Cove has a rate of 1,490 murders per million.
And it's not just the sheer volume of fictional murders on television but their nature that diverges from reality.
Of the 2010-11 killings in England and Wales, 435 were male and 201 were female, with 36 of the victims being children under the age of 16 killed by a parent or step-parent.
The most at-risk age group is historically children under one year old - 18 were killed that year.
Over three quarters of female victims knew the main suspect - 157 in total. Of those, 94 (47% of the total of 201) were suspected to have been killed by a partner or ex-partner.
Of the 435 male victims, 249 knew the main suspect. A mere 21 were suspected to have been killed by a partner or ex-partner. But 183 were thought to have been killed by a friend or acquaintance.
The kind of "whodunit" type of murder shown on television is not the norm.
Shows like Dexter, Wire in the Blood, Cracker, Messiah and even CSI depict serial killers and "stranger" murders generally with a regularity far from reality.
"There is a huge fear of stranger murders, which is completely wrong and unrepresentative of real life," says Strachan.
"The other thing is that fictional detectives let the bodies rack up. Morse once allowed six murders to take place in the time he was investigating one - if that was real life he would have been replaced by someone who could actually do the job."
Dramatic works have always been full of depictions of murder. Think of Hamlet.
But Shakespeare's Titus Andronicus is even more violent.
In his essay on the play, Professor Clarke Hulse counts "14 killings, nine of them on stage, six severed members, one rape (or two or three, depending on how you count), one live burial, one case of insanity and one of cannibalism - an average of 5.2 atrocities per act, or one for every 97 lines".
English theatre audiences were once notorious for their gory relish in onstage deaths.
But by the early 20th Century popular murder fiction had taken on a more genteel feel.
Detectives like Poirot and Miss Marple solved murders in a much more elegant fashion - often over tea and crumpets.
And there were detectives who didn't always trade in murder. Of the first 12 Sherlock Holmes short stories, only three revolve around murders.
But now death seems to dominate.
In a paper printed in the British Medical Journal, Tim Crayford, Richard Hooper and Sarah Evans reported that the mortality rate for characters in the television soap operas Coronation Street and EastEnders exceeded those of bomb disposal experts and racing drivers.
Deaths were generally violent, and recently introduced characters had a five-year survival rate.
Vivienne Pattison is director of Mediawatch UK, a campaign group that fights for "family values" in the media, and against graphic violence. But even she says murder has a role to play.
"I don't think there's anything wrong with the subject being covered on television per se, it's how it's dealt with," she says.
"There is clearly a huge amount of difference between the treatment of murder in say The Killing - which invites the viewer to solve the case, EastEnders - which usually looks at motivation and the emotional fallout from the event, and the Saw franchise - the films of which are little more than gore fests of torture porn.
"The latter I do consider to be more problematic as they remove the humanity of the victims and so the death itself becomes entertainment."
Murder stories will always enthral - whether through their dramatic horror or the thrill of piecing together the jigsaw.
And while they may play a part in people's heightened fears and misconceptions, they still have a place in the dramatic canon.
"It's really a very strange literary and filmic form if you think about it," says crime writer Andrew Taylor.
"We all live in this terrifying world. It's quite nice to feel afraid vicariously and then have it all tied up neatly at the end. It's a bit like inoculation."