Fiscal cliff, trillion-dollar coins, and Joe Biden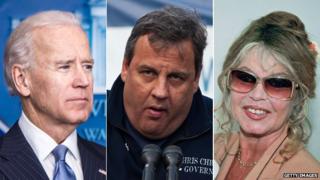 For the week ending 4 January, a look at the news making waves in America - all in 140 characters or fewer.
1. If Congress doesn't act, then at midnight, RTs become endorsements
Washington Examiner columnist TP Carney (@tpcarney) examines some of the dire consequences of the US going over the fiscal cliff.
2. Wow...Fiscal Cliff 2 (debt ceiling/revisited sequester) will be here before DVD set of Fiscal Cliff 1 goes on sale
Chief Whitehouse correspondent for CBS news Major Garrett (@majorCBS) gears up for another big fight over the government's finances.
3. Isn't there some way I can pay Andrew Sullivan $20/year to keep Tina Brown *off* the Internet?
Washington DC pundit Chris Lehmann (@lehmannchris). Blogger Andrew Sullivan announced he was parting ways with Tina Brown and Newsweek in favour of setting up his own shop. Readers have been asked to pay $19.99 as part of a metered content model.
4. A politician is suing the NCAA. It's too bad somebody has to win.
Sports Illustrated writer Michael Rosenberg (@Rosenberg_Mike). This week the governor of Pennsylvania sued the National Collegiate Athletic Association over sanctions the body imposed at Penn State.
5. Liked "Les Miz" (the play) but wished they were all way bigger and screaming right in my face. Is there a current film I might enjoy?
Family Guy writer Seth MacFarlane (@SethMacFarlane) explores his options at the cinema.
6. With Nobel Prize, Academy Award and Larry David's wife safely in hand...Al Gore finally sells out to big oil.
Former Republican campaign worker Adrien Gray (@adrien_gray). Former Vice-President Gore sold the cable network CurrentTV to Al-Jazeera this week.
7. A trillion dollar coin really feels like the U.S. jumping the shark. We've been on for too many seasons, the plots are getting zany.
The Twitter account for the Forbes Modeled Behavior (@modeledbehavior) blog. The US Treasury cannot print new bills to pay off debt, but is able to mint a coin that could be used for that purpose. This week, several influential economists and political minds discussed the benefits of this plan.
8. Brigitte Bardot threatens to follow Gerard Depardieu's move to Russia, allowing the nation to make the worst romcom ever.
Copywriter Mark Campbell (@MrWordsWorth). Depardieu became a Russian citizen this week to avoid French taxes, while Bardot threatened to do the same as a protest against animal cruelty.
9. Chris Christie was obviously visited over the holidays by a time traveller warning him to never be nominated for President.
Red State co-founder Joshua Trevino (@jstrevenio) after Republican governor Christie publicly blasted the Republican party for delaying a vote on hurricane aid. ‬
10. The Biden reality show obviously has to be called "Literally Joe."
Slate writer David Weigel (@daveweigel). After Biden put on a colourful performance swearing in the new Congressional class, a petition appeared on the White House web site demanding that Biden star in his own reality show.
Some tweets have been edited for style and clarity