Kim Kardashian: How do Armenians feel about her fame?
By Vanessa Barford
BBC News Magazine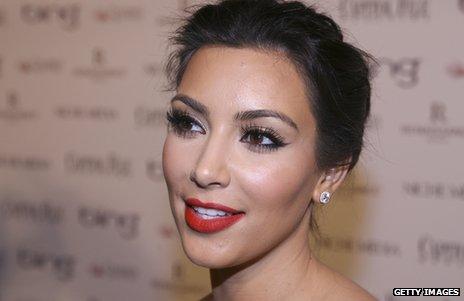 Kim Kardashian is one of the world's most famous reality TV stars. The 32-year-old is of Armenian descent. So how do Armenians feel about her fame?
Kim Kardashian is a household name in the UK and the US, best known for reality shows and a leaked sex tape.
Her recent pregnancy announcement was front page news. Newspapers and news websites like the BBC, Washington Post and Le Figaro reported the event.
On sites like Mail Online, TMZ and E Online barely a day goes by without Kardashian featuring.
There are many people who follow each twist and turn of her life. There are many more who are either indifferent or are actively hostile to hearing about her activities, regarding her as a sad sign of the times, a reality TV star obsessed with fame.
But for some it's impossible not to read her surname and think of her Armenian heritage. Kardashian is distinctively Armenian. The model's father, paternal grandparents and paternal great grandparents were all of Armenian descent.
So how do people in Armenia - a country with a population of only three million - reading about someone who is one of the world's best-known ethnic Armenians, feel about her fame?
Photos of Kim Kardashian are splashed across the front pages of magazines and adorn billboards, the walls of car washes and car parks in Yerevan, the country's capital, according to BBC monitoring journalist Armen Shahbazian, who was based in Armenia between 2007 and 2011.
But he says that doesn't mean the nation loves her.
"Kim is an Armenian and famous in the world, so this is enough for every Armenian to be proud of Kim. But because of cultural and traditional issues, they do not want to accept that she is an Armenian," he says.
Stories about Kardashian are frequently a topic for comedy programmes, he says.
"They always compare the Armenian French singer Charles Aznavour, who they are proud of, with Kim Kardashian, who is seen in a more negative light. They don't want her to present their country," he says.
Her "open sexual life and video tapes" are the sticking point, he says. Essentially, many Armenians do not want people all over the world to think that all Armenians are like Kim Kardashian.
He says there is also a generational divide. She is often seen as "respectable" by those who are in showbusiness, and by the younger generation, who are not as attached to old traditions. But the majority, those who were educated before about 1990, are less enamoured, Shahbazian says.
Lucy Harutiunyan, a 22-year-old public relations officer at Armenian and English newspaper Noyan Tapan, in Yerevan, agrees age has a bearing.
"People who have conservative opinions, which tends to be elders, will judge her. But people who are forward thinking are all proud of her.
"Girls see her as a fashion icon, guys think she's really hot. We love her because she is Armenian and she represents the nation," she says.
However Harutiunyan agrees Kardashian's life is not like that of ordinary Armenian women.
"She does what she likes, and dates who she likes. Armenian do date, but mostly guys that they are going to marry, and don't have sex before marriage," she says.
But then, Kardashian is hardly your typical American or British woman, points out Dr Armine Ishkanian, a lecturer in social policy and an expert in Armenian studies at LSE.
And just because some Armenians - both in Armenia and the further seven to eight million Armenians in the diaspora - are proud of her, it doesn't necessarily mean they all want to be like her, she says.
But many admire the way she has used her celebrity status to speak out about issues Armenians care about, such as the killing of Armenians under Turkish rule in WWI, Ishkanian argues.
Last year, Kardashian tweeted: "Today lets all stand together & remember the 1.5 million people who were massacred in the Armenian Genocide."
Hundreds of thousands of Armenians died in 1915 at the hands of the Ottoman Turks. Armenians have campaigned for the killings to be recognised internationally as genocide - and some countries have done so. Turkey admits that many Armenians were killed but it denies any genocide, saying the deaths happened during widespread fighting in WWI.
Kardashian was quick to explain when photos from a shoot appeared on Cosmopolitan magazine's Turkey edition in the same month as Genocide Remembrance Day. She has also spoken about the current plight of the Syrian Armenian community.
"Of course it would be good if there were also other high-profile Armenians in the US and UK who were as widely recognised for their achievements as Kim is recognised for her celebrity," says Ishkanian.
"But in today's celebrity - obsessed and tabloid driven culture, people are much more interested in and fascinated by reality TV stars than doctors, scientists, artists and classical musicians. I don't think this is an Armenian phenomenon - it is a global one," she says.
Of course Kim Kardashian is not the only global celebrity to spark mixed feelings in a small country that could lay claim to them. Hundreds of years ago it was emperors or explorers that put villages, towns or countries on the map. Now it is more likely to be an actress or a musician, a politician or a sports star.
Gibraltar-born fashion designer John Galliano is one of the tiny British overseas territory's biggest names. But his reputation was tarnished by a conviction for making anti-Semitic remarks in a Paris bar.
Former US vice president Dan Quayle was a notable person of Manx descent - the name Quayle originates in the Isle of Man, where his great-grandfather was born. But he was internationally ridiculed when it appeared he could not spell the word "potato". Of course now the Manx have cycling superstar Mark Cavendish.
And for Armenians who don't like reality stars, they can always look to Levon Aronian. He's the world's third-best chess player.