Tweets of the week: Justin Bieber, Lance Armstrong and Jack Lew's signature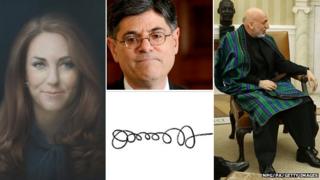 For the week ending 11 January, here is a look at the news in America - all in 140 characters or fewer.
1. Next thing you'll tell me, those yellow wristbands don't help make your cancer go away.
New York Daily News Opinion Editor Josh Greenman (@joshgreenman) after it was revealed that Lance Armstrong may confess to doping in an interview with Oprah Winfrey.
2. I'm worried about Justin Bieber being photographed holding a joint. Doesn't pot know that Bieber is a gateway to One Direction?
Comedian Scott Dooley (@scottdools). The Canadian pop superstar was photographed at a party holding what looked like a marijuana cigarette.
3. Obama nominating Chuck Hagel is basically the highest-profile act of presidential trolling in history.
Slate writer Matthew Yglesis (@mattyglesias). Obama appointed the former Republican senator to head the department of defense, but many in Congress oppose Hagel's positions on Israel, Iran, and the Pentagon budget.
4. Driving drunk takes leadership.
Reuters media critic Jack Schafer (@jackshafer) after Republican Idaho Senator Mike Crapo was named chief deputy whip for the new session of Congress. Earlier in the week, Crapo pleaded guilty to charges of drink-driving.
5. Alex Jones says "50 Shades of Grey" is propaganda the New World Order uses to persuade people it's sexy to be chained up.
Forbes blogger Jeff Bercovici (@jeffbercovici). Jones, a conservative gun rights proponent, caused a stir this week when he went on Piers Morgan's CNN programme and railed against the New World Order and its intent to confiscate people's guns.
6. Bummed that the best baseball player of the last 20 years didn't get voted into the Hall of Fame. You'll get 'em next year, Empty Syringe.
VH1 writer Erica Gloria Ryan (@morninggloria). This year, no one was voted into the baseball Hall of Fame in part because many of the top candidates are tainted by allegations of doping.
7. Congrats to Jack Lew (Forest Hills HS '72) on his nomination as Secretary of the Treasury. We're proud of all of our students' penmanship!
The Twitter account for the New York City Public Schools (@NYCSchools). Jack Lew's distinctive signature was a topic of debate this week, though Obama said it would have to be modified to be printed on the US currency.
8. Right now House Middleton is sending a raven to the Faceless Men, asking them to "take care" of the scoundrel who painted Kate's portrait.
Writer Seth D Michaels (@sethdmichaels) suggests Game of Thrones-style of justice for Middleton. The official portrait of the Duchess of Cambridge was unveiled on Friday to mixed reviews.
9. Say what you will about Hamid Karzai, the man has magnificent taste in capes.
Atlantic writer Molly Ball (@mollyesque). The Afghan president visited the White House this week to discuss the drawdown of US troops from Afghanistan.
10. What is the second half of the new David Bowie song like? I haven't made it that far in without drifting into unconsciousness.
Twitter user cluedont (@cluedont). Bowie released his first single in ten years this week.