HMV, Our Price, Virgin: The place where you bought your first CD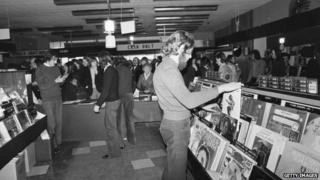 If HMV stores disappear from the High Street it will mean the extinction of the High Street chains where most bought their first music.
Music was always better back in the day. Few things are as susceptible to nostalgia.
The likely demise of HMV, the last major music retailer on the high street, is a sad reminder for those who began buying music in the 80s or 90s that life will never be the same.
Remember the thrill of that first purchase.
Browsing at the racks and deciding on your format - vinyl for the artwork, tape for convenience, CD if you were rich.
Feeling the weight of it in your hand as you approached the counter, a hint of anxiety that the sales assistant might snigger or tut. In branches of Our Price you would bring the empty cassette box to the counter and the impossibly cool looking assistant in black polo shirt would get "the goods" from a cupboard behind them.
On the way home you would battle with the cellophane before reading the lyrics. Pressing play and you would sometimes be met by crushing disappointment at the realisation you'd been sold a lemon. More often there was a sense that something new and exciting was taking place in your bedroom.
The first record you bought was likely to have been at a High Street chain. Mine was The Rain by Oran Juice Jones on 7 inch at Woolworth's in 1986.
In the 1980s retailers like Woolworths, Boots, John Menzies, Littlewoods and WH Smith had a music department selling chart singles and the odd album. For a wider choice you had to venture to the dedicated chains - Our Price, HMV, Virgin, and in London, Tower Records.
Later you might discover independent record stores policed by sullenly cool staff, as evoked by Nick Hornby's High Fidelity. But HMV and its sidekicks were the gateway record store.
"A lot of people in the indie sector have a patronising view of people who shop in HMV," says Simon Price, music critic for the Independent on Sunday. "But everybody starts that way."
Price remembers queuing up in his local HMV in Cardiff in the early 80s to get a copy of Na Na Hey Hey Kiss Him Goodbye signed by Bananarama. "I think I had a massive crush on Siobhan," he says. Years later he was there to do a signing himself, after writing Everything (A Book About Manic Street Preachers).
HMV had the pedigree. His Master's Voice - the name was august and patrician sounding, the first store opened by Sir Edward Elgar in 1921, and Nipper the dog and the phonograph taken from an 1890s painting.
None of this mattered to the teenage you. HMV seemed cool and edgy to a 14-year-old who'd only vaguely heard of the Stone Roses. It was also huge, like the vast rolling plains of the Serengeti, only populated by the back catalogue of Ned's Atomic Dustbin and Fleetwood Mac rather than big cats.
There was often a perspex stand housing a CD cover and the rubric "Now playing" written on it. Then came the listening post, which seemed revolutionary. Sound from the capacious headphones flooded the senses. It was sometimes hard to control the pelvis and feet.
Until you sensed the man listening to Simple Minds was looking at you.
The in-store gig was another HMV staple. Rather poignantly, the website on Tuesday still displayed a list of acts - Adam Ant, Funeral for a Friend and Bullet for My Valentine - who are slated to play at HMV's stores in the coming weeks.
Gareth Harwood, on Twitter as @greedy_fish, tweeted a picture of the HMV dog being put down. He looks back fondly on buying records at Virgin Megastore in Brighton.
"My first CD album is a bit embarrassing it was Cross Road by Bon Jovi - their greatest hits. I washed cars to pay for it. It was an adrenaline rush to get it home."
In his father's day the Virgin in Brighton had a hippy feel with bean bags for people to sit and smoke on. But by the late 90s the HMVs and Virgins were morphing into temples of entertainment - video, magazines, T-shirts, posters and books had been added.
Andy Marczak remembers buying Beastie Boys' (You Gotta) Fight For Your Right (To Party!) at Reading's HMV. "My memory is that the Classical section was in a separate soundproof booth, as protection from 'that racket'!"
Freelance journalist Caroline Thorpe recalls the indecision that could strike. "I remember a very troubled and lengthy session in HMV deliberating over whether to buy Definitely Maybe or The Great Escape. Went for Oasis in the end, and never regretted it."
Pete Paphides, the music writer and 6 Music presenter, remembers 1980s Birmingham having a dozen places where you could buy records. HMV was the biggest until Virgin opened a Megastore.
Bob Stanley from indie band Saint Etienne wrote a blog last year highlighting how far HMV had fallen.
Paphides went into the Oxford Street store last week after hearing that there were blue stickers on almost everything giving 25% off. He bought a Charles Mingus album on vinyl. "They had a really good vinyl collection in the basement but not many people knew that. All the people who thought of themselves as connoisseurs had stopped going, they felt it was not for them."
The store had diversified too much. "They were desperate to sell you just about anything. There was a big display of Haribos - you could buy sweets!"