Tweets of the week: Inauguration, Hillary Clinton and crocodiles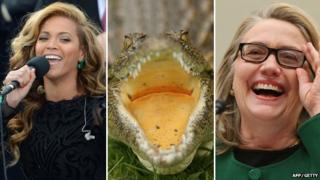 For the week ending 25 January, here is a look at the news in America - all in 140 characters or fewer.
1."Change the channel. Dammit. Change the channel. Come on! Change the channel. Shoot really? Change the channel. Ugh." - Mitt Romney
Comedian and actor Kumail Nanjiani (@kumailn) imagines how the former Republican presidential candidate must have felt on inauguration day. Romney did not attend the festivities in DC, staying at home in La Jolla, California, instead.
2. Scalia is exercising every mental discipline he possesses to not rush the podium and tackle this poet.
Political science professor Daniel Drenzer (@dandrezner) fears that Supreme Court Justice Antonin Scalia had little patience for Richard Blanco, the first gay man and first Latino to be named inaugural poet. While poetry fans raved about his work, others found it dull.
3. As an experiment, I'm going to start referring to men as "our husbands, fathers and sons." Just to see if anyone finds that a little weird.
Huffington Post politics reporter Laura Bassett (@LEBasset). Some people complained about Barack Obama's rhetorical device of referring to "wives, mothers and daughters" when talking about women's rights.
4. If the thing you're most mad about is Beyonce lip-syncing then you're gonna be just fine.
Hollywood Reporter television critic Tim Goodman (@BastardMachine). After the inauguration, speculation and accusations flew that Beyonce mimed to a pre-recorded version of the Star Spangled Banner.
5. The last time NYC had 5 days straight below freezing was 2007, back when we could only whine in emails, or with our mouths.
Writer Brent Cox (@titivil) wonders how people dealt with the cold before social media.
6. Manti Te'o leaves Katie's studio, shakes off his strange posture and stilted speech, turns back into Keyser Soze. And like that, he's gone.
New York Times writer David Itzkoff (@ditzkoff). Te'o gave an interview to Katie Couric this week denying, among other things, any knowledge of the "catfishing" scam involving his fake girlfriend who died of cancer.
7. Feeling like Hillary is going to unfriend Ron Johnson on FB after this
National Review writer Katrina Trinko (@KatrinaTrinko). Clinton and Representative Johnson had a heated exchange during her committee testimony on Benghazi.
8. New Star Wars movie? Obama is really getting things done in his second term.
Comedian Erik Tanouye (@toyns). Industry insides speculated this week that JJ Abrams would direct the latest instalment of the sci-fi franchise.
9. 15,000 crocodiles escaped from a flooded South African farm, which is also the plot of Samuel L. Jackson's next movie.
Copywriter Mark Campbell (@mrwordsworth). Heavy rains led to the escape of thousands of crocodiles.
10. Did anyone consider the possibility that maybe the Gowanus dolphin just wanted to buy some artisanal pickles?
New York Daily News editorial editor Josh Greenman (@joshgreenman). A dolphin was spotted swimming in the polluted canal that runs through Brooklyn.