What history should be in the UK citizenship test?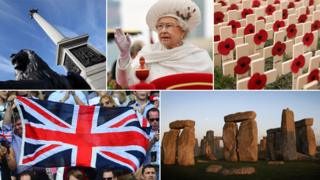 A new version of the UK citizenship test, with a greater focus on history, has been announced by the Home Office. Which events should immigrants be quizzed on?
Most British children learn about Henry VIII and his six wives, the Industrial Revolution and the two world wars.
But there's rarely agreement about what particular events are essential to a well-rounded knowledge of history.
The Home Office has now announced that a new version of the UK citizenship test will have more questions on British culture, history and traditions. The handbook Life in the United Kingdom has been updated.
While some historical information was included in the old handbook, there was less focus on history, the Home Office argues.
"Migrants did not have to show they had an understanding of how modern Britain has evolved. The new book and test will focus on events and people who have contributed to making Britain great," says a spokesman.
But how does learning about key historical moments tie into citizenship?
"History tells us who we are, where we came from and where we are going. It is the adhesive that knits our society together," says Christopher McGovern, director of the History Curriculum Association.
Comparing sample questions from the old and new citizenship tests, McGovern says the old test was too focused on access to welfare provision, such as free prescriptions, free legal advice, free healthcare and free training opportunities.
The new focus on the identity, history and culture of Britain will help migrants to integrate more successfully, he believes.
"Knowledge of the landmarks of British history is fundamental to securing and maintaining an integrated society based on shared values."
McGovern says that landmark historical events such as the location of Stonehenge, or who fought in the Battle of Trafalgar will give those new to the UK a starting point to learn about important periods of history.
"They are the signposts that guide us to a fuller understanding of Britain," he argues.
Some however, argue that multiple choice questions do not give enough context.
Historian and author Neil Storey says the questions are too simplistic and need to include the history of freedom, democracy and mutual respect "that we have prided ourselves on in Britain".
"We cannot have citizenship based upon what I would describe as a trivia test. It is essential to have a basic understanding of our history - good and bad - and the experiences of our nation at peace and war, because it defines who British people are."
The test, Storey adds, is a good start but it is equally important to learn how Britain has got to where it is, and what it has cost men and women to get there.
For example, people should learn about those who lost their lives during WWI and WWII, or the suffragettes who fought for women's rights to vote.
But will questions on a test - be it a school exam or a citizenship test - really encourage those taking it to learn more about the subject matter?
Historian Andrew Roberts believes it will help people appreciate "the long and splendid history of Britain".
"Anyone attempting to walk down a street in the UK without having any concept of this country's past is going to have a poorer understanding of life in Britain. These historical questions will help enrich migrants' lives."
But Iain Aitch, author of We're British, Innit, says while learning about history may be useful, it would be more relevant to learn what rhubarb or mushy peas are, as well as pub etiquette - like the custom of ordering a round of drinks in a bar.
"With any test people will learn what they need to. There may only be a small percentage who become interested in history.
"Britishness is something that comes with time. You learn to queue, not complain about your poor lunch and to be able to talk about the weather at length without saying much at all. Some things are nuanced and not really testable," adds Aitch.
*New test taken from a sample of 10 questions provided by the Home Office. The old test taken from a sample from the official practice citizenship test.