Shiv Sena knives: At the sharp end of Indian politics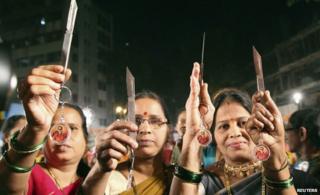 The death of a 23-year-old woman who was gang-raped in Delhi in December, sparked widespread protests and has led to demands for greater security for women - and at least one initiative to provide women with weapons.
In the middle-class district of Lalbaug in central Mumbai, a group of far-right politicians is handing out knives - 21,000 sharp, short blades distributed by enthusiastic party activists.
Several thousand women wait to receive their bounty in the humid early evening air. Many of them have dressed-up for the rally, their shalwar kameezes a riot of colour, their foreheads decorated with bright bindis (dots of colour).
They are here to celebrate the birthday of the late Bal Thackeray, the founder of Shiv Sena.
Little-known outside Mumbai, Shiv Sena wields extraordinary power in India's economic capital.
Founded in 1966 by Thackeray, a political cartoonist at the time, the party initially pushed for the rights of the native Maharashtrian community in the face of a wave of immigration from South India.
With a militant wing, a fondness for bandhs (mass strikes) and violence, Shiv Sena has been a major political force in the city, winning control of the state of Maharashtra in 1995. The charismatic figure of Thackeray led the strikes until his death in November last year.
In the wake of the horrifying Delhi rape case in December, Shiv Sena has turned its focus to the issue that is dominating the country's newspapers and television channels - women's rights.
I spoke to the girl next to me on the bus the morning I arrived in Mumbai, a student from Chennai.
She disapproved of Shiv Sena's politics, she said, but claimed that the party's white-coated "moral police force" had made life better for women in Mumbai.
She had taken a train at midnight the night before, something she would never be able to do in her home city.
The culture of "Eve teasing" - an ugly euphemism for sexual harassment - is far less pronounced in Mumbai than in any of India's other major cities and Shiv Sena can take much of the credit for this.
While the party has its bigots and bruisers, its record on putting forward female candidates, on speaking out against practices such as sati (the banned practice of burning widows on the funeral pyres of their husbands) and forced marriage, is impressive.
I arranged to meet Thackeray's biographer, the political journalist Vaibhav Purandare, in The Gaylord - a glitzy restaurant in south Mumbai.
I walked to our rendezvous through Churchgate and past the hockey stadium which still carries traces of recent Shiv Sena protests that forced the Pakistani team to flee the country.
We sat outside, looking out on to a road lined with vine-clad baobab trees in which hooded crows cackled and croaked.
I asked Purandare about the party's role as defender of the city's women.
"Shiv Sena is facing a crisis of identity," he told me.
"Since they lost power in the state in 1999, they've been struggling. They are desperately looking for issues.
"Suddenly, since the rape on the Delhi bus, people are concerned about the safety of women. There are spontaneous protests, the feeling that the government is not doing enough. Shiv Sena thinks it can cash in on this."
I asked him about reports of the party's "moral police force" attacking women for wearing short skirts and harassing couples for walking arm-in-arm in public.
"There's some truth to those stories," Purandare told me, "but they aren't just brutal thugs." And this is from a man whose face bears the scars of a recent run-in with the Shiv Sena militia, while reporting on a city-wide strike. He escaped with two broken cheekbones.
"The Maharati community has strong, independent-minded women," he continued.
"In a Maharati family it's the women who call the shots and Shiv Sena needs to work with this, to appeal to them."
The next morning I walked along Marine Drive, to a meeting with one of the rising political stars of Shiv Sena - Shweta Parulekar.
She is a serious, self-contained woman dressed in saffron and red and frowns at my description of Shiv Sena as a party of violence.
"What can you do if you try all of the normal, legal methods?" she asked, holding up her hands.
"Ultimately, what does the common man do? He goes out on to the streets."
Parulekar called the handing out of knives by the party: "A publicity stunt, to make a point."
From the brief time we spent together I cannot think the pun is intended.
On the television that evening, a local Shiv Sena leader energetically defended the arming of the city's female population.
"Bal Thackeray used to say women should prefer a rampuri (knife) in their purse, to a lipstick," he said.
"This government has failed to provide security to women so we are distributing these knives to empower them."
I tried to buy one from a plump grandmother at the rally as a souvenir, but she was unwilling to part with it.
She showed it to me, though.
At the bottom, hanging like a pendulum, is a picture of Bal Thackeray: a serene, orange-robed guru, grinning.
How to listen to From Our Own Correspondent:
BBC Radio 4: Saturdays at 11:30 and some Thursdays at 11:00
Listen online or download the podcast.
BBC World Service: Short editions Monday-Friday - see World Service programme schedule.