Tweets of the week: Monopoly, Beyonce and super storm Nemo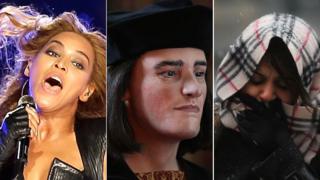 For the week ending 8 February, here is a look at the news in America - all in 140 characters or fewer.
1. My favorite part of any athletic coverage: the live mic profanities.
Radio host Peter Sagel (@petersagal). After the Baltimore Ravens won the Super Bowl, the post-game cameras caught several blue comments from members of both teams.
2. We've moved quickly from "ZOMG the GOP will take Kerry's seat" to "LOL Mass GOP."
Slate political reporter David Weigel (@daveweigel). After Scott Brown announced he would not run for the empty Senate seat in Massachusetts, the Republican odds of taking back the seat dimmed.
3. Please be true! I heard a camping shop in Leicester has a sale on with a sign saying "now is the winter of our discount tents" #richardiii
Social media consultant Simon Sanders (@simonsanders). The bones of the former King Richard III were confirmed to have been buried under a Leicester car park.
4. You're only allowed to criticize the Post Office for canceling Saturday mail if you work six days a week.
Nation writer Ari Melber (@arimelber). To cut costs, the Post Office announced plans to cease delivering first-class mail on Saturdays. They will still deliver packages.
5. Kerry may stand up to extremism and chaos, but brevity is losing out.
CBS News White House correspondent Mark Knoller (@markknoller). John Kerry was sworn in as Secretary of State this week. A lengthy speech followed.
6. I'm sure my most photogenic moments look like the Elephant Man eating a burrito compared 2 any unflattering pic of Beyonce at the Super Bowl
Travel host Zach Anner (@zachanner). Beyonce's publicist made a stir this week when she requested that unflattering online shots of her client's muscular performance at the Super Bowl be removed.
7.Remember, if you've never piloted a drone or been hit by a drone or been a drone, your opinions on drones lack credibility.
New York Daily News opinion editor Josh Greenman (@joshgreenman). This week, the Obama administration revealed its rationale for using drone strikes to kill Americans working with al-Qaeda overseas. It also emerged the US had a drone base in Saudi Arabia.
8. Folks who voted out the iron in favor of the cat are going to regret it when all their Monopoly clothes are wrinkled and covered in cat hair
Daily Show writer Daniel Radosh (@danielradosh). After a social-media driven contest, the iron playing piece in Monopoly was retired in favour of a new piece, a cat.
9. What I like best about George W. Bush's shower painting is it looks like a Criterion cover for a Wes Anderson movie.
Sports writer "netw3rk" (@netw3rk). An email hacker revealed several paintings by the former president, including self portraits in the bath and shower.
10. Have a storm plan. Which family members will be eaten first? Lead an honest, loving discussion based on merit and caloric value.
Internet humourist PourMeCoffee (@pourmecoffee). Most of the American north-east was hit with a possibly-historic snow storm on Friday.