The rise of the ready meal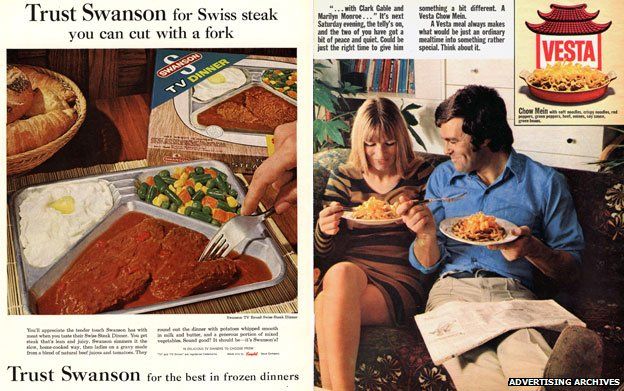 With horsemeat in ready meals grabbing the headlines, how did prepared food in foil trays become so popular?
It all started with turkey and television and is now an industry worth £2.6bn in the UK alone. It's safe to say ready meals are an essential ingredient in what the British eat.
The roots of the modern ready meal go back to 1950s America and a food company called Swansons, although others had dabbled with them previously.
Left with a huge surplus of turkey after Thanksgiving in 1953, Swansons hit upon the idea of packaging it up with all the other components of the traditional American dinner. But the stroke of genius was packing it all into the aluminium trays used to serve food by airlines. The containers acted as both baking tray to cook the frozen meal and a plate off which to eat it.
With television taking a grip across the US, the company named its new product the "TV dinner" - one theory for this being that you could eat and watch. The new meals were a staggering success, with 10 million reportedly sold in the first year.
It was a while before the ready meal took off in the UK. This is largely because domestic freezers did not become the norm until the late 1960s and early 70s, says Alan Warde, professor of sociology at the University of Manchester and author of Consumption, Food and Taste.
"When there was a universal domestic way of storing frozen food, companies saw the commercial opportunities associated with it."
But it wasn't just technology that fuelled the growth of such meals.
Family life was also changing. More women were working and everyone was putting in longer hours at the office.
Anything that could save time was popular and promoted as a good thing. It became all about convenience.
"Ready meals at the time were advertised as being useful and helpful," says Warde. "They were a relief from domestic labour, even if you had the time to cook from scratch."
The start of package holidays also meant people were becoming more adventurous when it came to food.
"When they first came out, ready meals were impossibly exotic and exciting, they were magical things," says food writer and critic Matthew Fort. "We all aspired to a Vesta curry."
From the mid-70s to the early 80s, frozen food took off.
The likes of Findus Crispy Pancakes and Birds Eye Potato Waffles were being served up in homes across the UK. New frozen desserts also became popular, such as Black Forest Gateau, Wall's Viennetta and Birds Eye's Arctic Roll.
But it wasn't only technology that firms were capitalising on, the rise in divorce rates was also considered an opportunity. More men were having to cook for themselves and ready meal producers were on hand to make it as easy for them as possible. Advertising campaigns were targeted at single men, although this sales tactic wasn't without its problems.
"The model for the proper way to eat was - and still is - a meal at home, with your family, sitting around a table," says Warde. "Eating alone was often viewed as a sign of social neglect."
Not only were connotations of loneliness attributed to ready meals, their quality also started to be questioned, with frozen meals increasingly seen as second rate.
"People woke up to the yawning chasm between the beauty of the picture on the packaging and the brown junk served on the utilitarian tray inside," says Fort.
Frozen food, once a status symbol, had lost its shine. Consumers wanted freshness - and one retailer was ready to give it to them in a move that would change the face of ready meals forever.
In 1979 Marks and Spencer launched its ready-made chicken Kiev. What made it different from everything that had gone before was that it was chilled, rather than frozen.
This met consumer demand for freshness and made people feel a step closer to the idea that they had made it themselves, says Warde. Major developments in stock control and faster distribution also helped revolutionise the market.
Chilled ready meal sales rose throughout the 80s and the arrival of microwaves in the domestic kitchen only increased them further.
By 2012, the chilled ready meal made up 57% of the UK prepared meals market, according to business analysts Mintel. The market as a whole - now dominated by supermarkets making their own meals - is valued at £2.6bn.
Chilled meals arrived in an era when healthy eating was becoming more fashionable. Again the industry responded with the likes of Findus Lean Cuisine and McCain Oven Chips which used sunflower oil, the healthy option to the deep-fried version.
Increasing awareness of healthy eating continued in the 90s, with people becoming more concerned about e-numbers, additives and nutritional issues. It prompted the emergence of premium products and ranges. People were willing to pay more for something a bit posher.
"There started to be hierarchy of products," says brand expert Jayne Rogers. "Supermarkets introduced luxury ranges. Labels and packaging also started to change, they got much fancier with high quality, seductive images."
The focus on quality continued into the 21st Century. The increasing number of people eating out also had an impact.
"It influenced what people wanted to eat at home but most of the time didn't have the culinary skills to make, ready meals were the alternative," says Warde. "The industry is extremely versatile and constantly introducing new products in response to trends."
This has helped make ready meals aspirational again, says Fort. "Ready meals have improved immeasurably in recent years. Supermarkets are sexing them up and promising a fine dining experience."
Ranges now on offer include the likes of Tesco's "restaurant collection" and a Waitrose range created by three-Michelin starred chef Heston Blumenthal.
And the recession has only helped boost sales as cash-strapped consumers have cut back on restaurant meals to stay in instead.
"The market is reaping the benefits of the double-dip recession," said Mintel in a recent report..
But the nutritional content of such food has attracted negative publicity. A study published in the British Medical Journal in December found that not even one of 100 supermarket ready meals it analysed fully complied with nutritional guidelines set by the World Health Organization. Another study by the University of Glasgow branded ready meals as "nutritionally chaotic".
Regardless, the market keeps on growing. But some people were never fans and never will be.
"When you open a ready meal up and peel off the plastic what you are left with is often neither appealing to the eye nor palate," says Fort.
Related Internet Links
The BBC is not responsible for the content of external sites.