Nonya kueh: Wolfing down Singapore's wobbliest cake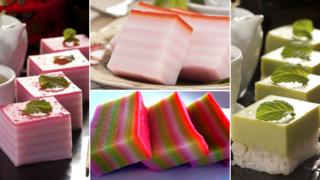 Restaurants serving Singapore's fusion cuisine called Peranakan - the marriage of Chinese and Malay cooking traditions - used to be hard to find. But now as the city-state explores its own identity with increasing confidence, it's suddenly all the rage.
Two years after I got married the first time around, I took my husband and baby on a nostalgic trip to Singapore - the nation state where I was born and where I lived a carefree childhood.
Husband number one was not an adventurous eater, but I presented him with classic satay from a hawker stall. He gave it a thumbs up.
He did not, however, take to the sweetmeats of my nursery - little cakes called nonya kueh. (Nonya means woman, in a dialect that is a creole of Malay and Hokkien).
The kind I like are called kueh lapis, which in Malay means ladder cake, or layer cake.
Symbolising a ladder to prosperity, they are made up of green, white, red, brown and yellow strips.
These delicate slices of cold pudding are different combinations of glutinous rice flour, sago, coconut, beans, syrup, pandan leaves and eggs.
My childhood memories are of trotting along to my neighbour Mrs Tan's kitchen and eating her newly steamed, wobbly cakes.
Sometimes the kueh were treats at the end of a restaurant meal with my parents and friends.
But you cannot eat these delights in most Chinese restaurants around the world because they come from a unique culture only to be found around the Strait of Malacca.
It all started in the 17th Century when male traders came from southern China.
They were not allowed to bring women with them, so they settled down with Malay women, mainly in Penang and Singapore.
Over the centuries, this marriage of cultures has been called Peranakan, which means descendant.
Essentially, it is now a Chinese community that incorporates aspects of Malay culture.
I have spent my adult life craving the soft, sticky, jelly-like desserts that slip down the throat so, six weeks ago - after I got married again - I wasted no time.
I persuaded my new husband that he just had to fly with me to Singapore to taste the rare sweets I love. So my honey and I went on a honeymoon to eat.
Alas, sad to say, he took a tiny bite of a coconut and neon-green layered beauty and put it down.
I am sure he wondered if he had been sold a defective bill of goods - his new wife was greedy!
He watched, horrified, as I wolfed down plates of nonya kueh. And then friends - long aware of my weakness - brought more and told me of a new chain of bakeries that specialised in them.
Wow, a chain! What could this mean? It used to be that you had to go and hunt them down.
Slowly, I realised that Peranakan culture, which used to be considered a disadvantaged background, was now chic.
My hunch is that this is because Singapore is experiencing a cultural renaissance - it is exploding with arts festivals and new museums.
One of these is the Peranakan Museum, which opened in 2008.
In a beautiful 100-year-old colonial school building, with all the usual interactive bells and whistles, it showcases the art, costume, furniture and food of this hybrid culture - making the point that not only does it give Singapore cultural distinction, but that it is very much alive and undergoing a transformation.
The museum store commissions new versions of Nonya women's jewellery such as brooches that fasten the embroidered kebaya tops that are worn with sarongs.
Elsewhere in Singapore, distinctive houses where Peranakan merchants lived above their stores are being refurbished - not as museum pieces but as boutiques, bars and cafes with "nonya nouveau" cuisine.
We went to one where the hipster owners were re-creating their mothers' cooking with cocktails and serving it tapas-style. My honeymoon sweetheart adored these places. He is a foodie, but had never tasted anything like it.
Husband number one did not really like Singapore - maybe because we had to take a baby around packed streets and malls.
Maybe because, 20 years ago, Singapore was all about shopping and Western brands. But now second husband has come home raving about "hidden" Singapore.
"Forget all you hear about a sterile, draconian city," he says. "There is so much to do and see." Hmm, success...
It is not just that the husbands are different personalities. It is because Singapore has evolved.
It can afford to explore its own identity - to recognise what was once ignored or hidden and help tourists discover it.
I found a Peranakan guidebook directing me to heritage rooms at the National Museum and the Asian Civilisations Museum.
In fact Peranakan identity is so out-there that even home design guru Martha Stewart recently tried nonya cooking.
Although there is a picture of some nonya kueh wobbling about, in her video, she does not eat one.
What a shame - she will never know what she missed.
How to listen to From Our Own Correspondent:
BBC Radio 4: Saturdays at 11:30 and some Thursdays at 11:00
Listen online or download the podcast.
BBC World Service: Short editions Monday-Friday - see World Service programme schedule.