Mardi Gras police brutality claims shake Australia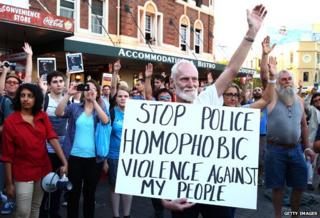 Sydney's Mardi Gras parade is one of the biggest gay and lesbian festivals in the world and a highlight of the city's social calendar. But allegations of police brutality at this year's event are still reverberating across Australia.
A video shows a handcuffed teenager being thrown to the floor by the police.
In tears, 18-year old Jamie Jackson is insists that he "didn't do anything wrong". Bare-chested, he is hurled to the ground, his face pushed into the pavement with an officer's boot firmly on his back.
Bystanders are heard remonstrating with the police.
"Look at his head! Look at his head!" says one onlooker, referring to an injury the young man allegedly suffered.
The clip has been viewed more than 1.6 million times on YouTube and has sparked widespread anger, including a protest march at the weekend.
"Before the video was shot the same officer threw Jamie to the ground backwards by his throat and punched him," says Keely Snow, 21, at Saturday's protest.
"He could have easily died. It was pretty distressing. I know that what I saw certainly appeared to be excessive force."
It was her boyfriend who shot the video of Jamie Jackson's arrest on his mobile phone.
"All of us want to make it clear that this isn't against the New South Wales police force," Snow says. "We're fighting against police brutality but there are a lot of good cops."
The demonstration, which began at Taylor Square in the heart of Sydney's lesbian and gay district, was organised by Community Action Against Homophobia.
"We're disgusted with the way the police treated the entire night of Mardi Gras," says spokeswoman Cat Rose. "It is not just the assault on Jamie Jackson, which is an outrage. Since then we have heard about more assaults by police on the night. The view from police is that the people are the enemy."
One demonstrator, Mark, accuses the police of, at times, being heavy-handed around gay pubs and clubs.
"They tend to act like they are a group of storm troopers. Most of us are incensed at the lack of respect shown to us as a community. I don't mind the police doing their job but do it politely and professionally."
Police have launched internal investigations into the case of Jamie Jackson - who has been charged with assaulting police, resisting arrest, and using offensive language - and another man who has alleged he was assaulted at Mardi Gras by officers of the New South Wales police.
Last year, the conduct of Australia's biggest police force came under detailed scrutiny after the death of a Brazilian student in Sydney.
Officers fired Tasers 14 times at Roberto Laudisio Curti, who had stolen a packet of biscuits from a convenience store and was behaving erratically after using a small amount of LSD.
The weapons were discharged even as the 21-year-old man was lying on the ground in handcuffs. After examining disturbing video footage of the young man's final moments, a coroner said the police had been reckless and had abused their authority.
Stephen Blanks, the secretary of the New South Wales Council for Civil Liberties, believes these are not isolated incidents but "seem to indicate a problem with the general culture of the police".
"There have been incidents over the last several years where the police have acted with violence beyond what is reasonably necessary, and have been captured on video doing so," he says.
"We think this points to deeper systemic problems within the New South Wales police force."
However, Jackson acknowledged in a TV interview that he had been acting "silly" on the night of Mardi Gras.
Then a second video emerged which showed him struggling and lashing out at officers as they try to arrest him.
New South Wales Assistant Police Commissioner Supt Mark Murdoch says the officer whose boot is seen on Jackson's back will also have to give his side of the story.
"He'll be given an opportunity to account for his actions and until he has that opportunity, I think we'd be premature to speculate as to what may or may not have happened."
Supt Murdoch has had to fend off suggestions that parts of the force were out of control.
"We are not a third-world organisation. We are in the business of policing by consent and with the support of the community. We do not react entirely to what we see on the 6pm news. In the scheme of things, we don't have a super big problem."
He has emphasised that the force has "first-class" relations with the gay and lesbian community.
Scott Weber, head of the Police Association, has described the public response to the video as "trial by social media".
"We've seen time and time again… footage looks very adverse," he says. "But then on proper investigation, it was easy to highlight that the police officer's actions were justified."