Tweets of the week: Bieber's monkey and Roger Ebert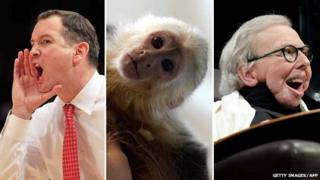 For the week ending 5 April, here is a look at the news in America - all in 140 characters or fewer.
1. It's almost like Carnival Cruise is being run by actual carnies.
Film director Erin Faulk (@erinscafe). The cruise ship Triumph, which earlier this year became stranded at sea without power or plumbing, broke from its mooring this week in port in Alabama.
2. The harsh verdict of future historians on our age shall be that we took an unaccountably long time to get rid of Jay Leno
Author Chris Lehmann (@chrishlehmann). It was announced this week that late-night television show host Leno would step down in 2014. Despite high ratings, Leno has never been popular with critics, and an earlier attempt to replace him failed.
3. Mike Rice says he's learned his lesson - next time will make sure the camera is the first thing he throws at his players.
Parody account The Fake ESPN (@TheFakeESPN). Former Rutgers basketball coach Mike Rice was fired this week after video surfaced of him pushing and kicking his players, as well as using homophobic and misogynist language. Administrators had been aware of the video for months, but initially handed Rice only a three-game suspension.
4. 88k jobs created. I guess we do need more duck penis researchers
National Review Online contributor Greg Pollowitz (@GPollowitz). Funding provided by the National Science Foundation to study duck genitalia was criticised as wasteful this week, just as new employment numbers reveal the US added only 88,000 new jobs last month.
5. Super hot attorney general takes break from preparing beef stroganoff to advise Princeton girls to marry young.
New York Daily News editorial editor Josh Greenman (@joshgreenman) combines a week's worth of sexist news into one tweet: the New York Times obituary of a famous rocket scientist that dwelled early and often on her homemaking; the mother of a Princeton student who told women undergraduates to land a husband sooner rather than later, and President Barack Obama's remark that California's attorney general, Kamala Harris, was the most attractive in the country.
6. Easily my favorite April Fools gag so far is the Yankees opening day lineup.
The National Review Online's Dan Foster (DanFosterNRO) is not impressed with the New York Yankees' starting nine. The most expensive team in the league is starting to show its age: star player Derek Jeter is about to turn 39 and Alex Rodriguez is 37.
7. To whatever cartoonist currently sketching a "St. Peter gives a thumbs up at the Pearly Gates" 'toon, please just don't
Slate writer Dave Weigel (@daveweigel) hopes that the death of film critic Roger Ebert will not result in easy cliches from his many admirers. Ebert died age 70 after a long battle with cancer.
8. Motorola exec Martin Cooper made first mobile phone call 40 years ago today, butt-dialing an assistant named Watson.
Author Steve Rushin (@SteveRushin) celebrates the anniversary of the cellular telephone.
9. It's not really a Facebook phone unless I can call my high school classmates' ultrasounds with it.
Comedian Erin Gloria Ryan (@morninggloria) remarks on the unveiling of Facebook Home, a new product for Android that would essentially integrate the phone's main screen with many of Facebook's functions.
10. Isn't this how World War I started?
New York Times writer Dave Iztkoff (@DaveIztkoff) responds to news that Justin Bieber's pet monkey was confiscated by German authorities. The pet was put in quarantine, and the pop star has a month to claim him.