Online bingo: A very full house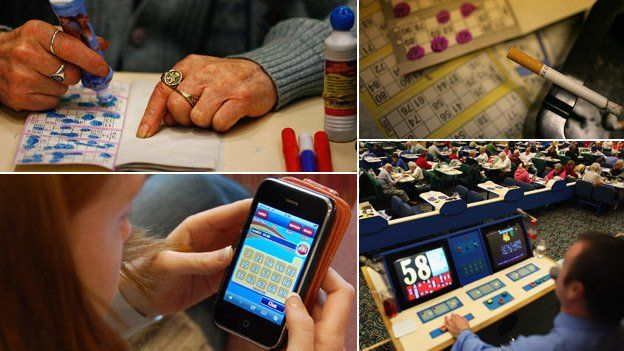 Switch on the television or flick through a newspaper and there's a good chance that you'll come across an advert for online bingo. But who is playing - and why?
A typical evening sees Anita Heffernan, 50, spending two or three hours playing bingo online.
It's not for the money - her biggest ever win was about £400 and, being a game of chance, players typically spend more than they win.
"It is a hobby," says Heffernan. "I would much rather do that than spend a night out in town."
There's been a rapid growth of bingo websites. As recently as 2004 fewer than 20 such sites operated in the UK, now there are thought to be about 350, according to portal site whichbingo.co.uk.
Operators include everyone from bingo hall owners Mecca and Gala, to newspapers like The Sun and Daily Mail.
For a game strongly associated with the camaraderie of a night spent at crowded tables with friends any move online could be seen as being at odds with the very reasons for playing.
Many of the vast concrete and neon bingo halls on High Streets across the country may now be showing their age, but millions still visit them every year.
For the uninitiated, bingo is a game of pure chance. There's no skill involved other than the ability to keep up - in the UK version of the game players listen intently for the random numbers between one and 90 printed on their card to be called out.
One by one they are crossed off until someone has none left and there's a winner - then they might shout "bingo" or "house".
Although now a little outdated, the figure at the centre of the action - the caller - traditionally announces each number in a language so familiar it has become corny: "Two fat ladies - 88", "clickety click - 66".
Advertised - and played - against a backdrop typically drawn in purples and pinks, it is not difficult to work out who the marketing for the online version is aimed at, says the University of Glasgow's Prof Gerda Reith, an expert in gambling and addiction.
Examples include the suave, purple-suited fox who leads a bus full of women on a big day out in Foxy Bingo's television adverts.
"They're trying to appeal to people they know like bingo and get them to play online. That's women."
There are younger players. Anni Nevison, 21, plays two or three times a week, including five hours on a Sunday.
"I get excitement and friendship," says Nevison, who has been playing since she was 18. "You go into a bingo site and it's like a little family, it's so chatty," she says of the other players she messages in the sites' chatrooms.
She would love to meet the people she talks to, although that is difficult as they are spread across the UK.
It is this chatroom-type element which is key to the appeal of online bingo for many players. Talking is frowned upon in traditional halls while the game is being played (the social element happens between and after games) lest players be distracted as the numbers are called. But online users can talk as much as they like.
Many sites fill players' bingo cards in automatically, so that they can concentrate on chatting. Online bingo terms have appeared as a result, including BLNG (better luck next game) and HABO (have a better one).
Should they wish to, some sites also allow players to message one another privately.
The cost of a bingo card can be as little as 1p, although most are about 10p and can be more. Prizes can run into several thousand pounds, although winnings usually depend on how many other people are playing and are often just a few pounds.
Few would see themselves as being involved in an activity comparable to poker, or playing slot machines, but the growth of online bingo is part of the "feminisation" of gambling, says Mark Griffiths, professor of gambling studies at Nottingham Trent University.
The focus on its social aspects makes it more appealing, he says.
"People conceptualise it as a bit of harmless fun, a harmless flutter and even though they know its a form of gambling, they never use the word," says Griffiths.
It might be expected that the growth of online bingo would have seen linked reports of problem gambling, but support organisations GamCare and the National Problem Gambling Clinic are yet to encounter it as a significant issue.
However, Liz Karter, author of Women and Problem Gambling, has seen a significant rise in the number of women with an online gambling problem - including bingo.
"The things that they report as being particularly difficult are the constant advertisements - it makes recovery very difficult," she says.
The rapid growth of the sites came after the 2005 Gambling Act, which swept aside strict regulation and allowed advertising for the first time, says Reith.
Not only could women be actively encouraged to have a flutter, but there was also a chance to make up for falling numbers in bingo halls.
"The traditional game is not a money maker... bingo is low stakes low turnover and it's got worse since the [2007] smoking ban," says Reith.
Before the ban, players could light up inside during games and would have no need to go outside during breaks - making the bar and nearby slot machines busier.
Online bingo provides a chance to make up for some of that lost income.
The Gambling Commission's 2010 British Gambling Prevalence Survey suggests that 12% of women (compared to 6% of men) play bingo.
Among the big brands, Mecca Bingo reports that a fifth of the money it now takes is online, rather than in bingo halls.
The shift online is likely to continue, says Griffiths, who believes bingo is at the centre of a new type of "soft gambling".
Heffernan wagers £20 a night and likes concentrating on the numbers - "watching the game play out, when you get close it's quite exciting".
"I do enjoy it," she says of visits to real world bingo halls. "But it is slow in comparison."
It is not something her family understands, but nor does she expect them to.
"Bird watching? No thanks. Some people could spend hours looking at car magazines or whatever. This is just what I do."