La Nahuaterique: A village in limbo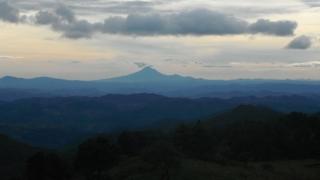 There are not many villages that are neither in one country nor another, but La Nahuaterique was one, until the border between El Salvador and Honduras was settled in 1992. But while it is now in Honduras on paper, the reality is rather different.
Marcos Argueta climbs to the highest point in the village. "Over there is El Salvador," he says, gesturing to a hazy blue volcano in the distance. "And over there, where the cornfields are, is Honduras."
He shrugs. "In a way, we're from neither here nor there. We've been abandoned by both."
In 1969, the two countries went to war for four days, partly because El Salvador's population had spilled into the ill-defined borderlands and built homes on land claimed by Honduras.
The village of La Nahuaterique, home to 6,500 Salvadorans, was ruled by the International Court of Justice in 1992 to be Honduran, but more than 20 years later there are few signs here of the Honduran state.
The villagers take no part in Honduran political life - they are not part of any Honduran parliamentary constituency - and police never show their face.
The schoolteacher comes from a Honduran town, Marcala, 32km away. So, occasionally, does a priest. But for many crucial services the people travel across the border, 12 km away, into El Salvador.
"Many people here didn't want to be Honduran but they couldn't leave as they didn't have land elsewhere," says Argueta.
"We all thought: 'At least Honduras will come in and provide for us.'"
But residents of La Nahuaterique say they have been forgotten.
"There have been serious issues with security. Anyone can come in - drug traffickers, criminals," says Argueta, a community leader, who is often approached to resolve conflicts.
Military checkpoints on the potholed, unpaved roads into the area check only for wood trafficking. Supplying timber to El Salvador was the main business here until the border was defined and Honduran law came into force.
The sense of isolation has left plenty of residents pining for El Salvador.
If they need a doctor, they travel 20km, often on foot, across the border to Perquin, Morazán. The altitude ranges from 1,200 to 1,700m above sea level.
"In winter, the roads are very difficult to pass. It can take two or three hours. If a woman has a complication with her pregnancy, it can be very dangerous," Argueta says.
"Women and babies have died trying to get to the doctor."
They make the same journey to go to the bank - about a third of people rely on money they receive from relatives in the US.
And the secondary school, for families that can afford it, is also in El Salvador.
"They receive better healthcare and education there. They are welcomed with open arms," says Jose Ramos, of charity Progressio Latina.
"In their own country [Honduras] the people feel like immigrants, foreigners."
Though some parts of La Nahuaterique receive electricity from the Honduran grid, propane gas is mostly brought from El Salvador, most people listen to Salvadoran radio and those who have mobile phones get a stronger signal from over the border.
The question of which football team to support is not a simple one. The 1969 war is sometimes known as the Soccer War because it coincided with qualifying matches between the two countries - accompanied by rioting - for the 1970 World Cup.
Today some residents of La Nahuaterique say they support El Salvador, some say they support Honduras, and others refuse to choose one over the other.
The two governments signed an agreement in 1998 under which Salvadorans on the Honduran side of the border, and Hondurans on the Salvadoran side, were meant to acquire dual citizenship.
But 15 years on, more than 1,000 Salvadorans in La Nahuaterique are still waiting for Honduran citizenship. Without it they cannot work for the state, receive social security payments, take out a loan or hold a driving licence.
Technically, those with citizenship can vote, but not for a member of parliament only for a party (part of the Honduran parliament is elected by proportional representation). In practice, Honduran parties do not campaign for votes in La Nahuaterique, and only a fraction of the villagers make the effort to travel to the polling station in the town of Santa Elena.
The community dates back about a century, a response to land shortages in El Salvador - a country about a fifth the size of Honduras, but with a much larger population at that time.
Most of the countryside was controlled by rich landowners, which prompted campesinos to populate desolate border areas and turn them into farmland. Most still work in the fields, cultivating corn, coffee and beans.
In the last few years efforts have begun to lift the villagers out of limbo. In 2010, only 200 people in La Nahuaterique had Honduran citizenship, but the number has since swelled to 5,000.
Now there are moves afoot to integrate the village into the Honduran administrative system - either by dividing it between neighbouring municipalities, or making it into a new municipality of its own.
Ramos says splitting it between neighbouring departments would be disastrous because their mayors have no sympathy for the Salvadorans.
"They see them as foreign, ask what they are doing here, and think it's better if they return," he says.
"Becoming a municipality is the only way they'll truly feel accepted. These people need to feel wanted."