Drawing the news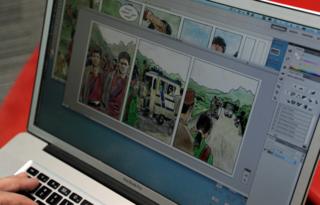 Graphic journalist Dan Archer uses comic strips to report on human trafficking. Here, he describes the tools of his trade.
The project I have drawn for the BBC News Magazine - which, thanks to the World Service, is also running in Arabic, Persian, Ukrainian, Uzbek, Kyrgyz and Urdu as well as Nepali - tells of human trafficking from Nepal.
It's not the first time I've drawn about this subject. In a previous story, Borderland, about human trafficking in Eastern Europe, I found comics were able to put human faces to the survivors while protecting their identities, instead of over-used images of blurry night vision cameras or, worse still, bodies with the faces blurred out. Graphic journalism gave the survivors the chance to tell the stories in a safe space and create more of a meaningful connection with readers.
As a journalist, my goal is to keep my drawings as accurate as possible, which is why I either draw directly from observation or use extensive picture reference - though in many cases the act of pulling out a camera can cause people either to clam up or adopt a blank, stock "camera pose", which I try to avoid.
If I'm depicting a past event being described by a survivor, I'll often sketch a rough layout of a location or a person they're describing, to ensure that it's as accurate as possible, similar to the way I assume police profile artists work.
The words are direct quotations taken from the audio or my notes. Sometimes I link the quotes to raw audio to hammer home the message that this is well-sourced journalism.
The interviewing or source-gathering stage is really just an exaggerated version of what a traditional journalist would do: noting down direct quotes (which I later double-check with the transcript, if I've been able to record audio) and piecing together the milestones in the narrative in a sketchbook.
Often cameras won't have been allowed into the interview, so I'll do some quick sketches of the subject too, including hand gestures and little character traits or tics that visually convey their personality. Sometimes when I do more illustrated reportage (such as this piece for Poynter), I'll sketch and draw simultaneously, scribbling direct quotes into speech balloons by the side of my sketches as I put the whole composition together.
It provides a more immediate, vital representation of the exchange, with overlapping speech balloons and less rendered drawings, but in a way it's a more direct visual translation of what I'm experiencing at that moment.
I then take all of my notes, audio and picture reference (often purely observational photos or sketches of the ground, buildings, my surroundings) and then start structuring the story into thumb-nailed pages. That's when I piece together the flow of the narrative and work out the size and layout of panels, and their corresponding word balloons or captions.
I use that as my guide for pencilling the pages at original size (9in x 12in), before inking over the pencilled page with a brush/fountain pen with a flexible nib.
I then erase the pencils under the inks, add watercolours over the top - also by hand- before scanning in the artwork. Once I have a hi-res digital copy, I add in the text using Adobe Illustrator and export the final version to jpeg (for web) or TIFF (for print). I used to hand letter (at the pencilling stage), but not only is digital text faster, it's essential when it comes to translating the text into other languages, as was the case here.
In most instances, the more compelling panels rely on the build-up from the preceding panels or tiers for their impact.
But if I had to choose a favourite panel from this piece, it would be the last one, principally for its emphasis on the space between what's being shown and said. Parents expectantly bidding farewell to their child, bound for Kathmandu. But as we know, the grim reality can be entirely different, which is where the real power of graphic journalism lies.