Belarus's university in exile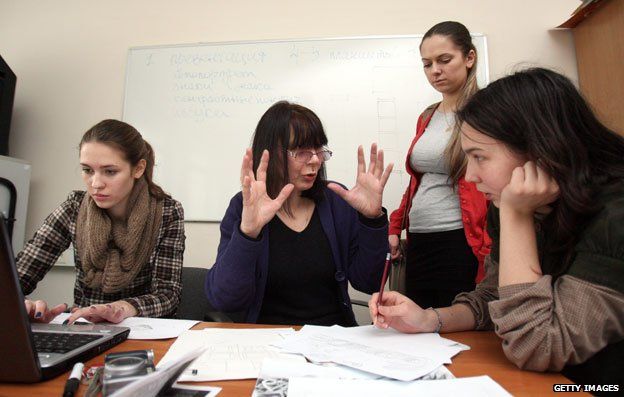 The country of Belarus, between Russia and Poland, has been described as Europe's last dictatorship. But there is a university where students can study in a democratic climate - across the border in Lithuania. It sees itself as educating a generation that will be ready to step in when, one day, change comes to Belarus.
At the busy canteen on the ground floor of the European Humanities University all the student staples are on sale - big bars of chocolate, greasy little pies and vats of strong black coffee.
Undergraduates share tables with their teachers. The sound of lively, sometimes heated debates rises above the clatter of cutlery and crockery.
Mariya Sliaptsova, a second year international law student, was at a state university in Minsk, before she crossed the border and came to study in the Lithuanian capital instead.
"In Belarus we had to memorise such vast quantities of information," she says. "But nobody encouraged us to ask questions. Here it is totally different."
Mariya's politics tutor, Tatsiana Chulitskaya, agrees.
"Unfortunately the system of secondary education in Belarus brainwashes students," she says.
"If I ask my first-year students to describe the best political system, they usually say democracy but later they'll tell you that authoritarianism is not so bad because it's more efficient for our economy."
Flicking back her heavy black fringe, Chulitskaya says she doesn't contradict her students but challenges them. "At the very least it's my task to get them to think about the world from different perspectives. Not just from one perspective."
Indeed the Belarusian brand of authoritarianism failed to save the economy two years ago when the rouble was drastically devalued and food prices soared.
Alexander Lukashenko, the former collective farm boss turned president, faced his worst crisis since he came to power in 1994.
Many expressed their discontent by turning out for internet-organised rallies. The sarcastic applause of these flash mobs echoed across cities all around the country and hundreds were arrested.
Belarus, described by former US Secretary of State Condoleeza Rice as "the last true dictatorship in the heart of Europe", is now a country which detains its citizens merely for clapping in the street.
Back in the early 1990s, Anatoly Mikhailov, the rector of the European Humanities University, had imagined a very different future for his newly independent nation.
A tall, slender man with a heavily lined face, he was raised in the Soviet era by conformist parents. His father lectured on the history of the Communist Party of the Soviet Union but young Anatoly yearned for unorthodox material such as the banned novels of Alexander Solzhenitsyn. He travelled abroad to study and became an expert on German philosophy.
When the USSR collapsed, Mikhailov felt Belarus needed a new type of university untainted by the old ideology and the sudden idolatry of capitalism. There were plenty of courses in management and business studies but few teaching theology, philosophy, Ancient Greek or history of art.
"Everybody was trying to become a banker or a businessman," he says. "But nobody paid attention to the basic roots of European civilisation. Nobody understood that society should be built on a huge, rich, powerful intellectual tradition."
The European Humanities University began in 1992 with 100 students studying for a bewildering variety of degrees in two rooms rented from the Academy of Sciences in Minsk. "It was a risk, an adventure, almost nonsense," chuckles Mikhailov.
Nevertheless the university began attracting increasing numbers of students and staff. There were international exchange programmes, visiting academics gave lectures and the EHU's reputation grew at home and abroad. Then in 2003 Professor Mikhailov was summoned to see Alyaksandr Radzkov, the Belarusian Education Minister.
At first he was served tea and cakes and showered with compliments. Yet the minister looked uncomfortable and finally told Mikhailov that he would like him to resign. Although the EHU was an independent, privately funded university, Mikhailov was told the government had another candidate for the position of rector.
When Mikhailov refused to go quietly, the whole university was shut down and hundreds of students were stranded in the middle of their degree courses.
The Ministry annulled the EHU's license on a technicality, claiming the premises were unsuitable for classes.
But later on, President Lukashenko took personal responsibility for closing the EHU. He argued that it was too pro-Western.
"We don't need that sort of university," he told the newspaper Sovietskaya Belarusiya. "We should educate our own elite."
The EHU seemed doomed until the Lithuanian government stepped in and offered the university a new home. It now shares its campus with a local college in the north of Vilnius, a short bus ride away from the Baroque old town and city centre.
Financial support has come from the European Commission, the Nordic Council of Ministers and many private donors in the US, such as the billionaire George Soros.
Today there are 1,800 students, including 23-year-old Sliaptsova who plans to return to her homeland after she graduates.
"My dream is to become a human rights defender because I think this is the way I can help to change society in Belarus," she says.
Sliaptsova first visited the EHU for two weeks to train as an independent election monitor, when she was still at university in Belarus. She had to skip a few classes to attend the course in Vilnius, and when she returned to Minsk her dean was livid.
"It was very unpleasant. She called my mother into the office and threatened to kick me out," she says.
But Sliaptsova didn't wait to be expelled - she decided to switch to the EHU instead. Last autumn she put her training into practice and went to monitor the parliamentary elections in Belarus with her politics teacher Tatsiana Chulitskaya and a dozen other students.
Everything went to plan until the group was arrested at the hostel where they were staying.
"About 25 armed men suddenly showed up," says Chulitskaya. "I think some came from militia [police], some were from the security services and others I couldn't identify - they were just wearing black."
The teacher and her students were taken to the police station and forced to stand for hours with their hands on the wall.
"They took my cellphone and my computer," Chulitskaya adds. "Of course I felt afraid but then I became really angry because I have all this knowledge and all these skills but I could do nothing to help myself or my students."
Sliaptsova managed to alert a local journalist by surreptitiously using her mobile phone before it was confiscated. After three uncomfortable hours the group was released from custody.
Other politically active EHU students have not been so lucky.
Mikalai Dziadok was studying by night and working in a Minsk law firm until the Belarusian authorities accused him of organising a demonstration outside the Ministry of Defence and of causing a disturbance outside a Minsk casino.
He was jailed for four-and-a-half years on a charge of hooliganism - an article in the criminal code often used against activists.
His mother, Nadezhda, says her son has never been violent but is being kept in a high security prison in the eastern city of Mogilev. He is only allowed to see his family once a year and visitors are separated by a thick wall of glass.
His father, Aliaksandr, says he was twice summoned by the Belarusian state security service, still called the KGB.
"They told me I should go and see my son in prison and get him to tell me his secrets. They told me that the EHU was really a nest of spies. According to them it is a place for Lithuanian, Polish and American intelligence agents - they talk about all this very seriously."
Belarusian TV has presented the EHU as a hotbed of political extremism where young people take drugs, sell sex and learn how to make bombs. Many students and staff complain of harassment at the border just 35 kilometres away. They say Belarusian guards routinely confiscate their computers and passports before eventually letting them through.
Darius Udrys, the vice-rector, says one day he hopes such journeys will no longer be necessary.
"The university should return to its roots in Belarus," he says. "But we will only do that when we can be assured that the academic freedom of the institution will be respected."
In the meantime, he adds, the university is busy "educating a new generation of young people who would be prepared to step in and fill critical positions when the time comes for change in Belarus".
Activists believe this may be exactly what President Lukashenko is afraid of - a university that teaches young people to think independently and question the status quo.
Olga Karach, a former EHU student, who runs a human rights organisation called Nash Dom, has a safe house in Vilnius for activists under pressure from the authorities in Belarus.
She recently produced a calendar inspired by the British film Calendar Girls, featuring 12 women who were locked up for 10-15 days after taking part in the demonstrations against Lukashenko during the last presidential elections.
But it would be wrong to assume all of the EHU students are thinking about how to build a future civil society in Belarus.
Many enrolled at the EHU to escape intellectual rather than political repression.
On a Friday night when other students are out on the town, Nastia Yaromenko is hunched over her books. She is making up for lost time because her experience of university back home was so disappointing.
She tells me that she once presented a teacher in Minsk with her own translation of one of Shakespeare's sonnets. The teacher was not impressed and gave her a low mark for failing to complete the correct assignment - a biography of the playwright.
"I was punished for my creativity but here if you try something new, you are always appreciated. That's why I can tell I cherish, cherish every single lecture and course that I attend at this university because it's so, so different."
She adds: "You can speak, you can just express yourself and this is precious and you are never given this opportunity in Belarus, never."
Related Internet Links
The BBC is not responsible for the content of external sites.