Tweets of the week: Bush Library, Amanda Palmer and Tylenol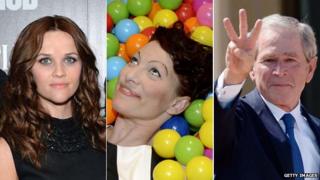 For the week ending 26 April, here is the news making waves in America - in 140 characters or less.
1. Virgin America now allows you to send drinks to people on flights, taking making an ass of yourself & getting rejected to new heights.
Copywriter Mark Campbell (@mrwordsworth) is not impressed by the new service on Virgin America flights that allows for onboard flirting.
2. Don't worry if you have an overdue book at the Bush Library; they go after some other borrower who had nothing to do with it.
Internet humourist @pourmecoffee. The presidential library honouring George W Bush opened this week. While presidential popularity often increases once a president is out of office, many remain angry with Bush for his decision to invade Iraq.
3. This breathtakingly sexist Politico article does all but accuse Jill Abramson of attracting bears with her period.
Author and feminist Jessica Valenti (@@jessicavalenti). A piece claiming New York Times Executive Editor Jill Abramson was difficult to get along with was roundly criticised.
4. Dear AP: "password" is not a safe password for your Twitter account.
Grantland baseball writer Jonah Keri (@jonahkeri). The stock market took a sharp tumble after the Associated Press Twitter account posted a tweet saying an explosion at the White House left the president injured. The account had been hacked.
5. The saga of AJ Clemente. Hey kids, you too can screw up, be completely incompetent and then have the world rally around you! What?
TV Guide's LA bureau chief Michael Schneider (@franklinavenue). Clemente was a rookie newsreader sacked on his first day, after the first words he uttered on air were profanity. Since then, he has appeared on several national programmes.
6. When a feud escalates to heatedly rebuking the authenticity of a Mensa certificate you know it has gotten ugly.
Staff writer for Bloomberg Businessweek, Felix Gillette (@felixgillette). The latest suspect in the ricin-mailing plot, Everett Dutschke, is rivals with since-cleared former suspect Kevin Curtis. Dutschke allegedly clashed with Curtis over the validity of the latter's membership in Mensa, a society for people with high IQs.
7. Best comment I've seen on #WHCD: "It's a cheap, tawdry affair. How can I get invited?"
Political scientist Larry Sabato (@larrysabato). The White House Correspondents' Dinner (WHCD), also known as "nerd prom", is this weekend. The dinner, in which members of the media hobnob with the president and other top politicians, is often criticised for leaving the press enthralled with those they are supposed to cover.
8. Tylenol reduces existential dread. Yeah, you heard me right! (and it's cheaper than a PhD in philosophy).
BBC Radio 1's resident psychotherapist Aaron Balick (@DrAaronB) after hearing that those who took Tylenol before watching a David Lynch short film reported less angst and anxiety.
9. The world sleeps easier tonight knowing that Reese Witherspoon is behind bars.
CNN presenter Jake Tapper (@jaketapper). The actress, previously known for her blond locks and wholesome persona, was arrested and charged with disorderly conduct this week.
10. Worst thing about Amanda Palmer's poem? She told us to read it again. Everyone knows you can only ask your friends to read your poetry ONCE.
The Hairpin's books editor Nicole Cliffe (@Nicole_Cliffe). Musician Palmer is accused of writing "the worst poem ever", a sympathetic note to Boston Marathon bombing suspect Dzhokhar Tsarnaev.
Some tweets have been edited for style and clarity.