Bollywood cinema: 10 lesser-known facts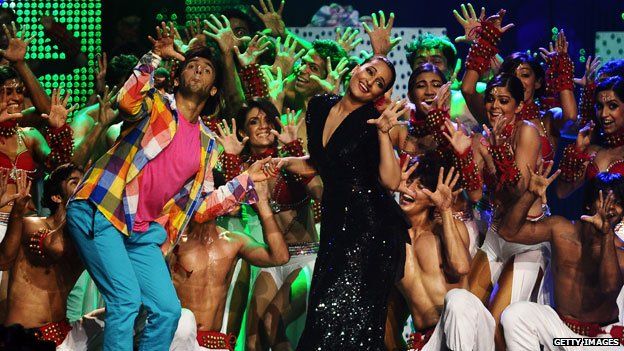 Indian cinema began 100 years ago with the first "Bollywood" film, although the term was only coined many years later. The vibrant song-and-dance routines have millions of fans but here are some lesser-known facts that may have escaped their knowledge.
It all began with a cross-dressing, wet sari scene
Dhundiraj Govind Phalke's black-and-white silent film Raja Harischandra was screened in Mumbai on 3 May, 1913.
It is a tale of a righteous Indian king who never told a lie. Many say this was the filmic seed that spawned a billion-dollar industry.
One of the most famous scenes is the bathtub sequence where the king comes to call on his wife Taramati.
She is in the tub with attendants and they are all drenched, their saris and blouses clinging to their bodies - but they are all in fact male actors dressed as women.
Phalke went on to make 95 full-length films, but he died in penury.
As Nasreen Rehman, a historian of South Asian cinema, points out, the Hindi language film industry of Mumbai was not known as Bollywood for many years.
"The term Bollywood is an invention of the late 20th Century, after Bombay cinema caught the imagination of the West."
A kiss lasted four minutes - in the 1930s
Devika Rani locked lips with her real life husband on screen in the 1933 film, Karma. It took four minutes.
Shubhra Gupta, film critic and columnist for the Indian Express newspaper, says: "Post-independence, the kiss vanished into a miasma of prudery and false modesty and a misguided notion of what was Indian culture and tradition and not."
In 1954 a group of Indian women presented a petition to then PM Jawaharlal Nehru asking him to curb the influence of cinema as an influence on "precocious sex habits".
But there have been changes over the last decade.
"The kiss has returned to claim its place in the movies - the two nodding flowers and canoodling swans are a thing of the hoary past."
Gupta adds that Bollywood has decades of repression to make up "but the modern industry recognises that sex and lust are part of human behaviour".
Most Indians don't watch it
Film director Karan Johar recently said: "Of the 1.2 billion population of India, movies should reach out to at least 300 million people. But currently, our reach is limited to 45 million. If we figure out how to cover this gap, it will be a game changer."
Nevertheless, the industry hasn't done badly at all. With more than 1,000 films a year, it is the world's most prolific industry.
The BBC's India business correspondent Shilpa Kannan points out that India is home to regional industries making films in more than 20 languages - but Mumbai's Hindi-speaking Bollywood is the biggest of all.
The most expensive Indian film is in Tamil - Endhiran (Robot) cost $35m (£23m) to make.
Indians buy 2.7 billion movie tickets annually, the highest in the world. But average ticket prices are among the lowest in the world so revenues are a fraction of Hollywood's.
For a country that is obsessed with films, there are still very few cinema screens. India has fewer than 13,000 screens compared with nearly 40,000 screens in the US.
Western actors become stars too
Thousands of Westerners arrive in Bollywood every year hoping to make it big. Many make it on to the set as extras. But this is not a new phenomenon.
Perhaps the first foreigner to attain cult status in Bollywood was Australian-born Nadia, also known as the "Fearless Nadia" or "the Hunterwali" (the woman with the whip).
She arrived in 1935-36 and became Bollywood's first stunt queen.
Film historian Jaiprakash Choksi says Nadia, who acted in about 35 films, was his "favourite heroine" in his childhood. "She would ride a horse wearing a mask, jump onto a moving train, whip 25-30 men single-handedly and beat them up with her bare hands if needed."
And an Italian actress by the name of Signorina Manelli played a vamp in the 1922 silent-era film Pati Bhakti - a film which advocated that women should be devoted to their husbands.
Over the years, there were others too. Indian-born American Tom Alter acted in about 60 films and made a career playing the "white man" who spoke in English-accented Hindi.
Then, of course, there was Helen, who floored generations of Indian film-goers with her sensuous dance moves. In her skimpy clothes, she found her way into the hearts of generations of Indian men with her belly dances and pelvic thrusts.
In recent years, perhaps no one has made it quite as big as the current reigning queen Katrina Kaif, who is half-British and speaks Hindi with a foreign accent.
There were Bollywood-Germany collaborations
In those early years, the West was crucial in providing equipment and technicians for films.
In the 1920s, filmmaker-actor Himanshu Rai formed a co-production deal with German firm Emalka and together they made several hugely successful films, says film historian Jaiprakash Choksi.
German director Franz Osten directed 14 films for Rai but once World War II began, India's British government deported German technicians - about a dozen of them - bringing to an end the lucrative collaborations.
Calcutta was really India's film-making hub until the 1930s, says historian Nasreen Rehman.
But, she adds, it was only after the Japanese threatened India's eastern borders during the war that many filmmakers moved to Bombay, as it was known then.
Swiss mountain love is no longer in
The mountains of Switzerland were discovered in the 1960s - in Bollywood that is.
And in the 1970s, legendary producer Yash Chopra popularised the notion when he decided to move from the slopes of Kashmir in search of new vistas and new big budget films high on romance and musical declarations of love in Alpine surroundings.
Film critic and columnist for the Indian Express, Shubhra Gupta, says "his brand of cinema caught fire. So did the Swiss slopes. So much so that no romance from Bollywood was complete without the lead pair tumbling down the icy tracks - she in sheer chiffon and he in completely snow-proof boots and jacket!"
But this is an image that does not belong to the Bollywood of today, which has moved decisively beyond Switzerland, she says.
Exotic locations are still in vogue but Bollywood has been spotted in Scotland, the US, Australia, New Zealand, Bangkok and South Africa.
Superheroes are box office
Bollywood is not alone in struggling to tell tales of pure romance anymore. Gupta says that the mass audience is largely male aged 15-25 and very heavily oriented towards films featuring super heroes and comic book avengers.
"Young love is finding it hard to find visibility. And mature love stories have practically vanished," she says.
One of the most popular recent examples of superhero films was the science-fiction Krrish series starring Hrithik Roshan.
But superheroes have an even older pedigree in Indian cinema, including Anil Kapoor's turn as Mr India in the 1987 cult film.
Like Hollywood, Bollywood is also ruled by its superstar heroes who are mostly men in their late 40s.
In the words of film critic Gupta: "They call the shots." These include the Three Khans who have dominated Bollywood films for the last two decades - Shahrukh Khan, Salman Khan and Aamir Khan.
"Your average viewer has no trouble seeing his favourite Khan or Kapoor cavorting with a much younger girl. For mainstream Bollywood, the heroine, even the biggest of them all, is dispensable, and interchangeable. The hero is not."
The film industry is not an isolated bubble, it is part of this patriarchy, says film director Zoya Akhtar.
"It does fuel ideas about objectifying women. For example we have scenes in our films where the male hero woos a woman by stalking her. Indian cinema is the only defining popular culture in this country so we have to take more responsibility."
The basic form of the film song is derived from various regional song types, and hasn't changed much since the 1930s, says film historian Nasreen Rehman.
"You could compare it with the opera, but whereas opera is all song, Indian films have between five to nine songs on average," she says.
Both song and dance are used to enhance the mood for love, and drive the narrative, she adds.
"As song and dance became an essential part of the masala, it became difficult to find a combination of the 'right film face' and the 'right voice', and this led to the practice of using playback singers," says Rehman.
The high pitch of the female singing voice also makes the comparison with opera interesting.
Nur Jahan - who was trained in the classical tradition of dhrupad and Lata Mangeshkar were the touchstones for all other singers, says Rehman.
Nur Jahan moved to Pakistan and, Rehman says, sang some of her best songs in that country. Singers such as Runa Laila and Firdausi, also with high-pitched voices sang in both Pakistan and Bangladesh.
South Asian female classical singers sing on lower pitches than Nur Jahan and Mangeshkar, who sing on pitches closer to western opera singers.
Bad dancers use a tree as a prop
In decades gone, Bollywood stars danced around trees at moments when love was declared. The simple answer as to why this formula endured was that they were not good dancers.
"Dance materialises sexuality in these films," says Nasreen Rehman.
"Once the vamp was usually the accomplished dancer in films. Now all heroes and heroines dance," she adds.
In recent decades, Bollywood actors have proved they really can move.
"Up until the 1980s dancers would suddenly appear out of nowhere underneath a mountainous backdrop," says film director Johar.
"Nowadays they can still appear out of nowhere, but the choreography is much more sophisticated."
Bollywood dance extravaganzas have proved an inspiration to many Western film directors such as Baz Luhrmann.
Reporting by Samanthi Dissanayake, Jastinder Khera, Alastair Lawson and Geeta Pandey
BBC Asian Network asked a panel of industry experts to compile a list of 100 songs from the World of Hindi cinema from the past seven decades. You can vote for the greatest Bollywood song from the list below.