Six childcare gurus who have changed parenting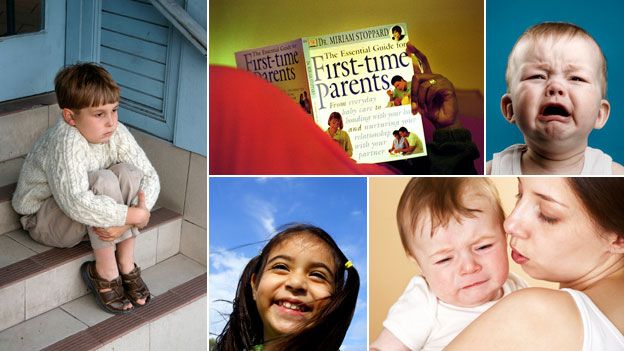 It's been 70 years since the idea of the "good enough mother" was popularised by psychoanalyst Donald Winnicott. Since then, there's been a plethora of parenting advice, with everything from the naughty step to a time limit on cuddling catching on.
History has provided no shortage of "supernanny" figures with big ideas about how best to raise children.
Childcare advice is a multi-billion pound industry with an avalanche of books, magazines, and television shows competing for credibility.
Here are six of the people who have had the biggest impact on parenting over the past 100 years.
Child welfare reformer Sir Frederick Truby King is credited with drastically reducing infant mortality in his native New Zealand. His research also led to a radical improvement in childhood nutrition and he was knighted in 1925 for his contribution to society.
But for all of his laudable achievements, Truby King is undoubtedly best known as an early champion of enforcement parenting - with its emphasis on discipline and detachment.
The key to the Truby King method was to feed babies by the clock every four hours and preferably never at night - stoically ignoring demands for sustenance in between.
He recommended placing babies in their own rooms immediately and leaving them in the garden for long periods to toughen them up. He also imposed a 10-minute daily cap on cuddles.
Parenting was about routine and discipline. The formative months were for eating, sleeping and growing - not bonding.
The philosophy might seem brutal to modern day doters, but childcare historian and author Hugh Cunningham says mothers were inclined to trust the experts of the era.
"Not every parent at the time did it this way but they will have been aware of it.
"A significant number of people simply thought science was telling them and therefore it was the right thing to do," he says.
Dr Benjamin Spock's Common Sense Book of Baby and Child Care is one of the best-selling books of all time, having sold some 50 million since it was first published in 1946.
Challenging the child-rearing orthodoxy of the early 20th Century, Dr Spock encouraged a more gentle approach to bringing up children, and told parents to trust their own instincts and common sense.
The Spock guide to parenting - which encouraged affection and recognised that every baby is different - went mainstream in the 1960s.
It was probably a convenient time for a new style of parenting, according to psychologist Dr Aric Sigman. Mothers were increasingly getting used to household appliances and disposable nappies, which left far more time for cuddling, doting and pampering than most Trudy King parents were likely to have enjoyed.
"Changes in parenting trends reflect changes in politics, the economy and the parents' needs, even though children's needs really haven't changed," says Sigman.
About the same time as Spock's parenting guide began shifting millions, Winnicott was beginning a stint of almost 20 years of influential broadcasts for the BBC, the first of which was in 1943.
His broadcasts were aimed directly at mothers, with his "good enough mother" philosophy promoting the idea that they weren't perfect. Occasional failure was not just inevitable in parenting - it was part of the child's learning curve.
Like Spock, Winnicott believed in parents' intuition. "It is when a mother trusts her judgement that she is at her best," he said.
The paediatrician and psychoanalyst didn't believe in setting regimes or even giving instructions. He believed in understanding, not admonishing.
Mumsnet founder Justine Roberts says some parents adopt a similar style today.
"I like the principle of trusting your instincts - don't sweat the small stuff too much," she says.
Continuing a growing trend for a liberal antidote to the routines and rituals of the previous generation, psychologist Penelope Leach rose to prominence in the 1970s and 1980s.
Leach's book, Your Baby and Child: From Birth to Age Five, has sold more than two million copies since its original publication in 1977, and her work remains popular with some parents.
Her style is "child-centred" parenting. You had the baby, now come the sacrifices.
"Whatever you are doing, however you are coping, if you listen to your child and to your own feelings, there will be something you can actually do to put things right or make the best of those that are wrong," she notes in the book's introduction.
An expert in child development, Leach has more recently spoken out against "crying-it-out" techniques - advocated by some as a method of helping to establish routine.
Some have described her as "legendary for making parents feel guilty".
The so-called Queen of Routine's parenting plans are loved and loathed but never ignored.
Gina Ford's methods have been branded "absolute nonsense" by Lib Dem leader Nick Clegg and led to a legal settlement with Mumsnet after some of its members posted explicitly hostile reviews
But at one point three of her books accounted for 25% of the sprawling childcare books market, and she boasts celebrity supporters such as Kate Winslet.
The former maternity nurse has sold more than half a million copies of her original 1999 publication The Contented Little Baby Book.
Her bestselling guide advocates a strict regime for both parent and child, broken into five-minute slots, which is built around set feeding times to establish a routine as early as possible.
It recommends ignoring a crying child to help restore sleeping patterns in certain circumstances, as well as not making eye contact before bedtime to avoid excitement.
Reality TV show Supernanny has reached tens of millions of viewers across 47 countries and spawned its own US spin-off - billing star professional nanny Jo Frost as a modern day Mary Poppins.
For many parents, Frost is the inspiration for the widely used "naughty step" technique.
Children who are misbehaving get a warning, but if they carry on they have to sit on a step - waiting one minute for every year of age. Afterwards, they have to apologise.
Other staples, which include a regular dose of finger-wagging and face-to-face ultimatums, have also infiltrated homes across the world.
But while Jo Frost's no-nonsense approach appeals to many parents, it's also been criticised for being part of a culture which invades children's privacy.
Tracey Jensen, lecturer in media and cultural studies at Newcastle University, told the Guardian newspaper Supernanny offers up the spectacle of the "bad enough mother", usually working-class, who is shamed before she is transformed.