Ice cream: How much would you pay?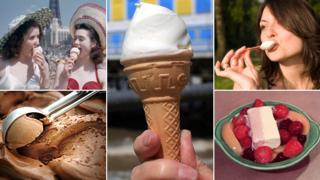 In the heat of summer, nothing soothes quite like an ice cream - unless the price is a sore point, as it was for two British couples visiting the Spanish Steps in Rome. But how much is too much to pay for one of the nation's favourite treats?
A 64-euro (£54, $83) bill for four ice creams seems like a gross act of overcharging.
And while most people would baulk at shelling out quite that much, many consumers in the UK are prepared to pay a premium for what they view as an "affordable treat" - be it a scoop of gelato or a freshly made artisan ice cream.
Specialist ice-cream parlours and fashionable "fro-yo" (frozen yogurt) shops, a niche market which first took off in the US, are popping up in towns and cities across the UK.
Aficionados are quick to hand over up to £7.50 for half a litre of artisanal ice cream, similar for a specialist sundae. Why? Because in the summer we associate it as "a happy food", says Zelica Carr, chief executive of the Ice Cream Alliance, which represents 600 businesses in the UK. "We still say it's an affordable treat."
Of the people in the UK who buy ice cream, 49% buy tubs, while ice-cream sticks are bought by 51% of people, and 35% love a cone, 31% buy lollies and 25% of people buy the desserts from vans.
On average, British people spend more on ice cream than ever before - £17 a year on six litres each.
However other nations still spend more - Norwegians spend £33 ($50) per head a year, Australians £30 (A$46, $46), the Swiss £25 (SFr37, $38), and Americans get through 17 litres each a year.
The UK's ice cream, sorbet and frozen yogurt market has grown by 19% in the past five years, and is now worth £1.1 bn ($1.7bn). But volume sales are forecast to drop slightly to 343 million litres, says Amy Price, senior food analyst at market research firm Mintel.
Consumers are buying in smaller amounts - large one-litre plastic boxes of ice cream are now less commonplace, while single-serving 150ml and 450-500ml cardboard tubs are more readily available.
It appears that some consumers are happy to spend more on less.
From a branded ice-cream shop to an artisanal gelateria, the overall experience counts, says Vince Mitchell, professor of consumer marketing at Cass Business School in London.
"People won't pay it if everyone else has got it - you've got to have an exclusivity to it. So, in an artisanal store or a restaurant that only has that on its menu, exclusivity means you can charge a price premium," he explains.
Perhaps this was why the British couples in Rome were disappointed, as eating gelato in Italy's capital is hardly an exclusive experience.
"You're not buying the ice cream, you're buying Rome," says Ronnie Ballantyne, lecturer in marketing at Glasgow Caledonian University.
Frozen yogurt outlets such as Yoomoo, Snog and AngelBerry also sell an experience - promoting a health-conscious image.
It's still a niche area but it is seeing the fastest growth - sales rose 50% in 2009-11. It is popular with 16-24-year-olds and those living in London, and shops like Yoomoo are now expanding into at-home tub ranges.
Premium ice-cream brands are not averse to "tricks" to get consumers to pay more, like the US firm Haagen Dazs did when it started out in 1961, Ronnie Ballantyne says.
"What these guys did was take a mundane product and gave it a Scandinavian title to amplify consumers' perception of value, and take sexuality, sensuality and pleasure and tap in to the audience's psyche, and build a brand on to it.
"If you look at Ben and Jerry's, which is advertised around 'saving the world', it becomes a philosophy - the audience may or may not know, but it's a classic way to amplify price and prestige."
However, customers will turn their back if it costs too much, he says.
"You can pay £15 in Leicester Square for an ice cream and you don't get all that architecture and illusion. There is always going to be a tipping point when price is too much."
Tourist traps aside, inflation has been pushing up prices. In 2006 standard ice cream was £2.50 per litre, but in 2012 it was £3.12 per litre, says Amy Price.
So how do manufacturers get us to part with our money?
Product differentiation through quality ingredients and novel flavours mean "that it does actually taste better and, therefore, we don't mind", says Vince Mitchell.
Using cardboard packaging containers instead of plastic suggests it is a more luxurious product, along with chic design.
"The advertising conveys the image of dreamy, sensual, indulgent one-off experiential settings, which positions the premium ice cream as an infrequent but 'worth it' treat - worth paying for," says Mitchell.
Even Magnum, formerly just on a stick, is now sold in a pot - and 44% of consumers buy such pots.
Smaller firms have to find some way to compete - and there are about 1,000 artisan ice-cream makers across the UK and Ireland, according to Zelica Carr.
"Ice cream in the UK goes back to the 1900s, when it wasn't really ice cream, it was more like shaved ice with flavourings," she says.
"Then the Italians brought the cream element with them when families began immigrating before World War I, and production changed to dairy. Now we have more than 100 years and four generations of some ice-cream-making Italian-British families," she says.
Boutique producers have to find a niche - and selling at markets is providing it for some.
"For small independent traders it's very hard to compete with huge companies. They can outgun us in the market with all their products at big festivals. But the street food scene is giving us buoyancy," says Craig Allen from Greedy Goat.
Greedy Goat sells goats' milk ice cream in London's Borough Market, charging £3 for one scoop, £5 for two scoops, £6 for three scoops and a takeaway 1/2 litre at £7.50.
It might seem expensive but Allen argues that goats' milk is more expensive than cows', "and it's artisanal".
They tap into the predilection of food lovers for quality ingredients and flavours.
"We do pistachio ice cream, where we pour virgin olive oil on the top, which sounds disgusting, but it really enhances the nutty flavours, or balsamic glaze on top of our strawberry ice cream," says Allen, acknowledging that this means it is "not the cheapest ice cream in London".
Many people in the industry have been affected by sugar, cocoa, and vanilla prices, which have been in flux over the past few years.
Dairy farmers were also hit by last year's damp weather across the UK.
Rachael Cove's Bristol-based ice cream, sorbet and granita business Copoazu, says producing with top, local ingredients, has paid off.
"When we say mint choc chip, we mean real bunches of home-grown mint and 70% organic dark chocolate," she says.
"But it can be very difficult for us as ice-cream vendors as there are some places we can't trade," she says. Markets, for example, can be limited and some council-run festivals won't accept applications from ice-cream vendors, she says.
Vince Mitchell says the constant reinvention of both the high and low ends of the markets means you can now "have what you like, but less frequently" - and you can be charged more for it.
With a shift to premium products, are the days of the 99 numbered?
Mobile ice-cream vans face rising costs - a recent VAT rise, fuel, insurance, council charges for street or park licences mean returns can be poor.
"A lot of our members have tried to keep prices down, but it has been very hard over the last couple of years," says Zelica Carr.
But, she says: "We have such a strong association with the sound of ice cream, the chimes from the mobile van. Soft-serve is part of our heritage."