Turning a scandal into a '-gate'
By Alex Campbell
BBC News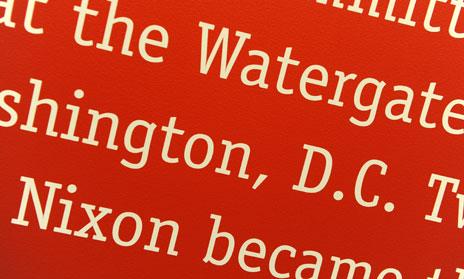 It's 40 years since the world became familiar with the word "Watergate", as televised hearings of the committee investigating Richard Nixon began. How did the name of an American hotel complex set the standard for labelling controversies?
Camillagate, Sachsgate, Hackgate, Plebgate.
Editors and social commentators are undeniably fond of a "-gate".
The suffix has become so common that it is increasingly used in parody - an admission that the outrage is tongue-in-check.
But recent media furores such as Andrew Mitchell's Plebgate, or Gategate, and David Cameron's Horsegate, show the tag is alive and well as shorthand for scandal.
The original takes its name from the Watergate hotel complex in Washington DC - scene of the burglary which triggered the cover-up, the scandal and the resignation of President Richard Nixon.
"What? Take the last four letters of a previous scandal or hotel and add it on to all future scandals?
"That can't be the system."
Comedy double-act Mitchell and Webb's satirical sketch brings into focus the irrational logic behind this literary habit, which the Oxford English Dictionary traces back to 1973 - the epicentre of the Watergate scandal - when America's National Lampoon magazine coined Volgagate.
Initially there was a trend for creating clumsy nouns and verbs, "Watergatery" and "Watergating" appeared in print among others, but only "-gate" endured.
New York Times political columnist William Safire, a former Nixon speechwriter, created a trend by coining at least 20 -gates - some say as a way of undermining criticism of his former boss.
France soon had Winegate - a scandal involving chemicals being used to turn vinegar wine into table quality.
An independent inquiry into betting on horse racing, set up by the UK Government in the early 1980s, became Totegate.
Newspapers handed President Bill Clinton a glut of gates, the most famous being Monicagate.
At about the same time, the Royal family faced Squidgygate - referencing the nickname used by an alleged lover of Princess Diana in leaked conversations - and Camillagate.
More recently, Rio Ferdinand's drugs ban became Riogate. Bloodgate referred to fake blood being used to allow a substitution in a rugby union match.
Ian Brookes, consultant editor on the Collins English Dictionary, says -gate was recognised formally as a suffix in its own right in 1991.
"Its usage within journalism is so pervasive that people with no knowledge of the Watergate scandal would have no problem understanding what was meant by a word like Bloodgate," he says.
"What is most interesting is that there is no semantic element within the word "gate" which means anything about scandal. Most suffixes have some grounding, maybe from Greek or Latin."
An Italian political scandal in the early 1990s, involving corruption and bribery in Milan, was branded 'Tangentopoli' - tangente for bribe, poli for city.
Bancopoli, Calciopoli and Vallettopoli are some of the many scandals to have followed.
But -gate is a global phenomenon. The Handbook of Morphology, published in 2001, found its use in German, Greek and Hungarian, among others.
Australia had Utegate. And controversy surrounding a Venezuelan entrepreneur's arrival in Argentina with a suitcase full of cash became known as Valijagate - from 'valija', meaning suitcase.
Newspaper columnist John Rentoul, author of the Banned List, which chronicles journalistic jargon and includes -gate, believes the term should be reserved for humour.
Lyinginstategate, for example - referring to squabbling over the Queen Mother's funeral arrangements in 2002 - would still be acceptable.
Pizzagate could qualify too. The term was quickly coined after a post-match scuffle between players of Manchester United and Arsenal.
It reportedly culminated in a stray slice of pizza flying across the tunnel and - in the words of former Arsenal defender Ashley Cole - hitting Sir Alex Ferguson "straight in the mush".
Social media users gave Pizzagate a second airing in response to David Cameron, George Osborne and Boris Johnson being photographed enjoying an Italian in Davos on the eve of some disappointing economic growth figures.
Gordon Brown found himself at the centre of Biscuitgate in 2009 after apparently refusing to be drawn on his favourite biscuit when quizzed by parents in a live webchat. Bigotgate, in the following year's election campaign, provided an even bigger headache.
"It has become so well-used in the journalistic ecosystem that it is on the edge of cliche and on its way to becoming an idiom," says Rentoul.
"Any story that runs for more than a few minutes, and in which further comments or developments are expected, just becomes a -gate for ease of reference.
"I have no objection to its use among consenting adult journalists in conversation, but using it in print just betrays a lack of imagination."
It also does not really make sense. Watergate is a place, not a scandal about water.
But it is not the first example of a word being crudely disassembled to create a new expression.
The suffix -burger is loaned from hamburger to form cheeseburger or veggie burger - even though a hamburger refers to its origins in Hamburg, Germany, not to a burger made from ham.
Ian Brookes, of Collins, notes that bikini has spawned words like tankini and mankini - even though the swimwear was named after a place, Bikini Atoll. Bollywood and Nollywood use Hollywood.
It may irritate some, but it is nothing new.
And judging by coalgate, guptagate and examgate - used by news outlets within the last week - it is here to stay.