Readers' music to banish the blues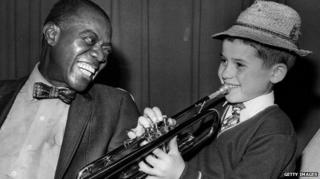 After two separate studies pointed to the healing power of music, we asked readers what they tuned into to banish unhappiness. Some said cheery songs were best - agreeing with study No. 1 - while others were in harmony with study No. 2, which sang the virtue of mournful melodies. (All links to YouTube).
Andrew Baker, from Stafford, says: "This is a very old idea. In the Renaissance (especially Elizabethan England) it was known that you should listen to melancholy music if you were gloomy. It draws the feeling out of you rather than forces it in. This is mainly true of introverts. I tend to go for Bruckner."
Luuk Visser, from Albany, New York, says: "My favourite song to listen to when I was going through a rough patch was People In Love by the band Art Brut. In an upbeat British accent it's sung that: 'People in love, lie around and get fat. I didn't want us, to end up like that' and 'To every girl, that's ever been with me. I got over you all... eventually'. It points out that the misery you now feel is not endless, and that gives me more comfort, than listening to Whitney Houston's I Will Always Love You on repeat."
Sarah Nichol, of Sevenoaks in Kent, is probably one of many who enjoy the defiant lyrics of Gloria Gaynor's I Will Survive to get through dark days. Her upbeat favourite? Sex Bomb by Tom Jones.
Tamsyn Taylor, from Wollongong in Australia, says her "rock-bottom, I'm in-the-pits music" is the third movement of Beethoven's Fifth. "It represents, more than anything else that I know, the triumph of the human spirit over adversity." Her happy song is Jesus Shall Reign (Duke Street), which she plays on a harmonica.
But she also shares a thought-provoking tale: "One day, I was walking up the street to work, anticipating a row, and singing from Memory [from Cats, the musical]: 'I remember the time I knew what happiness was...' At that moment I was passed in the street by an Aboriginal man who had obviously spent the cold autumn night sleeping rough. He was singing 'Oh what a beautiful morning...' We each heard what the other was singing, looked at each other and laughed."
Rob Dahling, from Beijing, says: "I remember having my heart broken back when I still had one and... I wasn't out to cheer myself up but to purge through catharsis. Romantic songs that I would listen to included Sting's Fields of Gold, Eric Clapton's unplugged hit Tears in Heaven, and Blue Rodeo's Lost Together.
"Songs that I use to get me jazzed out of a funk include The Ramones' Blitzkrieg Bop, Ozzy Osbourne's Crazy Train (Live), Iron Maiden's Wickerman (Live), or Suicidal Tendencies' You Can't Bring Me Down. Nothing like hard guitar riffs to break through the blues and pump me up to face the day."
Michelle Chandler-Devereux, from Bellac in France, says: "I can never remember the names of the music I like so I suggest people do what I do when feeling a bit 'low' and that is to listen to film themes. They are all so different, not usually of any great length and not only are they enjoyable in themselves but they also provide mental images which can act as a distraction to the problems."
Dale Leyland, from Auckland, New Zealand, finds comfort in a tongue-in-cheek comedy song. "There's really only one song that truly embraces the bitter-sweet journey from pain to hope... 'I'm not weeping 'cos you won't be here to hold my hand, for your information there's an inflammation in my tear-gland' - I'm Not Crying by Flight of the Conchords."
Katie, in the US, says: "There can be no doubt that trad jazz will chase away the blues, especially when it's played by my favourite clarinettist, Acker Bilk. He said it was happy music himself many years ago on BBC's Desert Island Discs and he should know after 55 swinging years."
Mohamed Khimji, from Dar es Salaam, Tanzania, reckons the Beatles are the cure-all for unhappiness. "When Brian Wilson of The Beach Boys said that the music of The Beatles always melted away his blues I am inclined to agree with him," he says. "What could be better than feeling down and listening to songs like Hey Jude or Something or Here Comes The Sun or A Hard Day's Night?"
Margo Bathelt, from Sandu, Utah, in the US says: "Sometimes when I'm really sad, I have to 'sink' into it rather than to force myself out of it. So then I listen to Rod McKuen's album, The Lonely Things. I feel really sorry for myself, then I can move on and start to be happy again."