Tweets of the week: Code Pink, Amanda Bynes and Tumblr porn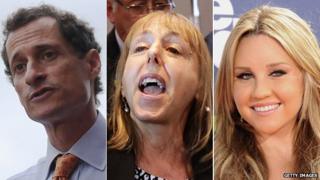 For the week ending 24 May, here is the news making waves in America - all in 140 characters or less.
1. I hate to break it to you all, but I've just spoken to the guy who invented the word meme and he says it's pronounced 'mee mee'.
Andrea Mann (@AndreaMann), comedy editor of The Huffington Post UK. This week the creator of the Graphic Interchange Format, otherwise known as a Gif, declared the word was pronounced with a soft "g" sound.
2. I fully endorse Anthony Weiner's effort to turn New York City into a punchline. Toronto needs a break.
Slate reporter Dave Weigel (@daveweigel). This week disgraced former Congressman Anthony Weiner - who left office after it was revealed he sent sexual images to women over the internet - announced he was running for mayor of New York City. In the mean time, Toronto's mayor faces allegations that he smoked crack - and that a video showing him doing so is somewhere in the city.
3. The power to tax is indeed the power to destroy, but the Death Star's laser thingy was more effective.
The National Review's Jonah Goldberg (@JonahNRO) is upset about the potential abuse of power by the Internal Revenue Service, but admits it could be worse.
4. Venezuela buys 39 million rolls of toilet paper to end shortage - they must be flush with cash
The BBC's own Jude Sheerin (@Write_Well), after the Venezuelan government put an end to the diminished stocks of loo paper available to its people.
5. I don't know why people act like Tumblr is all porn. Some of it is cat photos.
Bloomberg columnist Josh Barro (@jbarro), after the social media platform Tumblr was purchased for $1.1bn (£723m) by Yahoo. Yahoo has indicated that it won't tamper much with the pornography on Tumblr, which makes up an estimated 10% of the platform's top 200,000 sites.
6. That Greek yogurt and Greek yogurt alone is a threat to our planet means the Macedonians were playing a real long con
The journalist Rachel Syme (@rachsyme). Whey created as a by-product of increasingly popular Greek yogurt products has proven bad for the environment and difficult to dispose of.
7. "Boy Scouts End Ban on Gay Scouts; Gay Adults Still Barred." So now every gay Scout can dream of growing up and not becoming a leader.
New Yorker editor Ben Greenman (@bengreenman) after the Boy Scouts voted on the role of gay members in their organisation. The leadership voted in favour of lifting the ban on gay scouts, but kept in place restrictions on gay adult troop leaders.
8. Do Code Pink meetings get continually interrupted?
New York Daily News editorial editor Josh Greenman (@joshgreenman) after a protestor from the anti-war group Code Pink interrupted President Obama's speech on drone usage. The group has proven adept at getting access to televised events and causing a scene during speeches.
9. 'Siri, how can I avoid paying taxes on $74 billion?'
Bloomberg View writer Alex Bruns (@ABBruns). Apple CEO Tim Cook testified in front of Congress this week after it was revealed that the company avoided US taxes through Irish tax shelters.
10. This is a rare and precious opportunity for journalists to correctly use the word "defenestrate"
Wall Street Journal writer Tom Gara (@TomGara). The actress Amanda Bynes, who of late has made more news for her bizarre behaviour than her film roles, was arrested this week after allegedly throwing drug paraphernalia out her window.
Some tweets have been edited for style and clarity.