The crocodiles wandering in back yards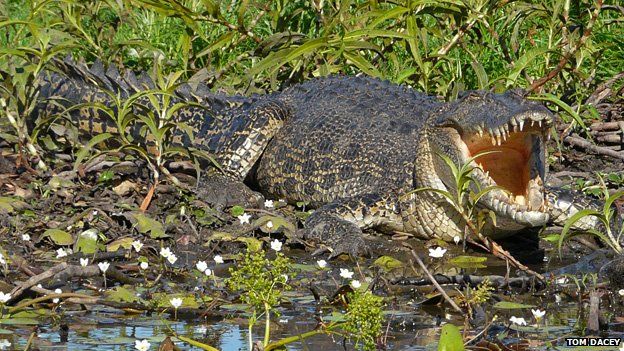 The crocodile population of tropical Australia has exploded in recent decades. How are people learning to live with the creatures in their back gardens?
From behind a steel fence, a fully-grown adult crocodile - Harold, a heavyweight at 4.6m (15ft) long - peers at me suspiciously.
Despite the security, it is unnerving to be so close to such a fearsome predator, especially one that won't take his eyes off me.
But in Australia's Northern Territory, armour-plated saltwater crocodiles like Harold are thriving in creeks, rivers and swamps.
The species is back to levels not seen since hunting was banned in 1971. As the reptile population has increased, so has the threat to residents and tourists.
Attacks are on the rise. In April, a young Frenchman fought off a 2m (6.6ft) croc that had grabbed him by the head near the township of Nhulunbuy.
Tragically, there's about one fatality each year, and stories abound of near misses and spectacular close shaves.
"There are crocodiles in people's backyards," says Rachel Pearce, from the Parks and Wildlife Commission of the Northern Territory.
"We get call-outs to them walking into people's lounge rooms. Lots of people here live on creeks. They have big, open houses.
"When the rivers rise, the crocs are able to go wherever they like. Quite often they'll walk up into people's backyards looking for their dogs or different things, so they are in very close proximity with people here."
A 2m predator found wandering around a living room near Darwin was apprehended by a wildlife ranger, who leaped on to its back before it was safely removed.
The official advice for startled homeowners finding such a supremely aggressive animal by the sofa is to stay clear and not to attempt to wrestle it themselves, and report the unexpected intrusion immediately.
Then there are incredible accounts of monsters lurking in the far reaches of the outback.
"I led an expedition into a very remote area of the Territory. It's called the Fitzmaurice River, where nobody had ever driven into before," explained Mal Stewart, a veteran four-wheel drive explorer.
"Cattle station people had flown over it previous to this and they told us: 'Beware, we reckon the croc in there is 30ft long (9.1m).'"
"Then this thing rose up next to us and we couldn't believe it. It appeared to be as wide as my boat was long."
The average length of an estuarine or saltwater crocodile is far more modest, yet still fearsome at between two and three metres.
About 80,000 live in the Northern Territory, and around 50,000 in Queensland and Western Australia. Scientists say their numbers are stabilising, having recovered so dramatically since the hunters were forced to lay down their rifles more than 40 years ago.
There are now as many crocs across tropical Australia as there are people in Darwin, the booming capital of the Northern Territory, where the authorities are reinforcing their efforts to protect residents and visitors.
Most victims of attacks are not bumbling tourists who ignore the warnings and stumble into trouble but complacent locals.
For many, the waterhole or billabong they've swum in since they were small is now out of bounds as crocodiles spread.
"You shouldn't swim near them because they can bite you and do dangerous things," says a young girl holding the distinctive skull of a saltwater crocodile at a Parks and Wildlife community event.
One of nature's most efficient killers is best considered from a safe distance, so it's with some trepidation that I take hold of not one, but two saltwater crocodiles.
Admittedly, these are reptilian tiddlers about a metre long, but they are nevertheless armed with teeth like needles and a true hunter's instinct.
When they're bigger, their jaws will be among the most powerful in the animal kingdom.
The juveniles on show at Crocodylus Park - Harold's home - have their mouths taped firmly shut, leaving me to enjoy the photo opportunity, along with other excited visitors who've come to this wildlife centre in Darwin to handle a creature that's remained largely unchanged for more than 200 million years.
Looking out over a lagoon where hundreds of reptiles are kept, I ask the chief scientist Charlie Manolis what to him must sound like a very naïve and daft question. If someone jumped or fell into the water and tried to swim to the other side, what would happen?
"They are not going to make it," is Charlie's instant reply. "Crocodiles are just a killing, eating machine."
And that's the simple message to people here in northern Australia; that one of nature's most efficient predators lives among them.