Jaguar: Malcolm Sayer - the man behind the curves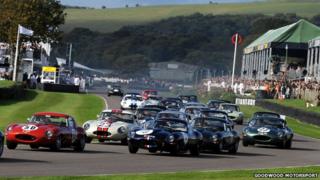 The Jaguar E-type is still one of the most desired cars ever made. The man behind the curves was a pioneer of car aerodynamics, writes critic and Jaguar fan Jonathan Glancey.
By rights Malcolm Sayer ought to be one of Britain's most famous designers.
His outstanding achievements include the world famous E-Type Jaguar, one of the most beautiful and alluring cars, and the D-Type racer, a stunning machine that won the Le Mans 24-hour race three times in a row in the 1950s.
But few people have heard of him. Fewer still can picture the man or say anything much about his life and times.
If he had been born in Italy, Germany or the US, he would have been a household name years ago.
I have long wanted to know more about this quiet, behind-the-scenes design genius.
A Jaguar enthusiast since early childhood, I have owned, restored, and raced - if never rallied - a number of six- and 12-cylinder Jaguars including, very luckily, both the legendary D and E-Types.
The saloon cars, styled by Sir William Lyons, founder and chairman of Jaguar for many decades, are stylish, voluptuous and gloriously raffish machines.
But, from their "cockpits", Sayer's peerless sports and racing cars feel lithe, light, feline and rather like wingless fighter aircraft - road-going Spitfires or Hawker Hunters.
These similes are not far fetched, for Sayer was a fine and imaginative mathematician and expert in aerodynamics who worked during and immediately after World War II in the aircraft industry for de Havilland and the Bristol Aeroplane Company.
He brought to Jaguar these skills as well as lightweight aircraft construction methods. He also took to Jaguar a sublime sense of style.
Not that he would thank you for calling him a stylist. In Sayer's mind, he was no such thing - the beauty of his cars was a product of a strictly rational and scientific design process.
His scientific methods were so intense that few, if any, of his colleagues ever quite understood them.
While he was teaching at the University of Baghdad shortly after the end of the war, he reportedly met a German professor.
"This gentleman taught him a system of designing shapes mathematically. Now today we would call that computer-aided design (CAD)," says motoring historian Philip Porter.
Physically Sayer was a giant of a man, but although witty - he was a gifted cartoonist - and an entertaining father to his three children, he was shy, reserved and, like most "backroom boys" of that era, not especially well paid.
An amateur musician and keen watercolourist, he was a special sort of artist - a man who created art through engineering, and with the aid of logbooks and slide rules, and science.
Former chief test engineer Norman Dewis, now 92, recalls: "He would have a foolscap sheet the full length of his wall. All across that sheet were coloured curves and lines. Every six inches were vertical lines with figures. I used to say to him 'I can't even see a car'."
The prototypes were given a special road test which involved large tufts of wool being taped to the body and Sayer would then drive alongside and monitor how the wool was affected by the airflow over the chassis.
Sayer was a perfectionist. "Someone decided the bonnet would look nice with a Jaguar badge on it and he carefully indented it, all 1.5mm deep, so it was flush. And when Malcolm saw he literally took off. He insisted it was removed," former Jaguar worker Mike Kimberley recalls.
"What it was doing in his mind was changing the purity of his calculations."
His eldest daughter, Kate, believes her father would have appreciated more recognition than Jaguar gave him at the time and she thinks he died, at 54, from a broken heart.
It is, of course, hard to say.
There were other highly talented designers working in British manufacturing industry at the time who either shunned the limelight or were never encouraged out of the shadows by management. In their own minds, they were simply doing a job, the best they could possibly do. The kind of fame, profit and glory that came from winning a hat-trick at Le Mans or from shaping a car like the hugely desirable E-Type belonged to the company they worked for.
Sayer's was not an era of "star" designers.
But his family, Norman Dewis, his chief test driver, Sir Stirling Moss, who raced his cars, motoring historians and Jaguar fans all believe Sayer is one of the true greats.
His greatest designs are still very much in use on roads and racetracks and are even being built anew and the spirit of this formidable homespun talent races on.
Listen to Jonathan Glancey's report on Malcolm Sayer - Aerodynamic Wizard on BBC Radio 4 on 5 June at 21:00 BST. Or catch it later on the BBC iPlayer.