How much of the world's workforce will come from Africa?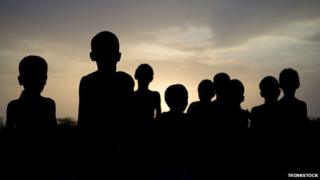 Will 40% of the world's workforce will be based in Africa by about 2050? Fact-checking this claim - made by US Secretary of State John Kerry - reveals a fascinating, shifting future for the world's population.
"What I see in Africa - what I see around the world - are explosive numbers of young people, and over the next 35 years Africa will become 40% of the entire world's workforce."
You can imagine there were probably a few raised eyebrows among the audience John Kerry was addressing at the University of Addis Ababa in Ethiopia last month, in a question and answer session recorded by the BBC's Hardtalk programme.
Can he really be right to say that 40% of the world's workforce will be based in Africa a few decades from now?
The latest world population projections from the United Nations tell a different story.
The number of people in Africa in the 25-59 year age bracket - classed as the main working-age population - is projected to reach one billion by 2050.
"This implies a doubling of its share of world population workforce from 12% to 23%," according to the chief of the UN's population estimates and projections section, Francois Pelletier.
So, in just 35 years or so, the proportion of the world's working-age people who are based in Africa will double - and they'll make up almost a quarter of the world's potential workforce.
That's a big number, but it falls short of John Kerry's 40%.
So where did he get that figure from?
It looks like he just mis-spoke. And he has got form - in his first speech as Secretary of State, Kerry invented a whole new country, "Kyrzakhstan".
It turns out that just the day before he addressed the Addis Ababa university audience, he spoke at the African Union's 50th Anniversary Summit and got the future African workforce number about right.
During that speech, Kerry made a different point with the 40% figure.
In the next three generations, he said, more than 40% of the entire world's youth will live in Africa.
Could that be true?
Currently 18% of the world's young people live in Africa, according to the UN figures. But its best estimate is that that figure could reach 33% in 2050, and 45% by 2100.
So, on this, John Kerry was about right.
Taking its population as a whole, this century Africa's story will be one of incredible growth - beyond that of any other region in the world. It's expected to account for more than half of the total global population growth between now and 2050, which would see its 1.1 billion population of today more than double to 2.4 billion. By 2100, the population could have almost quadrupled to more than four billion.
Foremost among these rapidly growing African nations is expected to be Nigeria.
"By 2050, Nigeria will be the country which is the single largest contributor to population growth globally, and it will be contributing a fifth of all population growth of the world by that point," says Sarah Walters, a demographer from the London School of Hygiene and Tropical Medicine.
Nigeria currently accounts for 13% of Africa's total population, but this figure is expected to rise to 17.5% by 2050 and 22% by 2100. Its population will grow over this period from 174 million to an estimated 440 million at mid-century, and 914 million at the end of the century - by which time it will be catching up with China.
It's a case of tomorrow's story being written today, says Sarah Walters.
"The reason Africa is projected to grow so much more significantly than anywhere else is because of the very high levels of current fertility and the projected trend fertility."
Today, the total fertility rate is 4.7, whereas in each of the other continents it is at around two - population replacement level .
Even though fertility will decline in Africa - that is, the number of children born per woman will fall - it is expected to remain higher than elsewhere.
"The highest fertility rates in the world are found in Africa," Walters says.
"Of 31 countries where fertility is over five births per woman, 29 of those are found in Africa.
"So even though fertility will decline over time, the legacy of the very high fertility that we have today will continue to be felt in the future."