Why does cycling have podium girls?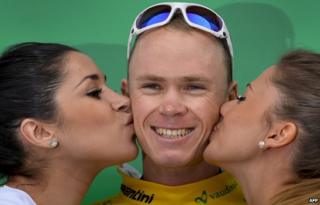 Every stage of the Tour de France ends with the leading cyclists on the podium. There are always two women whose duty it is to give them their coloured jersey and kiss them on the cheek, writes Annie Flury.
Some might view "podium girls" as a little anachronistic. But they are a feature in Europe's biggest races including the Giro d'Italia and Vuelta a Espana.
The Tour hostesses, as they are officially known, are chosen from hundreds who apply every year.
Decades ago they were usually selected from the town hosting the stage finish and merely had to be under 30 and roughly the same height. Now hopefuls are generally put forward by modelling agencies and whittled down to just 20 by the Tour's main sponsor, French bank LCL.
Magalie Thierry, who is studying for a PhD in biology, is working as a podium girl for the second year. "Each day working here seems like a dream."
The majority of the job is public relations, looking after VIPs and journalists, she says. "The podium is just 'a plus'. Maybe the ceremony could seem out of date but most of the public loves it. I think podium girls give a little touch of femininity to this sport."
The hostesses kiss the victor on the cheek, but, curiously, actually talking to the riders is a bit of a no-no.
In 2003, podium girl Melanie Simonneau was sacked for accepting a note from stage winner George Hincapie. The couple went on to marry. Slovakian cyclist Peter Sagan had to apologise earlier this year after pinching the bottom of a hostess at the end of the Tour de Flanders.
And there are those who think of the whole business of podium girls as a little antediluvian.
"I would like to think that by the 21st Century women would be more than just beautiful ornaments to stand beside successful men," says Laura Weislo, deputy editor of Cyclingnews.com. "The only time that you see a female presence on television in professional cycling is the models on the podium, and it only heightens the inequality in the sport."
Kelly "Minx" Riordan, a journalist and podium hostess in cyclo-cross, where riders tackle shorter courses over more varied terrain, says the Tour hostesses are an essential part of tradition. "It wouldn't be a proper ceremony without them," she says. "These are talented women in their own right. They shouldn't be dismissed simply as eye candy."