Who, what, why: What was Virginia Wade's legacy?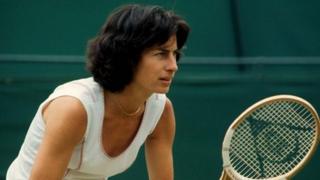 Before Andy Murray's triumph on Sunday, Virginia Wade was the last Briton to win a singles title at Wimbledon.
Legacy is a word that's been everywhere since Murray's triumph. "Forget the Olympics, Andy Murray's legacy is real... one a child in the street can touch," the Independent's headline said.
"Having made history, Andy Murray can kick-start a new legacy," was the Evening Standard's take.
Murray himself spoke of his hopes for wider participation in tennis. "I hope more kids start playing tennis, but for that to happen there needs to be all the right facilities and [it] needs to be more accessible for children to play," he told ITV.
Tennis Scotland chief executive David Marshall said: "I'm sure we'll see a huge uplift in participation across the country, but particularly in Scotland because he's a real role model, an iconic figure and a world-class champion."
Wade won in 1977. So what was her legacy?
The first thing you notice when going back in the Times newspaper's digital archive is the way sport was covered back in 1977. It was just sport, as opposed to today's mix of soap opera and barometer of national mood.
Sports reporting had an almost innocent quality. Rex Bellamy, the Times tennis correspondent, wrote in the build-up to the 1977 final: "Miss Wade is expected to win and knows it. She must be wary of over-confidence, which could make her game ragged - just as the weight of expectation could set her nerves twanging."
The second thing one notices is the lack of discussion of legacy. After her win there is a match report and discussion of the Queen giving her the trophy. And that's about it. The aftermath was not peppered with articles agonising over what her legacy would be. Or the need to get kids picking up rackets at ever earlier ages.
Wade's win came just a year after Sue Barker won the French Open, but if everybody had known what was coming, perhaps tennis writers would have got the legacy bug.
Since Wade, British women have hardly troubled the later rounds of a Grand Slam. The exception was Jo Durie who in 1983 reached the semi-finals of the French and US Opens and the quarter-finals of the Australian. She also reached the last eight at Wimbledon in 1984. Durie was the high spot though. Annabel Croft, another British hope, never got further than the third Round.
What about today? Laura Robson has just climbed to 27 in the world, which is the first time the UK has had a woman in the top 30 since Durie in 1987. Heather Watson, the other great hope for Britain's women, has slipped to 68 after losing her first round match at Wimbledon.
So at the elite level, it appears that there was no real legacy from Wade's victory.
That's because the whole idea of sporting legacy is vastly overblown, says Guardian sportswriter Barney Ronay. "It's a corporate buzzword," he argues. "There's no link between one person winning something and other people winning later."
Tennis being individualistic means it's as much about an exceptional player as developing a wide talent pool. One player can have a huge impact. Just like now. Murray is ranked two in the world. The next highest British man is Daniel Evans at 252.
Legacy is not just about elite performance. There's the hope that sporting triumph brings mass participation, something that the Olympic bid was based on. Wade's win may have inspired people to get out and play the day after her win. It's hard to verify the impact now. But it seems there was no dramatic change in the nation's relationship with tennis.
That's not a mystery of legacy, says Ronay. It's a reflection on the "country club" image of tennis in the UK and the dearth of public courts for kids to play on.
Judy Murray has talked about the crucial decision to move Andy to Spain when he was 15. The message from Murray's win is you have to leave these shores if you want to win Wimbledon, Ronay believes.
In other words, Murray is unique, an outlier, rather than a representative model of Britain's tennis talent. Just as Wade perhaps was. "I don't expect any legacy from Murray either," says Ronay. "It's the achievement of one man."
In the wake of Sunday's euphoria, it might be worth remembering what happened after Wade's victory. Nearly four decades later, a British woman hasn't come close to winning Wimbledon.