Royal warrants: What they tell us about the Royal Family
By Vanessa Barford
BBC News Magazine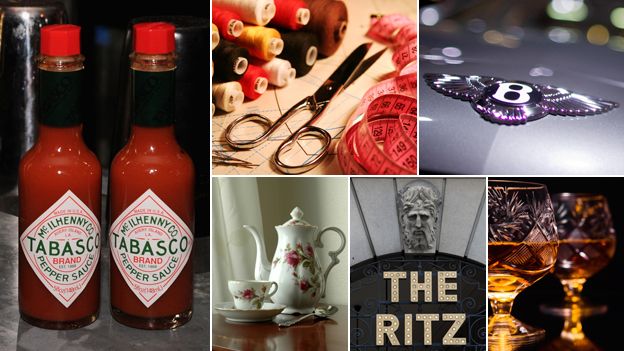 Companies which supply the Royal Family are gathering at Buckingham Palace for a four-day festival to mark the 60th anniversary of the Queen's coronation. But what do these seals of regal customer approval tell us about the habits of royalty?
It's difficult to go a week without inadvertently picking up a product bearing a royal coat of arms and a legend beginning "By appointment..."
This is a royal warrant. It's a seal of approval from the Queen, the Duke of Edinburgh or Prince Charles. To get one, a company must have been doing business with the Royal Household for at least five years.
There are currently about 850 warrant holders. Some are brands you might expect. Barbour. Hunter. Fortnum & Mason. The Ritz London. Waxed country jackets, wellington boots, a luxury department store and a pricey hotel.
There's a glorious appropriateness to others. The firm that makes Angostura bitters has a warrant. Present in every bar worthy of the name, the bottles are distinctive for their yellow tops and oversize labels.
It is the key ingredient in perhaps the world's simplest cocktail - pink gin. This distinctively British drink was a favourite in the messes of Royal Navy ships as officers tried to enjoy their downtime while fighting wars in tropical climes. With his background in the navy, it's easy to imagine Prince Philip enjoying one in his youth.
Gin-makers Tanqueray Gordon & Co are on the list. The Queen Mother famously enjoyed a Dubonnet and gin, a habit reportedly inherited by her daughter.
For salmon-fishing fan Prince Charles, who is often pictured wading in the River Dee in the leafy grounds of Balmoral, his favourite rod and tackle maker Hardy & Greys has one too.
Other famously royal-associated brands include lingerie firm Rigby and Peller, which has had a warrant since 1960, and Paragon Fine China, which the Queen is said to favour at tea parties.
There are also silversmiths and jewellers, champagne houses and wine merchants, wheelwrights and gun-makers, glove-makers, tailors and kilt-makers - the kind of luxury brands befitting of the head of state who resides in palaces and castles.
But the Royal Family's shopping bag arguably includes the more mundane. High Street brands such as Carphone Warehouse, squash-makers Robinsons, cereal brand Kelloggs and drinks firm Bacardi are on the list. There's a supplier of baked beans (Heinz), of Tabasco sauce (McIlhenny) and two suppliers of treacle (Lyle's Golden Syrup and Tate & Lyle).
Virtually every type of goods and service is covered by a royal warrant, from toothpaste to coal, brass to biscuits, perfume to pest control. There are paint and wallpaper manufacturers and suppliers, decorators and restorers for the Crown Estate.
There are also technology firms, catwalk fashion lines, cyber security specialists and foreign-owned luxury car brands.
"Royal warrants don't just cover what the Royal Family needs, but what a business needs, so there are agricultural and engineering service suppliers, as well as the technology that supports a large business," says Richard Peck, secretary of the Royal Warrant Holders Association.
Of course on one level, it could be argued royal warrants simply chart the changing tastes - albeit privileged ones - of the nation through the purchasing power of the Royal Family.
Suppliers to the sovereign have been given recognition since the Middle Ages - initially in the form of a royal charter, the earliest of which was granted by Henry II to the Weavers' Company in 1155.
One of the earliest recipients of a royal warrant was England's first printer, William Caxton, in 1476, but it was during Queen Victoria's reign - and the industrial revolution - that they flourished, says Peck. More than 1,000 were granted over 64 years.
"Recent royal warrants have embraced changes in technology. Environmental issues and sustainability have also become more important, with companies such as Green Fuels, which makes biodiesel out of waste cooking oil, coming on board," he says.
But while royal warrants can be seen as a sign of the times, they also give a rare insight into the private lives of the Royal Family.
Chocolatier Prestat was the last warrant holder to be appointed by the Queen Mother - who loved their chocolate mint fondants and violet cremes - in 1999.
Nick Crean, who co-owns the company, says he was told by her former steward and page of the backstairs that she used to keep a box of chocolates by her chair, but didn't like the brown colour of the branding.
"We changed it to pink and blue, and that seemed to seal the deal," says Crean.
Although the Queen Mother apparently had to convince the Lord Chamberlain - who approves the royal warrants - she still ate enough of their chocolates at the age of 99 for the firm to qualify.
Gordon Bell, who runs a piano shop in Aberdeen and tunes the four pianos on the Balmoral Estate on an annual basis, says the pianos - which include a Broadwood grand given to the Queen on her Silver Jubilee in 1977 - are kept in pristine condition.
"There are usually dust covers on them, but they are played a lot in summer time. Sometimes the Queen is there, but not always. It's a great honour," he says.
One royal warrant holder who has become accustomed to seeing the Queen is Roger Pope, provider of her spectacles. He takes a selection of frames to Buckingham Palace for her to try in front of her dresser.
"There are quite strict rules on what royal warrant holders can and can't say. But the Queen likes classic two-tone frames, and she has a rimless pair, which don't tend to dominate the face as much, which she wears on state occasions," he says.
The Queen may have one of the most prestigious client lists in the world, but her requirements are fairly modest, says Pope.
"She doesn't have that many pairs of glasses, and they are far from the most expensive frames in the shop."