10 ways the UK is ill-prepared for a heatwave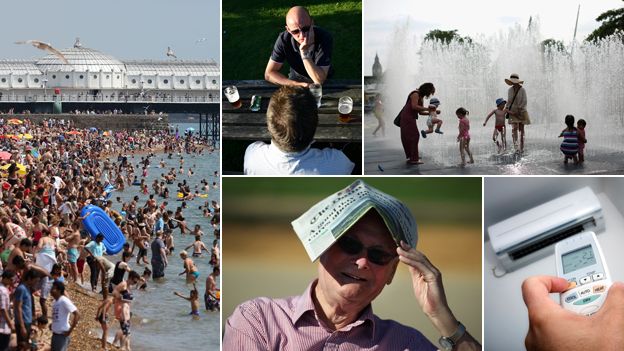 The UK is sweltering but with disrupted railways and hot homes, is it really ready for a heatwave?
Here are 10 ways the UK is ill-prepared.
1. The design of modern flats
The average UK one-bedroom home is a compact 46 sq m (495 sq ft), according to the Royal Institute of British Architects. And as well as being on the small side it's also increasingly very insulated.
This can be a good thing when it's cold and damp outside but not always helpful during a heatwave when a nice draught could make all the difference. There are even fears that homes insulated under the government's Green Deal could actually lead to deaths.
And then there's the fact that the typical flat only points one way.
"The problem with British housing provision is there's no legislation to ensure residences have double aspect," says Ellis Woodman, executive editor of Building Design magazine. "This means you get a lot of new flats in cities that only have one room orientation, which means you can't have cross ventilation, or a draught."
In north Africa and the Middle East the ideal home was traditionally based around a central courtyard, helping with air flow and leaving somewhere to cool down. Most British flat owners would relish this.
The UK is a country of radiators, not air conditioning. A Mintel report in 2008 found that just 0.5% of houses and flats in the UK had any kind of air con.
Air con is more common in the workplace in the UK, which might avoid some problems. A Nasa study, cited by Mintel, suggested that productivity falls by 3.6% for every degree over 22C.
As anybody who has ever sat through GCSE or O-level physics knows, metal expands with heat.
On railways there are traditionally expansion joints, using small gaps in the rail. But once the rail has expanded to fill those gaps you are in trouble.
At London's Waterloo station on Monday one track buckled, causing chaos. Elsewhere, controllers have had to use speed restrictions to avoid damage occurring on hot rails. Last week, 200 ScotRail services were cancelled or held up because of the heat. In temperatures of 30C (86F) the rails themselves can easily reach 50C.
The UK network uses continuous welded rail as this is safer, stronger and allows trains to travel more quickly over it, Network Rail says. This means there are much longer, continuous sections of track but there are still expansion joints.
In addition, work can be done to "artificially stress" new pieces of track so they are more resistant to heat.
The way that railways are built is a key factor in the disruption, says Network Rail. In the UK and many other places rail is laid on sleepers set into ballast, typically crushed stone.
But some countries that have persistently hot weather have what is known as slab track, where the rails are laid on reinforced concrete. "A slab track system can contain much higher forces and so prevent track buckles," says Network Rail.
The catch is that it costs four times as much to lay and with the infrequency of hot weather in the UK no-one has yet pushed for a switch. It may one day get cheaper.
In the meantime, Network Rail has started painting some sections of rail white so that they absorb less heat.
And the nub of the problem is not just the heat but also an occasionally overcrowded rail system. Stations like Waterloo often operate at 100% capacity. Speed restrictions can quickly cause disproportionate disruption.
4. Roads don't handle heat well either
With temperatures just into the 30s celsius, that might not sound like much of a problem, but temperatures are typically measured in the shade and black roads absorb heat. Roads in direct sunlight can regularly reach 50C.
Motorists on a stretch of the M25 experienced the knock-on effects on Sunday. Traffic came to a standstill before the road was closed while emergency re-surfacing took place over night.
5. Old people are too isolated
The very young and the elderly are physically more vulnerable to the effects of hot weather.
But the ongoing problem of growing social isolation for older people in the UK, where many live alone and far from their families, is particularly serious during a heatwave. The fact that many families are away on foreign holidays exacerbates it.
Afterwards, the government promised a review of services "to define the elements of a national mobilization against the social insulation of old people".
"There are millions of isolated and lonely people living in our communities, with nearly half of all people aged 75 and over living alone and 17% having less than weekly contact with family, friends and neighbours," says Michelle Mitchell, Charity Director General at Age UK.
"With this in mind, it is particularly important that we pay special attention to our older neighbours and friends who may need extra help in the current very hot temperatures. Checking that they are feeling well and offering support such as help with shopping could make all the difference."
The US has been using ad hoc "cooling centres" to cope with heatwaves for some time.
Cities such as New York, Chicago, Boston and Seattle, as well as Toronto in Canada, will set aside an air-conditioned public community centre or library to offer people relief from the heat, as well as water and often medical attention.
The recent US heatwave has led to an increasing number of temporary centres, in places such as California, Nevada and Arizona, being set up.
But in the UK, the phenomenon is yet to catch on in the same way.
7. Too few swimming pools
Another US tactic is extending public swimming pool opening hours. In the UK, the ideal place for many people to cool down might be an outdoor pool, or lido.
These large pools were built from Victorian times until the 1960s. But finding one isn't easy, especially outside south-eastern England. Lido numbers in the UK have fallen drastically, from about 300 in their heyday to under half that today.
In 1951 Greater London had 60 lidos. Today the capital has 13. Sport England says there are 705 outdoor pools in England. But that includes small pools, those owned by schools or private clubs, and facilities under construction.
Climate makes for a north-south divide. The South East of England has 255, the North East seven. Scots have three public outdoor pools to choose from, a spokeswoman for Sport Scotland says.
Wales has four, according to Sport Wales, but three are private fitness clubs and one belongs to a school. Ynysangharad Park lido at Pontypridd is expected to reopen in summer 2015.
Sport Northern Ireland estimates that there are four - two open to the public, one at a school and the other at a health club. Hackney Council is something of a one-off. In 2006 it reopened London Fields lido after 18 years of closure. About 2,000 people a day used the lido last weekend, four times the usual figure.
8. Lack of outdoor seating
Cafes, restaurants, bars and drinking holes aren't always geared up for soaring temperatures.
Take beer gardens. The British are renowned for loving their pub culture almost as much as the Germans. But whereas Germany - where beer gardens originated, and which boasts the largest beer garden in world (the Hirschgarten in Munich seats 8,000 people) - still has plenty of outdoor pub spaces, the UK has far fewer.
Those that do certainly benefit in the summer as the trade is sensitive to the weather, with beer sales on average around 6% higher in June, July and August, according to the British Beer & Pub Association's Neil Williams.
British restaurants and cafes also tend to have limited, if any, outdoor space. Many have been making the most of the heatwave by moving tables on to pavements where their licences allow.
9. Not enough drinking fountains
There was a time - especially when British cities' water was heavily polluted with industrial waste - when drinking fountains were literally a life-saver.
Countries accustomed to hotter weather, such as the US and Italy, still have plenty of public water fountains for the weary walker. Some magnificent Victorian fountains, such as Baroness Burdett-Coutts's fountain in east London's Victoria Park, remain in the UK. And there are more modern versions.
The typical British working day isn't totally suitable for summer sun. Britons work a variety of hours, but the 9-to-5 is still the most common way to make a living.
For office workers, that means sticky, cramped commutes and days spent at the desk wistfully looking out of the window. And for outdoor workers such as construction workers and builders, it probably means long hours labouring in an uncomfortable heat.
One solution might be to adopt the Mediterranean siesta and nap during the hottest part of the afternoon but work longer in the evening. Other industries could take a leaf out of farmers' books and start at sunrise.
Additional reporting by Nicholas Cooke, Tom de Castella, David Green and Finlo Rohrer