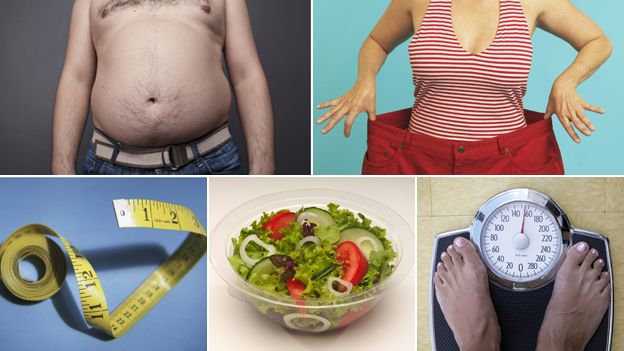 In church and community halls people gather for a weekly weigh-in with the hope of achieving their target weight, but are slimming clubs really effective?
In 2012, 27 million people in the UK were on a diet.
Tens of thousands of people pay to join slimming clubs and attend every week with the goal of dropping a dress size, getting into their favourite pair of jeans again or just feeling better about themselves.
Livy attends a slimming club with the aim of improving body confidence.
"People have this ideal image of if they're slim they're going to be happy and I very much think that."
Jackie has been attending a slimming club for 20 years, but has found her weight goes up as well as down.
"I lose weight and then I put weight back on, but overall I'm probably three stone [19kg] lighter than I was when I started. I'm quite an emotional eater. I eat when I'm happy, when I'm sad, when I'm stressed."
When Joan first joined a slimming club she weighed double what she does now.
"One Saturday I went shopping. Coming off the 436 [bus] with my trolley, fell down, 23 and a half stone [149kg], couldn't get up, couldn't move," says Joan." It took four men to pick me up. I was so, so embarrassed."
She now weighs 11st 5lb (72kg), but still attends the club for group support to help her maintain her target weight.
In 1961 a New York housewife, Jean Nidetch, first spotted a gap in the market for a group weight loss plan. She had lost weight using advice from the New York City Board of Health and started sharing her experiences with other housewives once a week in her home.
She licensed her speeches, trained other group leaders and Weight Watchers was born. The company arrived in the UK in 1967 and now uses something called the ProPoints plan. ProPoint values are attached to all foods and members are allowed to eat a fixed number of points per day.
The other market leaders are Slimming World - where food is divided into three categories, free foods, healthy extras and a limited number of "syns" or treats - and Rosemary Conley Diet and Fitness Club which focuses on exercise as well as weight loss. Members are also asked to try and avoid food that contains more than 5% fat.
Slimming clubs can offer those wanting to lose weight a guide to eating more healthily, group encouragement and moral support, exercise and movement advice and a set routine or plan to follow each week. Seeing other people achieve their goals can also spur people on.
The UK has a growing obesity problem. By 2050 the government predicts that 60% of men, 50% of women and 25% of children in Britain will be obese. But are slimming clubs the answer to controlling the UK's growing waistline?
Since 2007 the NHS has referred overweight patients to commercial slimming clubs to help them lose weight and a study published in the British Medical Journal (BMJ) in 2011 suggested that this works.
Researchers from the University of Birmingham compared NHS with commercial weight-loss programmes Weight Watchers, Rosemary Conley and Slimming World. Half of the 740 patients were referred to slimming clubs and the other half to NHS initiatives. They found after 12 weeks the greatest weight loss was 4.4kg (9.7lb) from the patients sent to Weight Watchers and the lowest was 1.4kg (3.1lb) from those provided with programmes from their GP.
Another study published in The Lancet in 2011 and carried out by the Medical Research Council Human Nutrition Research Laboratory, the University of Munich, and the University of Sydney also found that patients on a Weight Watchers course lost twice as much weight as those who just received nutritional advice from their GP.
This research was funded by Weight Watchers. However, the researchers involved said the study was completely impartial. It also lasted 12 months, therefore not taking into account the issues involved in maintaining weight loss over the long-term.
Keeping the weight off seems to be the big issue. A 2007 study by Weight Watchers, published in the British Journal of Nutrition, looked at the success of their programme over five years. Dr Carl Heneghan, director of the Centre for Evidence-based Medicine at Oxford University, has analysed these figures.
"What it shows is that [after] two years… about 20% of them maintain their goal weight. By five years that goes down to 16%," says Heneghan. "So basically you pick the best people, the lifelong members and actually even they struggle, with the majority of people not obtaining their long-term goal weight. After 40 years of them when are people going to wake up and say this is not the answer?"
Richard Samber, former finance director of Weight Watchers from 1968-1993, has said if a person cannot maintain the weight loss then they will keep returning to the company.
"It's successful because the other 84% have to come back and do it again. That's where your business comes from".
But Weight Watchers chief scientific officer Karen Miller-Kovach denies this.
"I don't think that that is what the company was built on 50 years ago. I know for sure that that is not the business model of today," she says.
"We cannot sustain a business on failure. There's a reason why we have been around 50 years… because people come to us time and time again to help them with their chronic condition of weight management."
She notes the five-year study's figure that 16% of people weighed less than when they started the programme.
"Is it everything we would want? No. But then what's the alternative? The alternative is doing nothing."
Psychologist Prof Traci Mann of the University of Minnesota has conducted extensive research into eating behaviour and says it is time to deal with the obsession with weight loss.
"If we could get people to focus on health instead of weight as what they're striving for, we'd be a lot better off in every way."
The Men Who Made Us Thin starts on Thursday 8 August at 21:00 BST on BBC Two.
Livy, Jackie and Joan feature in the documentary Welcome to the World of Weight Loss made by director Vanessa Engle. It will be broadcast on Wednesday 21 August at 21:00 BST on BBC Two
Related Internet Links
The BBC is not responsible for the content of external sites.