Tweets of the week: Miley Cyrus, Syria, Trump University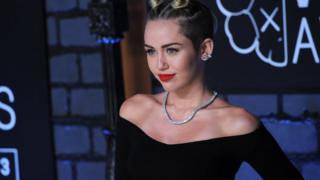 For the week ending 30 August, here is the news from the US in 140 characters or less.
1. Just remember, Miley Cyrus' publicist is having a worse Monday than you ever could.
A tweeter from the southern US known as The Rules (@RulesForBelles) comments on the uproar following the starlet's raunchy performance at the MTV Video Music Awards.
2. Girl can I get yo number. Oh, wait I already have it. #NSAPickUpLines
BuzzFeed Politics' Andrew Kaczynski (@BuzzFeedAndrew) riffs on the ongoing revelations about the US National Security Agency's surveillance programmes.
3. But what does it mean for the Special Relationship that doesn't really exist?
Brooklyn-based British writer Oliver Burkeman (@OliverBurkeman) wonders about the repercussions of the British Parliament's rejection of military intervention in Syria on diplomatic ties to the US.
4. Spend 640 billion a yr on military like US does and ur gonna start wars. Like doing roids & never fighting in a 7-11 parking lot.
Writer Adam McKay (@GhostPanther) offers a metaphor for the factors pushing the US into intervention in Syria.
5. I'm thinking of going back to school but having a hard time deciding between Trump University or Guido's School of Stuff.
Writer Garth Collins (@Voiceofgarth) on New York real estate mogul Donald Trump's legal trouble over the investing school bearing his name. New York state's attorney general said Mr Trump had operated a "scam". Mr Trump angrily denied misleading students who had enrolled in the school.
6. North Korea, feeling neglected, has accused the US of planning to launch a nuclear attack using B-52 bombers.
Bloomberg News's Scott Bixby (@ScottBix) on North Korea's interjection into the Syria debate.
7. What message is sent by an action whose stated purpose is to send a message? Seems deeply paradoxical.
Slate writer Matt Yglesias (@Mattyglesias) analyses the Obama administration's rhetoric heading into a possible military strike against Syria.
8. Yelling at each other in wigs about important votes is Britain's best thing along with Adele and telling people to "sod off".
Internet humourist pourmecoffee (@pourmecoffee) praises the UK's approach to parliamentary debate as it weighed military intervention in Syria.
9. The Oxford Dictionary added an entry on "Twerking". They removed "Dignity" to make room, since we weren't using it anyway.
Twitter user Wonderella (@wonderella) laments the dictionary's recognition of the dance move to which Miley Cyrus brought instant fame at the MTV Video Music Awards.
Compiled by Charly Jaffe