Readers' big infrastructure projects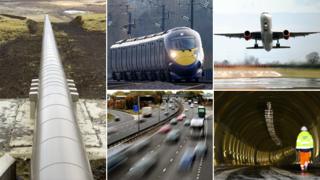 Last month, the Magazine looked at 10 infrastructure ideas that could change the UK.
Among the projects were a motorway for the east of England and a bridge across the Irish Sea.
Readers have been sending in their own suggestions for infrastructure projects, which have been assessed by experts. Here's a selection.
Transatlantic tunnel
"I would prefer to think bigger and create a joint Atlantic Tunnel with Canada and the USA. We could use it for freight and oil/gas transportation, or, if really bold, use Iceland and Greenland as islands and open the tunnel to passenger trains. It would be quick, renewable positive, and with no more trans-Atlantic flights carrying freight." (Peter, Chelmsford)
This is a huge project, it would be more than 30 times longer than one of the largest aqueducts in the world, Manchester's Thirlmere Aqueduct. An Atlantic tunnel is not a new idea. One of the many proposals goes back to 1888.
Ernst G Frankel, former professor of mechanical engineering and ocean engineering at the Massachusetts Institute of Technology (MIT), has argued that such a scheme is do-able. His own idea is to build a neutrally buoyant vacuum tunnel submerged 150 ft to 300 ft beneath the Atlantic's surface and anchored to the seafloor. A magnetically levitated train would zip through at up to 4,000 mph. "From an engineering point of view there are no serious stumbling blocks," Frankel told Popular Science. "We lay pipes and cables across the ocean every day. The Norwegians recently investigated submerged, floating tunnels for crossing their deep fjords, and were only held back by the costs."
There are other high-speed ideas out there that could be used. US-based entrepreneur Elon Musk recently suggested a Hyperloop service using magnets and fans that would link Los Angeles and San Francisco in half an hour, at speeds reaching 760mph.
But Arup tunnelling director Bill Grose - also former chairman of the British Tunnelling Society - isn't convinced by the Atlantic tunnel. "It's difficult to see a business case," he says. The most likely rail route would go from Scotland to Newfoundland and then to the US, he says. It would be unlikely that any journey through the tunnel would take less than 15 hours. That would create problems with ventilation.
Even on the most generous estimation of cost, the price tag is eye wateringly high.
"If we could tunnel from the UK to the US for the same cost per mile as we currently build at - which we couldn't, due to distances, pressures and other things - a single bore would cost over £140bn." He adds that a single bore is not possible for safety reasons, noting that the Channel tunnel is in fact three tunnels.
"So I think boats and planes will remain the transport mode of choice between the UK and US for some time to come."
Transport expert Prof David Begg also rejects the tunnel idea. The timescale and cost for building HS2 is demanding enough and that is a conventional high-speed railway on land. Now try and imagine a super-fast shuttle using untested technology under the Atlantic Ocean. It's cloud cuckoo land, he says.
Cost: $88-$175bn (Popular Science estimate for a floating tube) or £140bn bare minimum for a single bore tunnel (Bill Grose)
Expert view: Not feasible in our lifetime
Water pipeline along HS2
"If HS2 is built, the line of the track should also include a pipeline to transport water from north west England to the south." (Richard Murmann, Stamford)
This idea was proposed by United Utilities in 2012, which quoted the cost of £2.6bn. The theory is that the North has more water than it needs, while there is huge demand in the South. The Cumberland News asked if residents of the Lake District should get paid for their water.
Charges aside, it is physically possible, after all, the biggest water project in the world transports water from south China to north China.
Water scarcity is a serious concern in the UK, according to Institution of Civil Engineers (ICE) water expert Michael Norton. An ICE report points out the 2012 drought flagged up "the looming imbalance between demand and supply".
But this pipeline is not the way to deal with the problem, Norton argues. "I didn't think £2.6bn to deliver 300 megalitres of water made much sense," he says. "It would be far cheaper to find water locally."
Norton compares it to the Thames desalination plant, which converts salt water into drinking water. The cost of that is £300m and provides 150 megalitres of water a day. Another snag is the timing. Without HS2, he estimates it would take 15 years to build. With it, even though the land-clearing work would have been done, the water project would be delayed by the building of the rail track. The line between London and Birmingham won't even be completed until 2026. He predicts the water scarcity problem would need to be solved long before that.
Cost: £2.6bn
Expert view: There are more effective ways of tackling water scarcity
Humber barrage
"How about a Humber barrage instead of wasting money on putting wind farms in the sea ? Got to be more efficient." (John Jaggard, Hull)
The world's first tidal power station, the Rance Barrage in France, opened in 1966. Building one on the Humber would be physically possible, says oceanographer Nick Yates.
Yates says a barrage has an installed capacity of 1200 megawatts (MW) compared with 5 MW installed capacity of a single offshore wind turbine. However, the Local Government Association price the largest wind turbine at £2m to £3.3m. Yates estimates the barrage would cost £14bn. That would buy between just over 4000 and 7000 wind turbines, albeit with comparatively shorter life spans.
Yates says environmental concerns would also be an issue. "If you are altering the tidal regime, if you have migratory fish, how many will get killed or injured going through the turbines? Also, how many birds would lose their habitat?"
The tidal range is higher on the west coast of the England. The Severn Estuary has long been talked about as a source of energy. But in 2010, the then Environment Secretary Chris Huhne said there was no strategic case for the scheme. Nuclear power would be cheaper, he argued. If the Severn is not deemed viable, then it seems unlikely the Humber would be. It would make more sense to build a shorter one on Merseyside, says Yates, who believes that plans for a Merseyside barrage failed because government subsidies aren't long term enough for such huge, one-off projects with a lifespan of 125 years.
Cost: £14bn
Expert view: Build one in Merseyside first
Tunnel through Snowdonia
"Wales needs a decent north-south link. Swansea and Llandudno are 125 miles apart, yet by road it's a 158-mile, four-and-a-quarter-hour journey. By rail, it's 75 minutes longer, and by coach the journey is more than nine hours. A comparable distance, Swansea to Reading, takes just over two hours by road." (Be Ro, Llanelli)
Gwyn Llewelyn says the south and north of Wales are "completely cut off from each other", pointing out that you can't go between the two on the train without going into England.
In 2010 John Osmond, director of think tank the Institute of Welsh Affairs, described the A470 as a "painful" road that takes four to five hours from Cardiff to Llandudno.
"The problem with the A470 is the bends," he wrote. "Invariably, somewhere along its 168-mile length you get stuck behind a lorry, tractor or caravan, waiting for minute upon minute before you get a passing opportunity."
Bill Grose sees another way to connect the north and south. He suggests a link between Anglesey and Swansea. This might also require a tunnel through Snowdonia, something that is achievable, he says. Yes, the jagged peaks of Snowdonia, with the highest, Snowdon at 3,560ft (1085m), present a challenge to engineers. A tunnel under Snowdonia would be about 50 miles long. But the Zurich-Milan tunnel currently under construction bores 93 miles through the Swiss Alps. "If the central Europeans can tunnel under the Alps, there's no reason why we can't under Snowdonia. It's just a question of whether we need to."
Grose estimates twin 50-mile rail tunnels would cost about £5bn for the tunnelling alone. A road tunnel would cost more.
In a purely economic sense, there isn't the need for a north-south link, says Prof Stuart Cole at the Wales Transport Research Centre. Half of Wales's population of 2.8 million lives between Cardiff and Merthyr Tydfil. North Wales is sparsely populated and traffic there is light, he says. Tunnelling through Snowdonia would be far too costly. Cole supports turning the A470 into a dual carriageway. It would take an hour off journey times from north to south Wales and increase tourism and economic development, he argues. Perhaps most important, it would help "nation building," he says.
Cost: £5bn plus
Expert view: Not likely
Plymouth airport
"How about something for the south west? I write from the largest city on the south coast of England - Plymouth. We have no airport, no motorway, and a rail link (one line only) that is subject to closure in poor weather." (Roger Aldersley, Plymouth)
There used to be an airport in Plymouth but it was closed down in 2011. Campaigners fighting to reopen it, Viable, argue that closure deprived Plymouth of the chance to be a "thriving European waterfront city".
"The city has been misled into accepting that the airport is not viable for reasons that are not in Plymouth's long-term interests," it says.
Pat Hanlon, transport economist at Birmingham Business School, says reopening the airport is not financially viable because there is one in nearby Exeter. An economic study calculated that to continue running the Plymouth airport would cost £1m a year in subsidies.
But aviation consultant Laurie Price says there is a strong case for reopening the airport. Plymouth is struggling as its port declines and it is going to be hard for it to find a new role with such poor transport links, he says. About 15 years ago there used to be an "extremely good" Plymouth-to-Heathrow service. The airline was profitable, the airport just about broke even, and taken together the service was viable, he says. But higher airport charges and competition from Newquay hit Plymouth hard. A fundamental part of a hub airport is that it connects with the regions, he says. "If we're putting funds into areas for regional development then why not subsidise an airport? They do it in Europe."
But Prof David Begg disagrees. "Most people who would use the airport want to take flights abroad not go to London." Better to improve Plymouth's rail links with the capital than subsidise a loss-making airport, he says.
Cost: £1m subsidy per year
Expert view: Doubts over its economic viability
Dover to Cornwall motorway
"The south coast needs a motorway connecting Dover to Cornwall. As well as improving connections along the south coast directly, it would also reduce demand on the M25 and the M3/M23 where people currently go north from Portsmouth to go south again later. The economy of the south coast, except Brighton, is really struggling and links by road (and improved railways) would boost the economy of all the separate conurbations." (Gavin Ayling, Lancing)
A similar suggestion came from businessman Nigel Rees in 2012. He was campaigning for the M5, which starts in West Bromwich, to be extended from Exeter to Plymouth. He argued in his e-petition that the extension would help reduce unemployment in Plymouth. "If a new business looks to relocate to the south west they will not consider Plymouth because the motorway ends at Exeter," he said.
Going further to Land's End in Cornwall is the A30 from London. Complaints about bottlenecks led to parts of this road being converted into a dual carriageway in 2007.
Pat Hanlon is not convinced a motorway is needed. Coming from Cornwall, he remembers campaigns for better road links in the area going back 40 years. But he thinks people have a perception that the south west has bad traffic problems because of jams during the summer holidays. Sian Berry from the Campaign for Better Transport agrees. She says Department for Transport data shows traffic along these routes has not increased over the past 10 years.
Berry thinks it wouldn't be money well spent. Based on costs for motorway widening in 2007, she estimates it would cost £70m per mile. If the south west is feeling cut off, money would be better spent on improving the railways, she says. She points out that similar proposals failed in the 1990s when more than 500 road proposals were scrapped following the famous Newbury bypass protests.
"We're unlikely to see any more motorways built on green fields," says Paul Watters, head of transport policy at the AA.
Then there's cost. The Magazine previously noted that road building in the UK can cost as much as £155,000 per metre.
Cost: £70m per mile for road widening
Expert view: Hard to justify
Minehead to Llantwit Major tunnel
"I'm surprised no-one's yet suggested a tunnel between Minehead, Somerset and Llantwit Major, Glamorgan. This stretch of water is merely 10 miles wide and a link here would cut 200 miles off a journey between the West Country and Wales." (Toby Thatcher, Durham)
On paper, this would have a dramatic impact on journey times between the West Country and south Wales. Currently the road journey between Taunton and Bridgend is 95 miles and takes one hour and 40 minutes. Stuart Cope says that if a bridge or tunnel was built from Minehead to Llantwit Major, such an investment would demand a motorway at either end. The mileage would be cut by a third and journey time slashed to about 35 minutes. It would help drivers coming from further afield as Swansea and Exeter.
A tunnel of this length under the sea is possible, says Bill Grose. The Channel Tunnel, for example, stretches for more than 30 miles. But the difference, he says, is that there was already a demonstrable demand for such a tunnel, shown by the pre-existing ferry service. He estimates the tunnelling alone would cost £1.8bn, and then there's the cost of road and rail infrastructure. He suggests a tunnel at Stonehenge would be more effective at connecting the south west of England. It also has the benefit of linking two existing roads.
Cope says a bridge would be more financially realistic than a tunnel. But it comes down to demand. And there are not enough people in this part of England and Wales to justify it, he says. It makes more sense to roll rail and road links into a Severn Barrage further up the estuary nearer population centres like Bristol and Cardiff, he argues.
Cost: £1.8bn - just for tunnelling
Expert view: Hard to justify
Two-tier motorway
"A two-tier, four-lane motorway, with traffic travelling different directions on each tier. It would be safer - with no head-on collisions - and provide more space for traffic. (David Morgan, Northamptonshire)
Don Ward, chief executive at industry body Constructing Excellence, says this already happens in Tokyo and Hong Kong. A double-deck expressway was opened in 2010 in Sharjah, United Arab Emirates. But Ward argues that the aesthetic challenges of putting such a huge structure in the UK countryside would make it extremely unlikely to get planning permission on roads between cities. In built-up areas, it would be too difficult and too disruptive to construct. It would only be possible if it was part of the plans to extend an existing city or build a new one from scratch, he says.
Opening up the hard shoulder to an extra lane of traffic is a far more feasible way of increasing capacity, says Pat Hanlon.
Joe Moran, author of On Roads: A Hidden History, says the UK was initially anxious in the post-war era that it was falling behind other countries in relation to elevated roads. But the few that were built proved controversial - the construction of London's Westway in the late 1960s led to the first big road protest, he says. Today the situation is subtly different. It is politically difficult to build new motorways through virgin countryside. Motorway widening and improvement is the limit of what can be achieved. A double-decker road presented in that context - adding capacity through an extra layer - might just have a chance where a brand new road would fail, he says.
Costs: Depends on the length
Expert view: Only in a pre-planned city
Replace Dartford crossing toll booths
The government has launched a consultation on a new Dartford crossing, costing up to £3bn. Readers came up with a much simpler solution to tailbacks - replace the toll booths. "It would appear most of the congestion is due to the antiquated manual toll collection system. I was surprised by the absence of electronic toll tags," said Bernard Murphy from Texas.
Stephen Glaister from the RAC Foundation agrees. "It's crazy to have toll booths," he says. Automatic payment is "absolutely bog-standard across the world". The Highways Agency is already on to this and expects to replace the booths towards the end of next year. It is looking for suppliers to provide number plate recognition - similar to how money is collected for the London congestion charge. Along with new road layouts, they say the changes are expected to be finished by October 2014.
Cost: Between £68m and £84m
Expert view: It is going to happen
North Sea hub
"Global warming and other factors are making London/ eastern England/ Holland/ Belgium very vulnerable to flooding. My "mega" scheme is to work with the Dutch / Belgians on fixed routes across the North Sea coupled with artificial islands, renewable energy (various forms, tidal, wind, solar) and reclaimed land for industry. Tidal flows could also be managed, of great benefit to UK and Holland/ Belgium. There could also be a huge transport hub/ airport serving a swathe of the most productive parts of Europe." (Malcolm Hurrell, Bournemouth)
Don Ward says to get an idea of a starter cost for this you only need to look at London Mayor Boris Johnson's proposal for an estuary airport. It's estimated at £45bn. That's without the added extras Hurrell talks about. The cost of the island could vary a lot more as it is dependent on the depth of the sea at that point.
Hurrell doesn't specify whether these fixed routes would be bridges with road or rail. Regardless, Ward believes there are good existing options for transport across the Channel. "You've got a perfectly good capacity to northern France, which is near these places so it would be extremely difficult to be cost-effective."
Prof Begg says the idea is irrational. Passengers want to travel to a hub airport which is close to a city, rather than in the middle of the North Sea, far from population centres. Yes, renewable energy could be produced. But at what price? "The economics of tidal and wind power are not attractive even if a few miles off land," he says. In the middle of the sea it would be far more costly.
Cost: £45bn and rising
Expert view: Extremely difficult