Boom and bust in Australia's coal country
Falling resource prices have seen thousands of workers laid off in Australia, and towns like Mackay, at the heart of the coal mining region on the east coast of Queensland, have suffered more than most.
When Scott Gralow bought Mackay Motorcycles in 2007 the shop had just had its best year.
They had sold 150 Harley-Davidsons, not bad for a town of just over 100,000 people.
Then, two years later, he sold 210 of them.
"It went from boom to 'boom boom'," he tells me. Those numbers made him one of the biggest regional Harley dealers in Australia.
"It was full on," says Scott, more bank manager than bikie with his neat, thinning hair, clean shaven face and rectangular glasses.
He starts to talk about Fat Boy, Street Bob and Fatty Low. Australians have a certain fondness for politically incorrect nicknames, so it takes me a minute to realise he is not talking about his mechanics.
"They have got the look that everyone likes," he says, walking along a row of the low-slung, chrome-piped machines, slouching on their kickstands. "That tough, muscle look."
And the sound too. Scott turns the key in a Fat Boy and the engine roars to life - a fierce explosion tamed by masterful engineering, channelled into an air-warping rumble, fat and low.
It is a siren song, if sirens smoked two packs of cigarettes and drank a bottle of whisky a day - tempting mostly men to fulfil their youthful promises to themselves and spend unwisely.
"They were basically miners," Scott says of the customers who drove his record sales. "The price was not an issue, they just wanted them."
It used to be said that Australia rode on the sheep's back, but for the past two decades Australians have been astride the Harley-Davidson of world economies.
While other developed countries struggled along the B roads of austerity and recession, or limped into the mechanic for an IMF-mandated engine rebuild, Australians have opened the throttle on the highway of economic growth and prosperity, the wind in their hair, powered by the toughest and muscliest of industries - mining.
China needed coal and steel to power its growth and build its cities, and Australia has them in abundance.
The global financial crisis barely registered here as resource prices rose, investment flooded in and fortunes were made, and not just at what Australians call the "top end of town".
Cooks and construction workers, truck drivers and mechanics, there were stories of high school drop-outs making up to $200,000 (£128,000) a year.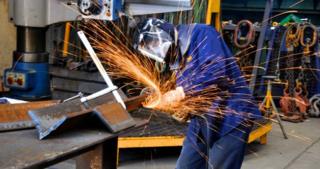 Most probably did sensible things like pay off their mortgages, but the high-earning, big-spending blue collar workers became the defining characters of this modern day gold rush, and how they spent their cash became its lore.
They even had a name: Cubs - or Cashed Up Bogans.
Bogan, like the British "chav" or the American "white trash", can be a term of abuse or a badge of honour depending who uses it, and the Cubs were revered and reviled in equal measure for their conspicuous spending and perceived lack of taste.
In Mackay my guide to the good times is Gary Choy, a wiry, energetic character with a shaved head and sunglasses. As I switch on my recorder, he promises to switch off his constant use of the f-word.
"I won't lie, I had a lot of fun," he tells me. As an entrepreneur and bar owner, he saw how the money was spent: "Harleys, trucks, toys, girls, boob jobs."
But like all parties, eventually the music stops and the lights come on.
Resource prices have fallen substantially and mining companies have slashed their costs - in Queensland more than 8,000 coal mining jobs have gone in the past 18 months.
"The problem with all this is you gear up for it," Gary tells me, "and then when things are not so good, you come down with a big thud."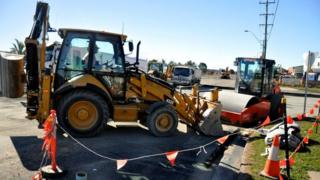 At Mackay Motorcycles, Harley sales are down 15% from their peak. "It was a surprise that it happened that quickly," Scott says.
"Boom boom" has gone from Mackay, but as I leave Mackay Motorcycles Scott points out one growth area - the local second-hand classified magazine.
"There are lots of bikes in there," he says, "probably twice as many pages as before."
I buy a copy and call the first ad I see for a Harley. Jason answers.
"I would rather put more money on the mortgage than have some nice little toys to ride round on," he tells me.
At his workplace, there are plans for 600 redundancies, and he is worried.
"Before the chop comes, I just want to be ready," he tells me.
There will be many more like him around Australia - people whose jobs and businesses are going or gone.
When you are riding a Harley, you are king of the road. But when you fall off, you get hurt just like everyone else.
How to listen to From Our Own Correspondent:
BBC Radio 4: Saturdays at 11:30 and some Thursdays at 11:00
Listen online or download the podcast.
BBC World Service: Short editions Monday-Friday - see World Service programme schedule.