The relationships that last longer than marriage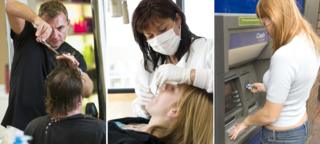 Banks have reduced the time it takes customers to switch current-account providers. It's a well-known saying that customer-bank relationships last longer than most marriages. But what are the other really long relationships?
More than 50% of all UK current-account holders have never switched their account, according to market research firm Mintel.
The average current-account relationship lasts 17 years, while the average British marriage which ends in divorce lasts just 11 years and six months.
But the stats don't signify a happy relationship. Nearly half of current-account holders stay put because they perceive switching to be too much of a hassle, according to uSwitch. On Monday, the banking industry said the time customers would have to wait to switch current accounts would be slashed from 30 days to just seven.
But what's going on with these long-term customer relationships?
Hairdressers
Some people tell their hairdresser more than they'd tell their family. And there are those who would travel further for them and on a more regular basis.
It's been reported that a loyalty survey of 2,000 adults found hairdressers are the businesses that customers are most loyal to, with two-thirds of consumers stating that they would continue to go to the same hairdressers, without even thinking of switching to another salon.
"With hairdressers there is a risk of uncertainty and risk when people go to someone new," says consumer psychologist Philip Graves. "They've got to describe how they want their hair cut, and they probably don't know how to do that technically. On the other hand, with someone familiar it feels comforting."
The trauma of ending a relationship with a hairdresser has been well documented. Both the Chicago Tribune and Huffington Post have blogged on the subject.
Dentists
Many people hate going to the dentist, but when they do, it's better the devil they know.
A survey by dentistry firm Oasis found that 43% of people were loyal to their current dentist, saying they would not change unless they really had to. It found that 22% had never changed dentist, with 60% having been with their dentist for five years or more.
Across the other side of the world in Australia, the bond's even longer, lasting nine years on average.
However, there is evidence the patient-dentist relationship is not as strong as it once was, with a generational spilt emerging.
Only 35% of 16-24-year-olds identify themselves as "loyal" to their dentist, compared with 56% of 55-64-year-olds, according to Oasis.
There's also a geographical divide with 28% of patients saying they would "shop around" for different prices across the UK, rising to 40% in London.
Mobile phones
Nearly 25% of consumers have never changed their mobile network provider, according to Mintel.
But Graves thinks network providers have an advantage when it comes to technology.
"With mobile phone contracts there is the carrot of a new handset, which is an attractive way of tempting people over.
"There can also be an immediate lower cost to line rental, whereas with something like an electricity bill, it's harder psychologically as there's no tangible cost benefit. Most people aren't able to think, 'We'll make the switch now and be £100 better off in a year' and feel better. There is no instant gratification," he says.
Energy suppliers
About 95% of energy customers are aware they can switch suppliers, but only 38% have ever done so, according to uSwitch.
Moneysupermarket.com estimates the figure to be even higher. "About 70% of people have never switched, and if they are on a standard deal, they could save about £200 by doing so," says Kevin Mountford, head of banking at the website.
For Graves, it's a question of not seeing the benefits.
Unless people do clever accounting, or put money away that they would be spending on energy every month, it's hard to imagine the savings.
"And let's face it, who is going to do that, and who would want to spend time at a party with someone like that?" he says.
Gym memberships
Gym memberships are another relationship that seem to stand the test of time - not least as many sign up to long-term deals.
Mountford says the problem is people with the best of intentions often end up throwing money away.
"People wouldn't go to the supermarket and spend £40 without actually getting anything, so people shouldn't do it in gyms.
"If people want to take control of their finances, it might be better to go to a council-run gym once or twice a month rather than a super-gym," he says.
Bank accounts
While some people might question the rationale of not shopping around, Graves says it's an entirely rational pattern of human behaviour.
"Engaging with something requires us to use cognitive resources, and they are limited.
"People tend to give things attention when they decide they are going to get a psychological return from it. For some people, changing bank accounts might feel like a big thing to do - something that involves a lot of learning for not much reward. They'd rather spend two days looking around at a new pair of mountain bike socks, or whatever hobby they have," he says.
Loss aversion also comes into play, according to Graves. "In evolution terms, we avoid doing things that are risky, that would lead to our demise. Of course we don't live in an age where these decisions are likely to affect our existence, but that instinct is still there.
"So with banks, on one hand it might show that only 1% of people who move accounts have a problem. On a human level, we are likely to think of potential disruption - such as if rent doesn't come out on time there might be grief from a landlord," he says.