How mercury poisons gold miners and enters the food chain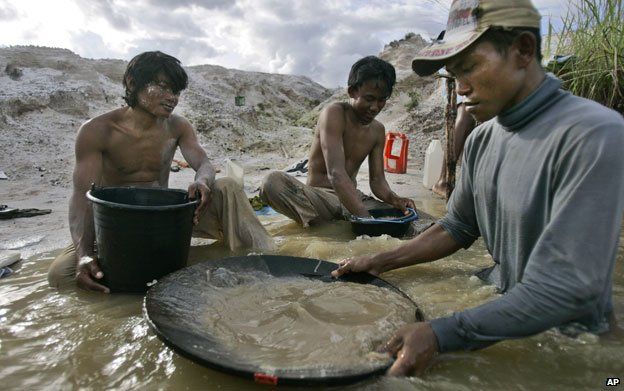 About 15% of the world's gold is produced by artisanal and small-scale miners, most of whom use mercury to extract it from the earth. In Indonesia, the industry supports some three million people - but the miners risk poisoning themselves, their children and the land.
Fahrul Raji, a man in his early 30s, is not feeling well. At the health centre in Kereng Pangi, a town in Central Kalimantan surrounded by goldfields, he explains his symptoms.
"I often have a headache, and I am weak. I have a bitter taste in my mouth."
According to Dr Stephan Bose-O'Reilly, who is examining him, Fahrul is being slowly poisoned by mercury.
"Fahrul's been working with mercury for many years, and he's showing the typical symptoms of mercury intoxication," says Bose-O'Reilly, a German medic who began studying the impact of mercury on Indonesians' health a decade ago. "He also has a tremor and a co-ordination problem."
Although mercury use in small-scale gold mining in Indonesia is illegal, miners still use it to extract gold from the rock or soil.
Fahrul isn't a miner, but he has a gold shop in Kereng Pangi. Every day miners bring him the fruits of their labour - usually a pea-sized piece of amalgam that is mercury mixed with gold.
Fahrul burns it, and the mercury evaporates leaving the gold behind. But the fumes are highly toxic, which is why smelters like Fahrul often show more severe signs of mercury poisoning than miners who use it in the field.
"Mercury is a neuro-toxin," Bose-O'Reilly explains. "It affects the cerebellum, which is the part of the brain that helps you move properly, and co-ordinate your movements. Mercury also harms the kidneys and other organs, but the neurological damage it does is irreversible."
Fahrul's gold shop is on the main street of Kereng Pangi. He sits behind a wooden counter, his blow torch behind him, waiting for business. At the end of the day, the miners arrive with their pieces of amalgam ready for smelting. Fahrul says he's worried about the impact of mercury on his health, but he has no intention of changing his job.
"This is a family business that's been handed down to me. My father was also a gold buyer. And he's about 65 now, and still looks healthy."
Even though he has symptoms, Fahrul has convinced himself that the risk he runs is small. And that is the problem with mercury - its effects are not dramatic enough, in the short term, to act as a viable deterrent.
The worst case of mass mercury poisoning the world has ever seen happened in Japan in the first half of the 20th Century.
Symptoms appeared only gradually in the fishing village of Minamata. At first, nobody could explain why people began to slur their speech, or stumbled when they walked. They would have trouble swallowing, or tremble uncontrollably. Children were born with disabilities. Thousands would die with what became known as Minamata Disease.
But it took 30 years - until the 1960s - to identify the cause of the suffering: a local plastics factory that was dumping mercury into the bay. The mercury was contaminating fish, the staple food of the local population.
If Fahrul continues to smelt mercury in his gold shop, and inhale the poisonous fumes, it is likely his symptoms will get worse. Bose-O'Reilly says his urine contains 697 micrograms of mercury per litre - far more than usual.
"This is incredibly high," he says. "Most people would have one or two micrograms at most."
There are an estimated 10-15 million unregulated gold miners around the world, operating in 70 countries. Artisanal small-scale gold mining (ASGM) is the largest source of mercury pollution in the world after the burning of fossil fuels.
And in Central Kalimantan the effects of this unregulated industry on the environment have been devastating. Around Kereng Pangi, the miners have cleared virgin forest once home to orang-utans and hornbills. What is left is a lunar-like landscape, its pools polluted with mercury.
"There are 60,000 hectares of denuded area that are completely pitted like this," explains Sumali Agrawal the technical director of YTS, a local NGO working to mitigate the impact of mercury.
"You can see it on Google Earth - a white patch in the middle of a green landscape. This was formerly tropical rainforest on a sand substrate. If you left it alone for 50 years, some vegetation would grow, but there would never be a diverse rainforest here again."
There are no large nuggets of gold to be mined around Kereng Pangi - only tiny particles of the precious metal are present in the tons of earth. Miners use mechanical sluices to trap the mud that is rich in gold. They mix this with mercury in buckets using their bare hands.
Mercury is a persistent pollutant - it does not break down in the environment.
On the Indonesian island of Lombok, its potential for harm is multiplied because it is being used in conjunction with cyanide.
"Together mercury and cyanide create double the problem in the environment," says Dr Dewi Krisnayanti, a soil scientist specialising in heavy metals at Lombok's Mataram University.
Cyanide helps to dissolve the mercury, and when the waste is spilled into paddy fields it binds with organic molecules in the environment, becoming methyl mercury. This is far more toxic - in Minamata it was methyl mercury that poisoned thousands of people.
Dewi has analysed samples of rice seeds and leaves from the paddy fields in the south-west of the island.
"The concentration of methyl mercury was the highest ever recorded in a laboratory - 115 parts per billion," she says. "I felt very sad when I saw the data, because methyl mercury can be absorbed by plants, get into the food chain and affect human health."
The same methods are used to recover gold in other Asian countries too, and these are also rice-eating nations. If the contamination of paddy fields was found to be widespread, it could be devastating.
Indonesian's Assistant Deputy Minister of the Environment, Halimah Syafrul, says controls on illegal imports of mercury are being tightened. And the government hopes the forthcoming ratification of the UN treaty on mercury - known as the Minamata Convention - will bring international assistance to help Indonesia's miners find alternatives to the use of mercury.
"There is pollution in the environment, pollution in the rivers, destruction in the mountainous areas and destruction of our protected forests. It's a similar situation in almost every province and we have 34 provinces in Indonesia," says Halimah, an environmental scientist by training.
Dr Rachmadi Purwana, professor of Public Health at the University of Indonesia is worried.
"The threat is there every day and it is escalating. We have to remember that in Japan a small place like Minamata shattered the whole world by revealing Minamata disease. In Indonesia, it's not only in one village, it's throughout the country. In nearly every province, there is small-scale gold mining."
And what is Rachmadi's fear if there is no action?