Maloya: The protest music banned as a threat to France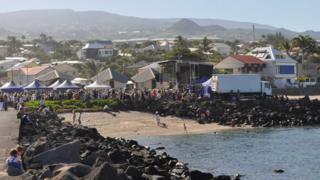 A type of dance music from the island of Reunion was considered such a threat to the French state in the 1970s that it was banned. Maloya music is now becoming popular around the world - and is being used to express the anger of a new generation.
It is a hot Sunday morning on Reunion, an island out in the Indian Ocean that is a part of France, an overseas departement.
And in the little fishing port of Terre Saint, they are holding an annual free festival known as Ris Sofe, named after the Creole word for the rice dish that the sugar cane workers used to eat before heading out for the fields that stretch up towards the volcano in the centre of the island.
Down by the pier, there are stalls where the wives of fishermen are of course selling Ris Sofe - rice, mixed with hot peppers, sausages and fish.
The beer tent is doing brisk business and there is a crowd of several hundred, from teenagers to old men in suits and straw hats, gathered around a little stage watching a furiously energetic performance from a celebrated local singer.
Firmin Viry is now in his late 70s. But you would not think so as he dances across the stage accompanied by drummers and his own kayamb, a traditional tray-like percussion instrument made from cane stalks.
He was once a sugar cane worker himself and then spent 20 years working in a cigarette factory, but now he is famous for his songs and albums.
And yet, just 33 years ago, he would have been arrested for singing like this.
The police would have broken up the concert and smashed all the instruments because Viry is an exponent of maloya, a musical style that was banned by the French authorities.
It was particularly hated, so Viry told me, by President Giscard d'Estaing.
The songs are sung in Creole, not French, and the percussive backing has its roots in Africa, from where slaves were brought to Reunion to work in the cane fields.
The Catholic Church violently disapproved because it was used in servis kabare ceremonies, in which participants say they enter a trance and come face to face with their ancestors.
The French authorities had other reasons to be concerned. In its secular form, maloya is great dance music, but it can also be protest music.
And the Communist Party made great use of maloya in the 1970s, when it was fighting for greater autonomy from France. It wanted the same status as Corsica, while other activists argued for full independence.
Maloya was seen by the French as a threat to the state and, sitting backstage by the sea after the show, Firmin Viry told me about life as a musician in those dangerous days.
He performed without being discovered by the French authorities by constantly changing his tactics, organising shows in different peoples' houses, often under the guise of a birthday party.
Other musicians were not so lucky. He told me of his friend Augustin, who was jailed for playing maloya.
Life for a maloya player changed dramatically in 1981 when Francois Mitterand, leader of the Socialist Party, became the French president.
He did not just legalise the music, allowing it to be played on the radio, but provided funds to help cultural projects.
The Communist Party had not got what it wanted, Viry told me, but the protests came to an end.
Today, maloya is becoming internationally popular among world music fans thanks to artists like Danyel Waro and Christine Salem, who were massively influenced by Firmin Viry.
But it still provides a reminder of the divisions that exist on this exquisite little island, between the French who buy houses here or come as tourists - you do not even need to show your passport if you fly in from Paris - and the Creole-speaking population, many of whom are poor and without work and who argue that their identity and culture are in danger of being swamped by France.
There have been sporadic violent protests against the cost of living. The most recent was in February last year when riot police were sent to the island from France.
And according to Danyel Waro's musician son Sam, "the young people are angry".
"Unemployment is over 40% for those between 18 and 25 and they will not shut up. They are starting to scream.
"They are angry that people from France come here and get jobs when local people are struggling." Although France, he added, does provide unemployment benefit.
So does the once-banned old-style maloya music from the 1970s still have a role to play?
"It is the cry of the people," says Firmin Viry. "There is no good balance between France and Reunion when it comes to jobs."
One of his songs is about unemployment and how hard it is.
Far away in Paris, there is no suggestion that the authorities will ever again ban maloya.
But perhaps, if they want to judge the mood in this tropical outpost, it is time for them to brush up on their Creole and start listening to Firmin's lyrics.
From Our Own Correspondent: Listen online or download the podcast.
BBC Radio 4: Saturdays at 11:30 and some Thursdays at 11:00
BBC World Service: Short editions Monday-Friday - see World Service programme schedule.