Twenty readers who switched nationalities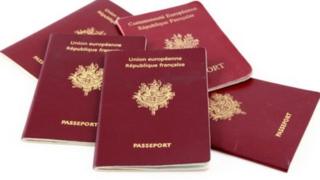 A Magazine feature on Americans giving up their citizenship led many readers to explain why they have also renounced their citizenship of other nations.
An increasing number of expats are becoming "ex-Americans" because of their frustrations with the tax system.
But around the world, many others have renounced the citizenship of their birthplace, and switched nationality, for a host of reasons. Here is a selection of their stories.
1. I gave up my Russian citizenship as a teenager. I became a naturalised Czech citizen which allows me to travel to around 160 countries and territories around the globe without ever needing a visa. But I am living in China now where everybody needs a visa except for the Japanese. A Japanese passport is the most valuable one (not the EU or US one). I Konig, Guangdong province, China
2. I switched from being an Austrian national to British when I was 15 due to two reasons - a) I would have had to serve two years' National Service in the Austrian military and b) I needed British citizenship to enable me to join the Royal Air Force. Guenter Ruckhofer, Brighton, England
3. I had dual citizenship, Turkish and British, but a few months ago I went to the Turkish consulate in London and filled out the forms and applied to have permission to give up my Turkish citizenship. This is because the Turkish government is asking their citizens to pay £6,000 ($9,700) tax if they are living or born abroad and not willing to do compulsory army service. I am a 38-year-old married man and have been living in the UK for the last 13 years. I don't want to do any army service and can't afford to pay £6,000 either. So no more Turkish citizenship for me and yes to British citizenship. Atakan Kaya, Bucks, UK
4. I felt that being British in 1975 was like a mental prison. To put it in a nutshell - a backwards-looking rigid society, dependant on its history and old traditions for a sense of identity. I wanted to have European citizenship but settled for being French. I feel I'm also a citizen of Germany, Benelux, Italy... when asked, I say I'm a European. It excites me that that is a "work in progress". The more I return to UK, the more I feel that that decision was the right one - I feel Britain has missed an enormous opportunity to modernise itself mentally and is stuck in a virtual no-man's-land between the dead Empire and the USA. More and more people regret having joined Europe and many friends said the UK should leave. The Brits not only refute Europe intellectually with all sorts of stats about how bad it would be to join the euro etc, but also a large majority of them seem to have some sort of allergy against working in different languages and the concept of compromise for a common gain. Moreover, there appears to be a reluctance to let go of images of past glory. Tony Lark, Neung sur Beuvron, France
5. My wife surrendered her German nationality when we got married in the UK. We are now living in Germany but my wife is unable to recover her German nationality. The authorities say she gave it up voluntarily and cannot get it back. Jim Wood, Oer Erkenschwick, Germany
6. Born and brought up in India, I decided to turn in my Indian passport three years ago and apply for a Hong Kong passport and the accompanying Chinese nationality. This was when I had lived out of India and called HK home for 12 years. My HK passport is something I cherish and feel proud to present in different countries. Quite enjoy telling people I am now technically "Chinese". While I am currently based in Singapore for work reasons, my family is still in HK and I see my own family roots only strengthening in HK. Last but not the least is the issue of the enormous number of visas that Indian passport holders needed. Pretty much every country I travelled to on the Indian passport needed me to have a visa - mostly in advance, sometimes on arrival - making professional travel utterly painful. Anant Deboor, Hong Kong/Singapore
7. As an expat, now living in New Zealand for the past eight years, I used to identify as a proud Englishman. I decided to emigrate for a better life, for my family and children. We chose New Zealand. I have never regretted my decision, especially when I read the UK news. Living here in an area with a high Maori population, you quickly gain a very strong sense that historically "Great Britain" wasn't actually that great after all, and committed enormous harm and damage to Maoridom still felt today. I fear my father in his later years was still caught up in the jingoistic, flag waving of WWII, as I think are still many UK citizens. Whilst New Zealand may not be perfect (it has its social issues too), it's immeasurably a more preferable option than the UK. I will very soon be applying for NZ citizenship for myself and my children, and will be giving up my citizenship of the UK, so I can call myself a proud New Zealander. Paul Ratcliffe, Whakatane, New Zealand
8. I reluctantly gave up my Zimbabwe passport for the British passport because I got fed up of being held back and questioned by the European or British authorities at airports when travelling with my family who hold British passports. Also for every country we travelled to, I would have to have visas which meant travelling to London from the North West which was just so difficult and lots of planning before travelling. Now with a British passport, we can travel without problems. S Khan, UK
9. I've given up my Dutch and French citizenship because I'm old enough to have had to do military service for both. But as a black man, every time I was in the Netherlands or France, I was treated as an illegal immigrant at best, or an eighth-class citizen at worst. But they wanted me to do my military service anyway. Funnily enough, the only citizenship I have left is the USA one, which is a bit problematic now that I don't live there anymore. That was the first article that I've seen that actually mentions that [tax law] Fatca is the strengthening of existing legislation (good job!), and because the currency of the country in which I live has fallen so much, my assets have me as pretty harmless in the US's eyes. But I can't get a mortgage here, because they're not giving mortgages to US citizens. Ugh. Lee Robertson, Cape Town, South Africa
10. I'm in the process of renouncing my Norwegian citizenship. All the forms are completed. I only need to spend a bit more time here until I fulfil the requirements of citizenship. Mainly because, as a Norwegian, I'm being punished for not being in the EU. Ironically though, the only reason for me being able to afford education in the UK is the Norwegian Student Loan Fund. Tor, London
11. I have given up my SFR Yugoslavia citizenship in 1973 at the time I became the citizen of the US. No regrets. I left Yugoslavia never to return except to visit my parents and my sister. At this time, my sister is the only surviving reason to go back, this time to Serbia, but should she precede me in death, I will no longer have the reason to even come and visit, and I will not. I first left Yugoslavia in 1967. Twice in my life prior to that, I was on the brink of being jailed because of expressing my opinion which was critical of the regime. My anti-Communist indoctrination, if I may call it that, began very early in my life. My father, who was a democrat in his political beliefs, was jailed soon after the communists took over the reins of my country. He was an industrialist before WWII and the communists treated him as a class enemy. He spent a year in hard labour and his property, including his clothes from the closet, was confiscated. Miodrag Kukrika, Pennsylvania, US
12. I was born in Canton after nationalist China had fallen to the Communists. Thankfully I had the chance to emigrate to America and became a US citizen after five years of residence in America. I was overjoyed to sever my link to Communist China. However, I have fancied Great Britain and the typical American way of life has been turning me more and more Anglophile. So while I am happy to hold an American passport, being British is still my dream and passion. Terry, Fairfax, Virginia, US
13. I gave up my British citizenship to attain Dutch citizenship (the Dutch allow themselves to have dual citizenship, but don't allow dual citizenship to foreigners). The British bureaucracy lost my document proving I had given up my British nationality, prompting the Dutch immigration police to threaten to remove my newly obtained Dutch citizenship, leaving me stateless. As a stateless person, I should have had no right to start legal proceedings, as I would not officially exist. In the week the Dutch ultimatum expired, the British Consulate in Amsterdam sent me a copy of the covering letter that accompanied the document the Foreign Office had lost and refused to duplicate. The Dutch accepted the letter, allowing me to continue existing as an official human being. The most ironic situation arose when the Foreign Office refused to help sort out the mess they had created as I am no longer a British citizen! Richard Ireland, Groningen, Holland
14. I gave up my dual citizenship with Ireland last year, to remain solely a British citizen. I did so to apply for a job with DSTL, the Defence Science and Technology Laboratory of the Ministry of Defence. The post was restricted for non-dual nationals only. In the end, I didn't get to the interview stage. I find it quite wrong that departments are permitted to make such restrictions before they even consider the applications - and fortunately, as I was born in Ireland I can retrieve my citizenship at any point. Some dual nationals are not so lucky. In terms of identity, giving up my Irish citizenship didn't particularly affect me - I didn't, for example, feel like I was making a big sacrifice. Having grown up in a family with two British parents in Ireland, particularly living in a rural area during my teens, being British was a bigger part of my identity than the Irish half. I had always had UK passports and had lived in the UK since I turned 18, which helped with paperwork - although the Irish embassy in London was extremely disorganised. Apparently they had never dealt with anyone wishing to renounce their citizenship before. Gwen Wordingham, Canterbury, Kent, UK
15. I was 13 when I left India with my family as my father was sent over to UK as a bank manager. Before the move, all my education was in my mother tongue, Marathi. We had English lessons but I skipped them mostly to go play cricket. When I arrived in the UK in mid-September, it was difficult to find a school place. In the meantime, I watched a lot of television and read geographic books in English. Upon starting school, I made a fool of myself many times because of my English language limitations. However, I also managed to find friends who would correct me and try to understand me. I have now been living in the UK for 12 years and it has been around three years since I renounced my Indian citizenship. I have many friends from various backgrounds, I am successfully completing my PhD in ageing at Newcastle University and am very grateful for all the opportunities provided to me by my adoptive country. I truly believe that one cannot choose where they are born but in today's globalised world, you can always find a country that you can call home. Abhyuday Deshpande, Petts Wood, UK
16. I gave up Belgian nationality at age 17 when it was made clear that I would have to do military service. I hardly spoke the language and had no wish to spend two years in the army and having the possibility of having to serve in Belgian Congo. So the only option was to renounce [Belgian nationality] and keep the British one. These days I believe nationality is less of an issue. I have lived for 22 years in Spain, now the last four in Brazil. The world is smaller. My feelings and roots are British 100% but I am a world citizen. Alan C Dens, Araguaina, Tocantins, Brazil
17. I was born in Ireland, and my first passport was a UK passport, based on my father being born in the UK (Northern Ireland) and on my birth before 1947 in the Irish Republic (before officially leaving the Commonwealth). When Ireland and UK joined the EU, I revoked my UK passport, and took an Irish passport. I was born and grew up in Dublin, while my parents were both from the UK. I did not agree with the Irish Republic's stance on making a territorial claim on Northern Ireland (six counties). When they revoked that claim, I felt free to take out the Irish passport. Also, I always felt more Irish than British. I now also have a Canadian Passport and live in Canada as a dual Irish-Canadian citizen. Gordon E Murray, Hamilton, Ontario, Canada
18. I was born and bred in Singapore but moved to the UK when I was 21 and eventually naturalised as a British citizen after seven years here - I am 37 today. I left Singapore because I had no faith in the government there. Singaporean males were discriminated against by the government because of the compulsory national service and many years of reservist obligations afterwards. That is compounded by the fact that the Singapore government is actively wooing skilled migrants to Singapore. Their "foreign talent" programme gives these migrants all kinds of advantages that locals are not entitled to. I gave two years and four months of my life to serve in the army and my reward is to be treated like a second-class citizen. I wasn't prepared to fight the system, so I simply left and settled in the UK instead. Alex Liang, London
19. I have given up my Chinese citizenship after acquiring Australian citizenship. I actually didn't officially renounce Chinese nationality, but according to the Chinese citizenship law, I am deemed to voluntarily renounce the Chinese passport upon becoming an Australian citizen. The most important reason is the convenience and benefit I will be able to enjoy as an Australian. I am now holding an Australian passport which allows me to travel to most parts of the world without having to obtain a visa before travelling. Although I have been naturalised, I know I have never forgotten about my Chinese roots. I still love Chinese dumplings, drink green tea and speak Mandarin when calling mum on the phone. Sadly, these seem to be the only remaining connections I have with China. I am going on holiday in China this Christmas, but this time I will need a visa to go through the Chinese immigration checkpoint. I know this will bring another round of nostalgia, sentiment but excitement to me. Lois, Griffith, NSW, Australia
20. I gave up my Slovak passport this year after I have taken up my Australian citizenship because of the recent law implemented in 2010 disallowing dual citizenship. Although the Slovak law was aimed at preventing ethnic Hungarians living in Slovakia claiming Hungarian citizenship, it currently affects all Slovaks living abroad. I gave it up easily as I can still visit Slovakia/Europe visa-free on my Australian passport and I currently do not intend to reside in Slovakia long-term. It is unfortunate as both of my parents are from Slovakia and I grew up in Europe. Boris Stanislav, Kathmandu, Nepal