On the trail of SS accused Siert Bruins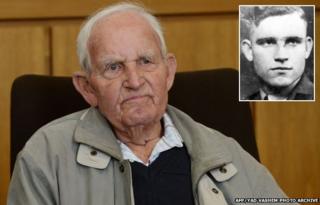 A 92-year-old man is on trial in Germany, accused of murdering a member of the Dutch resistance nearly 70 years ago. The case is one of many ghosts that have yet to be laid to rest in the farming country of the Dutch-German borderland.
It is sugar beet season in the far north-east of the Netherlands, a stone's throw from Germany, and an elderly woman is buttering currant buns and making coffee for farm-workers digging up the crop.
Berendina Maring-Dijkema, now 88, was a teenager during the war. She has vivid memories of a community quietly united against the German occupiers.
Many of the farmers here were part of the resistance to a greater or lesser degree. Some were prepared to hide men wanted for forced labour in Germany, Jews, or fellow resistance fighters.
"Everybody was on edge because we also had people here in hiding," Berendina says. Her mother was anxious, her father grimly determined.
"It was very dangerous but he wasn't scared about it. It was something inside him, something Christian," she says.
The danger to the ringleaders of the resistance, and the fugitives they sheltered, came principally from the German Sicherheitsdienst - the Nazi intelligence agency, or SD - in the nearby town of Delfzijl.
It had set itself the goal of destroying two active resistance groups spread out across the villages, towns and sweeping farmland of the north-eastern Netherlands.
And in September 1944, the SD caught a respected member of the community - Aldert Klaas Dijkema. He was a farmer who had distributed forged ID cards, stolen food coupons for people on the run and probably played a role in arranging Allied arms drops. He may also have helped fugitives escape to England, but no-one knows for sure, as the resistance was highly secretive.
Dijkema had been hiding on a farm north of Delfzijl belonging to another Aldert, Aldert Omta. The SS shot Omta dead on 9 September 1944, and lay in wait for Dijkema, finally seizing him some 10 days later, when he came to deliver a message to Omta's widow.
The night after his arrest, 21 September, he was driven the few miles from Delfzijl to the Brons motor factory in Appingedam and shot.
It is for this murder that a local man, Siert Bruins, an SS volunteer and a member of the SD unit in Delfzijl, is now on trial in Germany.
A Dutch court sentenced Bruins to death in 1949 for his alleged role in this killing and several others - for which the Dutch media branded him the Beast of Appingedam - but by this stage he was long gone. No-one knew where.
The fact that he was ever found stems from his involvement in the death of two Jewish relatives of mine, Meijer and Lazarus Sleutelberg, in the very dying days of the war.
They too were found hiding on a farm. Berendina remembers the day they were led away across the fields, her eyes welling with tears. The brothers' bodies were never found.
For years after the war, their sister Golina and her husband Arie Van Dam searched for Bruins without success. But eventually they engaged the famous Nazi hunter, Simon Wiesenthal, who traced him, in 1978, to the German town of Altenbreckerfeld, in the southern Ruhr.
Under the assumed name Siegfried Bruns, he had built a successful career making garden fences.
Dutch attempts to extradite him failed, as he had been given German citizenship under a Hitler decree rewarding foreign soldiers who had done German military service.
But then German prosecutors themselves took up the case. Bruins was tried in a regional court in the town of Hagen, found guilty in 1980 of complicity in the brothers' murder, and served five years of a seven-year sentence.
More than 30 years later, the new trial, also in Hagen, is being closely followed across the border.
In the village of Ten Boer, where resistance fighter Aldert Klaas Dijkema was born, his nephew Aldert Klaas Veldman has just returned from court, where he was keen to look Bruins in the eyes.
"I was the first son in the family to be born after his death and so they named me after him," he says.
"When I was younger, before I was 10, I was told, 'You've been named after an uncle who was in the resistance and shot dead in the war,' and it was something exciting.
"But who did it and how it happened didn't play a role in the story. It wasn't discussed - neither by my mother nor my father. People didn't speak easily about what happened. My father never even told me we had people in hiding on our farm - but I know now for sure they were there."
Last year, Bruins admitted to a German TV crew that he had been present when Aldert Dijkema was killed. He blamed the shooting on his immediate superior August Neuhaeuser - but his admission that he was there was enough to put him back in the dock.
"Suddenly I heard a bang and the man fell," he said. In fact, Dijkema was shot four times, in the back of the head and the back.
The German SD report said simply that he was shot on the run. But a Dutch policeman called by Bruins to witness the body insists the victim's hand was in his left pocket, and he could not possibly have tried to flee.
The Brons motor factory, where Dijkema died, is still standing, much of it unchanged. Pacing around its red brick industrial buildings as the sun sets, I search unsuccessfully for the bullet holes that people say can still be seen in the old walls.
It is clear why Bruins and Neuhaeuser brought their victim here, a good walk from the centre and set back from the road.
Veldman rejects the idea that Bruins was blameless, even if his claim that it was Neuhaeuser who pulled the trigger is true.
"Bruins and Neuhaeuser must have worked together to do their job, which was to kill my uncle, because for me it was a premeditated act," he says.
"They sat in the police headquarters then drove him to Appingedam for five or 10 minutes without stopping - then told him to take a leak, and they shot him."
Another man who has been to Hagen to observe the Bruins trial is Gerrit Duiker, son-in-law of the Sleutelbergs' sister, Golina. "This was for me a chance to represent my parents-in-law," he says.
The brothers' disappearance, and presumed death, had a devastating effect on Golina.
"There was no official death declaration so my mother-in-law always hoped there was a very weak, small chance they would turn up some day," Duiker says. "She saved the clothes of those two brothers until 1997. The war ended for her when she died, not before."
Less is known about the last hours of the Sleutelberg brothers than about Aldert Dijkema's.
The most common account is that they were driven from the Nazi HQ by Bruins and Neuhaeuser, taken to a ditch next to the Jewish cemetery and shot, their bodies either dumped there or dragged to a nearby railway embankment.
But arriving at Delfzijl's Christian cemetery, to pick up the key to the nearby Jewish cemetery, I discover that the gravediggers don't take this for granted. The brothers could have been forced to dig their own grave in the Christian cemetery, they say, so whenever they dig in a new area, they are careful to look out for their remains.
After years of neglect, the headstones in the Jewish cemetery are now in good shape. The Hebrew script has been repainted and the grass trimmed.
I find Golina's grave. Her husband Arie is there too. But there are few visitors, because barely any Jews remain in Delfzijl.
For a small outpost near the German border, the Delfzijl SD - located in what is now a hotel proudly displaying the Dutch tricolour - was brutally effective.
From Delfzijl itself, 126 Jews were deported and sent to the Sobibor death camp in 1942. Another 78 were murdered from neighbouring Appingedam.
Within a year, the Nazis judged the whole north-eastern province of Groningen cleared of Jews. Only a handful remained, spirited into hiding by a resistance made up of an odd mixture of Dutch Reform Christians - many of whom were farmers such as Dijkema - and communists.
It is at this point that Bruins begins to feature in the Delfzijl SD, sent home from the Eastern front with double pneumonia.
His family had always identified with Germany. He grew up on a farm 25 miles (40km) south of Delfzijl, near the border and worked at a milk factory in Germany with his brother Derk before the war. The two boys and their father had joined the Dutch Nazi movement, the NSB.
With the start of the war, both teenagers signed up for the Waffen SS and were sent east. Derk was one of two Dutchmen to be decorated with the Knight's Cross, for destroying a dozen Russian tanks in 1943.
Although of low rank in the SS, Bruins was frequently involved in the spate of arrests and shootings in the final months of the war.
Two factors appear to have sparked the rash of killings. One was a Nazi law introduced on 31 July 1944, which allowed "terrorists and their helpers" to be shot on sight without any formal legal process. It was known as the Niedermachungsbefehl - the killing in cold blood command.
The other was the Allied advance into the Netherlands. By September, Allied forces had liberated the southern city of Maastricht and were pushing north. The Nazi occupiers were becoming increasingly desperate.
Aldert Omta's death came first, followed within days by the Dijkema killing. Then in the first few days of October 1944 two men were shot in Delfzijl cemetery - Baltus Timmer's crime was to refuse to drive his lorry for the Nazis, while Kees de Haan had people hiding in his house.
Bruins has in the past admitted being a member of the firing squad that killed Timmer. That same week, a few miles away, he was part of a firing squad that executed three more resistance members in a school playground in Martenshoek.
From a legal point of view, there is a big difference between the cases of Dijkema, of Timmer and de Haan and of the Sleutelberg brothers.
It was possible to try Bruins for the murder of Meijer and Lazarus Sleutelberg more than 30 years ago, because they had no connection with the resistance. Before the war they had owned a butcher's in Delfzijl. After the occupation they were forced into hiding simply because they were Jews - and it was because of their race that they were ultimately shot, 10 days before the liberation.
Until recently, it would not have been possible to try anyone for a reprisal killing. But in 2010 a change took place in the interpretation of German law, and it became possible to prosecute those involved in "secret murders" - cases like that of a resistance fighter such as Dijkema, shot in the back of the head in a deserted factory.
Because Timmer and de Haan were killed by firing squad, however, their families will never see justice. "The big scandal in Germany is it's still legal to execute a resistance fighter," says German historian Stephan Stracke, who has been instrumental in bringing the Dijkema case to court.
"But secret murders are not official executions and 70 years after the war, they are a crime under German law, and German justice must look for more victims."
But mounting a trial so long after the event is inevitably difficult.
Finding surviving witnesses has been a problem for the Bruins trial. Not only is the defendant in his 90s but many of those who could have testified are either of a similar age or no longer alive.
One of the key moments in court was when two Dutch war crimes researchers presented the account from the retired Appingedam policeman who saw Dijkema's body and insists he could not have been trying to escape. The policeman himself could not appear in person as he is suffering from the onset of dementia.
Bruins' lawyer, Klaus-Peter Kniffka, says the circumstances of the case make it "very complicated" to convict him. He was not carrying a weapon at the time, he says. "I don't think Mr Bruins can be charged for murder or aiding and abetting a murderer."
The case is not likely to end in Hagen, he adds. "I don't think Mr Bruins will accept a jail sentence if found guilty until a final decision of the German appeal court, the Bundesgerichtshof."
If there is, ultimately, a guilty verdict, Gerrit Duiker believes Bruins should face punishment despite his age. "If he goes to jail it is justice being done," he says.
But for Dijkema's nephew Veldman, any punishment is secondary to the trial itself. "Most important is that it is proven beyond a shadow of a doubt that he is guilty," he says.
His 97-year-old aunt, who is a co-prosecutor under German law, is enthusiastic about the case. Her testimony is due to be heard when the German judges visit her home in the Netherlands. But he says his 99-year-old mother, Dijkema's other sister, is less sure.
"We know he'll again come before a judge above us who'll make a judgment on him and again he'll be punished for it," Veldman says.
At his uncle's gravestone a short walk from his home, Veldman points to a line from the Dutch national anthem inscribed on the stone: "I dedicate undying faith to this fatherland of mine."
"I think he simply saw what he did as a mission - as something he had to do, and also out of his Christian belief," he says.
A letter written by Fokko Omta, the son of the farmer on whose land Dijkema was hiding before he died, bears this out.
Omta quotes some prescient words Dijkema uttered two days before his arrest. "I know what the end can be, but I must work for my country and against the enemy anti-Christian power - and then so be it."
Follow @BBCNewsMagazine on Twitter and on Facebook