Iceland: Where one in 10 people will publish a book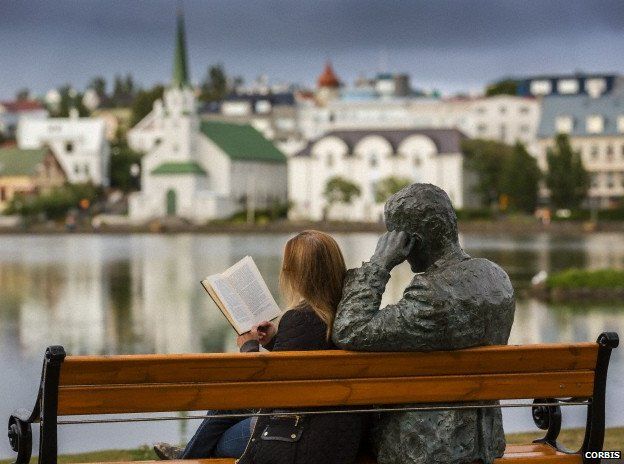 Iceland is experiencing a book boom. This island nation of just over 300,000 people has more writers, more books published and more books read, per head, than anywhere else in the world.
It is hard to avoid writers in Reykjavik. There is a phrase in Icelandic, "ad ganga med bok I maganum", everyone gives birth to a book. Literally, everyone "has a book in their stomach". One in 10 Icelanders will publish one.
"Does it get rather competitive?" I ask the young novelist, Kristin Eirikskdottir. "Yes. Especially as I live with my mother and partner, who are also full-time writers. But we try to publish in alternate years so we do not compete too much."
Special saga tours - saga as in story, that is, not over-50s holidays - show us story-plaques on public buildings.
Dating from the 13th Century, Icelandic sagas tell the stories of the country's Norse settlers, who began to arrive on the island in the late 9th Century.
Sagas are written on napkins and coffee cups. Each geyser and waterfall we visit has a tale of ancient heroes and heroines attached. Our guide stands up mid-tour to recite his own poetry - our taxi driver's father and grandfather write biographies.
Public benches have barcodes so you listen to a story on your smartphone as you sit.
Reykjavik is rocking with writers. It is book festival time. Man Booker Prize winner Kiran Desai and Generation X author Douglas Coupland rub shoulders with Icelandic literary superstars Gerdur Kristny and Sjon. Sjon also pens lyrics for Bjork, Iceland's musical superstar.
"Writers are respected here," Agla Magnusdottir tells me. "They live well. Some even get a salary."
Magnusdottir is head of the new Icelandic Literature Centre, which offers state support for literature and its translation.
"They write everything - modern sagas, poetry, children's books, literary and erotic fiction - but the biggest boom is in crime writing," she says.
That is perhaps no surprise in this Nordic nation. But crime novel sales figures are staggering - double that of any of its Nordic neighbours.
So what has led to this phenomenal book boom? I would say it is due to a crop of darn good writers, telling riveting tales with elegant economy and fantastic characters.
Iceland's black lava riverbeds, its steaming, bubbling earth, with its towering volcanoes and fairytale streams also make it the perfect setting for stories.
No wonder JRR Tolkien and Seamus Heaney were entranced and Unesco designates Reykjavik a City of Literature.
Solvi Bjorn Siggurdsson, a tall, Icelandic-sweater-clad novelist, says writers owe a lot to the past.
"We are a nation of storytellers. When it was dark and cold we had nothing else to do," he says. "Thanks to the poetic eddas and medieval sagas, we have always been surrounded by stories. After independence from Denmark in 1944, literature helped define our identity."
Siggurdsson pays homage to Iceland's Nobel Literature Laureate, Halldor Laxness, whose books are sold in petrol stations and tourist centres across the island. Locals name their cats after Laxness and make pilgrimages to his home.
"When Laxness won the Nobel prize in 1955 he put modern Icelandic literature on the map," Solvi tells me. "He gave us confidence to write."
A combination of ash and the crash also put Iceland on the map.
The financial crisis - or "kreppa" - of 2008, which helped trigger the world economic crash, came first. The ash cloud from one of Iceland's many active volcanoes created a second in 2010.
Hallgrimur Helgason - comedian, painter and writer - tells me the kreppa brought Icelanders down to earth.
"It made us less complacent and gave artists a creative shot in the arm - as Thatcher did for Britain," he grins. "We address politics too - it is not all about sagas."
But some fear a book kreppa, too. Iceland has so many writers there is huge pressure on publishers.
This time of year sees the "jolabokaflod", or Christmas Book Flood, when most books are published.
About now every household gets a book catalogue through the door. They pore over it like a furniture catalogue. Everyone receives books as Christmas presents - hardback and shrink-wrapped.
"Even now, when I go the hairdressers," Kristin Vidarsdottir, manager of the Unesco City of Literature project, says, "they do not want celebrity gossip from me but recommendations for Christmas books."
But it is a lock of blue hair which alerts me to the presence of Iceland's most famous celebrity. The singer Bjork attends several of the festival events.
"It is great to see you supporting writers," I say to her.
"It is a small place. We have grown up together," she replies. "We support each other."
If Bjork was, once upon a time, Iceland's biggest cultural brand, she is today joined by a whole bokaflod of authors.
BBC Radio 4: Saturdays at 11:30 and some Thursdays at 11:00
Related Internet Links
The BBC is not responsible for the content of external sites.