Who, what, why: What's behind the idea of banning 10-packs of cigarettes?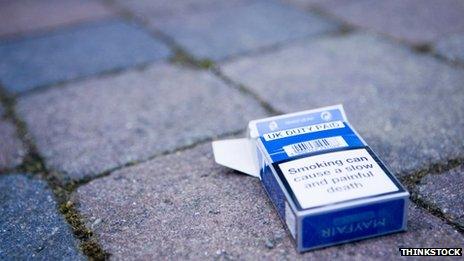 Euro MPs have voted to ban the sale of packs of 10 cigarettes as part of a general tightening of the law. Why?
Public health campaigners are now focusing some of their effort on trying to reduce the number of young people taking up smoking.
In the UK, cigarettes are commonly sold in shops in either packs of 10 or 20. But in much of the rest of the EU the smaller pack size is banned.
Fourteen EU states already have 20 as the minimum, four stipulate a minimum of 19, and in the UK and Italy the minimum is 10. Now, if the draft directive passes its final stages 10-packs will be illegal across the EU.
The health campaigners describe packets of 10 as "kiddy packs" because they argue they are more affordable out of pocket money. Official figures estimate that 4% of children in England between the ages of 11-15 years old are smoking at least once a week.
"The thing we know about the pricing of cigarettes is that if the price is kept high through taxation that that works as a measure to help smokers to quit and also as a deterrent to young people," says Amanda Sandford research manager at Action on Smoking and Health (ASH).
"If the minimum size of pack people can buy is 20 they are going to have to fork out at least £6 and £8 for a premium brand."
The number of smokers in the 10-17-year-old age group fell from 21.2% in 1998 to 18.6% in 2002, 15.3% in 2006 and 12% in 2010.
But the 10-pack ban was just one of a catalogue of anti-smoking measures including a ban on in-store display and advertising, restrictions on self-service vending machines. Enhanced warnings on packets and higher prices came later.
Tobacco industry-funded campaign group Forest, which describes itself as "the voice and friend of the smoker", says around two million people in the UK buy their cigarettes in packs of 10, because that's what they can afford, or they want to cut down. It argues that forcing people to buy bigger packets of 20 won't help reduce smoking.
But campaigners argue that tobacco displays have used 10-packs prominently to make cigarettes seem cheaper, thereby drawing in younger smokers. A number of brands in the UK also sell 14-packs which again have been attacked by campaigners.
"Newsagents were stopped from selling single cigarettes many years ago by law because they are accessible to children," says Sandford. "A 10-pack is within the pocket money range."
There is an argument that someone cutting down might be helped by the availability of smaller packs, but Sandford argues that smaller packs also provide an easier route for a lapsing person to return to smoking.
Reporting by Branwen Jeffreys and Finlo Rohrer.