Trending: Iran's women football fans score small victory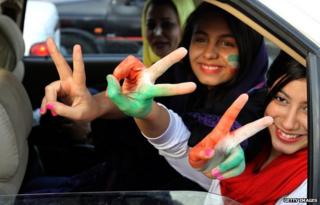 Women in Iran are not allowed to go to football matches played by men - but Iranian women on social media this week scored a small victory in their campaign to get back to the terraces.
Iranians love football. And that includes Iran's women. "We are part of the nation - so we should participate in these national celebrations," says Nasrin Afzali. Nasrin is 35 and has been involved in campaigning since she was a university student 10 years ago. Once, she managed to smuggle her way into the national football stadium to watch a game. Another time she was not so lucky - and says she was detained and beaten for handing out leaflets.
Because of the dangers of openly demonstrating about the issue, many Iranians have moved their fight from the streets to social media, she says. Although Facebook and Twitter are officially banned in Iran, many get around this using proxy servers, and there are active campaigns on both platforms. One Facebook page has more than 16,000 likes and includes images of women disguised as men inside the stadium.
This week, the campaign scored something of a victory. Ahead of a visit to Iran by Fifa president Sepp Blatter, a number of Iranians got in touch via social media, urging him to raise the issue with the Iranian authorities. Many used the hashtag #IRWomenStadium.
On Thursday, Blatter emerged from talks with the speaker of Iran's parliament Ali Larijani and the vice president Masoumeh Ebtekar, and told Iranian media that he had indeed raised the subject of women at football matches - news he confirmed soon after in a tweet. Contacted by the BBC, Moya Dodd, vice president of the Asian Football Confederation - who was also in Iran this week - confirmed that she too had been contacted by a number of Iranian women via social media ahead of her visit.
The ban on women attending football matches has been in place since the Islamic revolution more than 30 years ago. Comments on online forums in Iran suggest opinion in the country is still divided - with some arguing that football stadiums are an inappropriate environment for women, and others offering support.
Reporting by Cordelia Hebblethwaite