What is the appeal of Candy Crush Saga?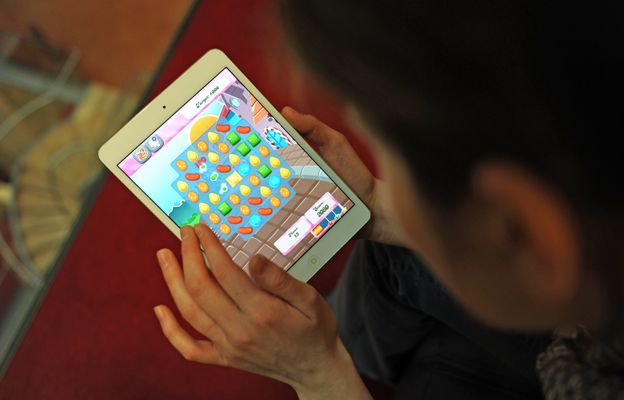 Candy Crush Saga - the "match-three" mobile game - was the highest grossing app on both iPhone and iPad in 2013. How did millions of commuters become entranced by a grid of brightly coloured sweets, asks Chris Stokel-Walker.
Stand on a crowded commuter train in New York, Paris, London, Tokyo, or Berlin and you will see a multitude of people. Goldfish-mouthed, eyes glazed, deeply breathing, fixated on one thing only.
Getting rows of red jelly beans or orange lozenges to disappear.
The game is also immensely popular on Facebook, with the site hosting support groups for self-confessed addicts.
Worldwide, Candy Crush Saga is estimated to make £610,000 ($1,000,000) per day from its users, according to Appdata. It is one of a growing number that is free to download but generates extraordinary revenues by nudging addicted players into paying more to get gizmos that help them progress through difficulty levels.
They buy add-ons, extra lives and access to higher levels. These microtransactions have been criticised, but its British-based developer King is quick to point out that more than half of players who reach the last level in Candy Crush Saga have done so without any financial outlay.
The hefty revenues have led to speculation that King, which has its HQ at London's Kings Cross, is preparing for an initial public offering (IPO) of shares in the US.
King has taken advantage of a change in the way people play video games. There was a time when a particular demographic was overrepresented among gamers - young men at home, using consoles. The advent of smartphones and tablets has changed gaming - so much so that the typical Candy Crush Saga player is a woman aged 25-45.
Some people's devotion to the game leads to them changing their smartphone's internal clock so that they get more lives, an all-important (and scarce) commodity doled out at regular intervals.
One gamer, Laura Wilson, travelling on a Friday afternoon train from Kings Cross to Newcastle, played for only a few minutes before her lives ran out. With a small sigh she closed the app on her iPad and opened up an e-book. For her the e-book was scant consolation. "You get addicted," she explains matter-of-factly. She isn't alone.
An afternoon Tube journey across London saw a carriage full of players hunched over their phones. Two men, one in his 40s, one in his 20s, were sitting across from each other manipulating sweets into patterns, their lives measured out in cascading bon-bons and exploding chocolate buttons. Six in ten UK players while away their journey to work like this, though most are progressing through the hundreds of levels in the midevening, between 6pm and 9pm.
"It's a good stress relief," says Amy Bolton, a 21-year old student at Newcastle University.
Gamers like Bolton drop in and out during the course of the day, according to internal usage figures described by King. A quick session snatched here and there helps people progress through the hundreds of levels in the game. Some of the most eager gamers are keeping pace with King's coders, who have released more than 500 levels to date, snaking up a path that King readily admits owes a debt to the layout of popular board games.
They can start a game over breakfast on their laptop while scrolling through Facebook. They can then play it on their phone on the train to work, where they can switch on their tablet and continue their game where they left off. This smooth continuity of gameplay is something King believe is part of their success.
Candy Crush is not so much a new type of game as an incredibly well-researched and careful fine-tuning of existing concepts.
There have been plenty of games that follow the same basic format as King's creation. Candy Crush Saga owes a debt to the likes of Tetris and Puzzle Bobble/Bust-a-Move, both of which captivated audiences of yesteryear.
Candy Crush Saga displaced Bejeweled, a similar matching game originally developed 12 years ago, from the Facebook gaming charts earlier this year. Now other games aim to replicate Candy Crush's success with minor tweaks.
Sebastian Knutsson, chief creative officer and co-founder of King, says that none of his team foresaw Candy Crush Saga's success when developing the game, initially for the company's website.
Knutsson was and remains an avid gamer, and was especially enamoured of the early 1990s arcade games and their bright, brash colours. Working with artists and designers from a small office, he produced a game that stood out from the other "match-three" games that were on the market. Sweets were chosen, he reveals, to appeal to their core audience, which is far from the stereotypical gamer.
Not that Candy Crush Saga was perfect from the first iteration. "We had an early theme based around the French Art Deco style," Knutsson explains. That included an over-the-top French voice egging on players when they made good moves. "It didn't work out," Knutsson says. People hated the accent, finding it too jokey. It was replaced with a smooth, deep male voice whispering encouragement.
The function of the game, and the way it rations lives, has been carefully crafted by King to provide maximum enjoyment, and to keep people coming back for more. Players regularly check the countdown until their next life is released and they can play on. It's precision-engineered addiction, and it has resonated with the public.
"They give you unlimited lives, or the levels don't get more challenging in the same way," says Bolton, explaining why she prefers Candy Crush to its competitors.
Though Knutsson says that "we don't want to be a Candy Crush company", the game is far and away King's largest property. It makes up the lion's share of the company's 225 million unique monthly users. Appdata, an analyst of iOS and Facebook applications, estimates that Candy Crush Saga has 137 million active monthly users alone, topping charts.
There has been criticism of the revenue structure around the game - free to download but delicately engineered to get users spending money.
A recent Candy Crush expansion pack has had a 40-strong team of developers working on it, four times the number of programmers and artists who brought the original Facebook version of the game into existence.
Knutsson says that King will keep adding levels to the regular Candy Crush. The addiction will continue.
Nervously, Bolton admits that before she goes to sleep, she'll often fit in a game.
"And when I close my eyes to go to sleep, I can see all the shapes still, like a virtual Candy Crush in my head."