On the road with the slavery hunters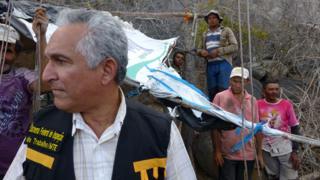 Brazil has done more than most nations to tackle modern-day slavery. Inspectors have rescued more than 45,000 people in 30 years. But Brazil's definition of slavery is broad, applying to cases of appalling working conditions even when no overt coercion is involved - and not everyone agrees with this.
A convoy of four-wheeled-drives snakes its way through parched, rocky terrain in the state of Paraiba, in Brazil's north-east.
In the dusty haze, a flashing police light is just visible on the roof of the first. The cars that follow carry the Ministry of Labour's inspectors.
This is one of Brazil's Anti-Slavery Mobile Units. And it is on its way to a local quarry after a tip-off.
Down a rough track, outside the small town of Serra Branca, the convoy halts. Then, guided by a local contact, the federal officers - guns drawn - begin to climb up and over slabs of granite.
The mood is tense - raids like this can turn violent. Five minutes later, the police give the all-clear, and the labour inspectors scale the rocks towards some tatty, blue plastic sheeting - the workers' makeshift shelter.
In Brazil the word "slavery" has a particular resonance. Millions more enslaved Africans arrived here than in the ports of North America, and Brazil was the last nation in the Americas to emancipate slaves.
At the quarry, the anti-slavery team takes in the scene. The quarry men wear ragged work clothes and ancient, holey boots - or just flip-flops. No-one has any protective equipment or gloves. There is no access to toilets or clean water. None of the men are registered employees.
At a second quarrying site nearby, it's a similar story - and explosives are stored hanging from a hook, in a plastic bag. The inspectors must decide if these are working conditions, "analogous to slavery". If they are, the quarry will be closed.
Under Brazilian law, the definition of slavery does not necessarily include coercion or force. Degrading or humiliating conditions alone are reason enough to prosecute employers.
Xavier Plassat, a French Dominican friar who works for a Brazilian Catholic charity, the Pastoral Land Commission (CPT), supports this definition.
"To subjugate somebody, you don't have to deny them their formal freedom. You may do it through other means," he says.
"You may isolate him on a farm in the forest - if he has no means to leave, he's your prisoner. And if a person at work has no minimum living conditions - water, food, housing, protection against the risks of the job, these amount to more than an abuse of labour rights."
The CPT works mostly in the Amazon. Its vast isolated ranches mean that slavery casts a long shadow here.
At Acailandia, a farming town on the edge of the Amazon region, the local Centre for the Defence of Life and Human Rights receives at least three complaints of slavery every month.
"The majority are just labour irregularities - things like delayed payment of wages," says Brigida Rocha, a social worker at the Centre. "But up to October this year we've reported 13 cases to the Ministry of Labour that we believe are slavery."
One man rescued from a ranch by an anti-slavery mobile unit says the worst thing was that there was no water. "We had to use the river for washing and drinking."
But surprisingly, the ranch was a good place to work - compared to his previous jobs,
"I've gone hungry. Sometimes the landowners didn't want to pay me," he says. "I've seen violence - I've passed many nights without sleeping, afraid that something would happen."
In the tumble-down shack in Acailandia, where he lives with his wife and children, his wife sighs. "His whole life he's worked as a slave," she says.
But local landowners don't believe harsh working conditions constitute slavery.
"Slave labour doesn't exist here," says Jailton Alves de Oliveira, who has a ranch near Acailandia. Cases of "inhumane treatment" may arise on some farms, he says, but that's not quite the same thing.
"Slave labour is when a person is forced to do something. Our labourers are completely free to come and go as they please."
There is a chance that the law could be tightened further.
The National Congress in Brasilia is due to debate an amendment that would allow the government to take away land from employers deemed to be using slave labour.
But the talk in the capital is that this measure will only pass if there is an agreement to change the definition of slavery - which could mean that the clause referring to "degrading or humiliating conditions" would disappear.
Congressmen like Claudio Puty from the governing Workers' Party say they will not countenance this.
"When we talk about degrading conditions we are talking about work that causes death, about factory conditions in 19th Century England - things that are completely unacceptable," he says.
Coercion comes in different forms, he says, overt and hidden.
"I visited a farm where the workers had been offered a minimum wage, but in three months they had only been paid 10 Reals (£2.60, $4.25). They couldn't leave because they had no means to leave. This is coercion."
At the quarry in Paraiba, the inspectors interview the workers.
Damiao Oliveiro is a single man, but helps support his sister. He has mixed feelings about the raid - he thinks it is good the inspectors have come, but he needs to earn money. Does he think he is working in conditions of slave labour?
"No… We are paid on time, we can choose the shift we work, and if we need money in advance we can ask the owner for it," he says.
Damiao would like to continue working here. But the Anti-Slavery team are not happy. One of the inspectors, Gislene Stacholski, addresses the workers.
"We've concluded that the working conditions here are particularly degrading… They are analogous to slavery as currently defined. This means work at the quarry will stop."
She explains they will get compensation from the quarry owner and unemployment benefit.
Carlos Kleber, the employer, is defensive.
"I don't think this is slavery. I'm just offering these men jobs. There's very little agricultural work here," he says. "Now these workers will be unemployed."
If he cannot fulfil the minimum conditions of the Ministry of Labour, the quarry will remain closed.
Brazil is trying to enforce safe conditions at work - something that is not controversial in London or Sydney.
Do degrading conditions at work constitute enslavement? Brazil says yes, they do.
"Everything changes in life, and so has our definition of slavery", says Benedito de Lima, the lead inspector at the quarry.
"Now, it isn't just a lack of freedom - it includes conditions that affect a worker's human rights."
Listen to Crossing Continents at 11:00 GMT on BBC Radio 4, Thursday 26 December, or at any time on the Radio 4 website
Follow @BBCNewsMagazine on Twitter and on Facebook
On a tablet? Read10 of the best Magazine stories from 2013 here