The Sahara memorial seen from space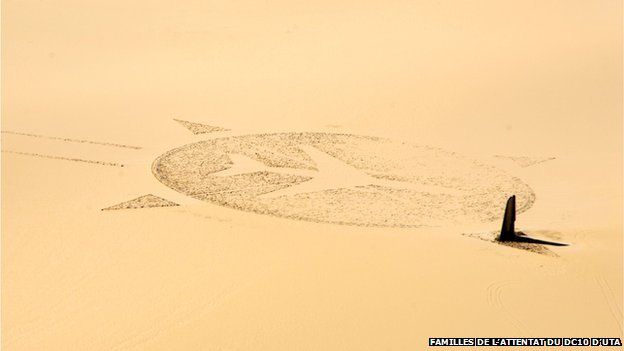 At 16°51′53.748″N 11°57′13.362″E in the Sahara desert there is an intriguing landmark - the outline of an aeroplane pointing in the direction of Paris. Visible on satellite pictures, this beautiful image, like a tattoo on the landscape, has been a viral hit.
It is a memorial to a flight that never reached its destination.
On 19 September 1989 UTA flight 772 was travelling from Brazzaville in the Republic of Congo to Paris when it was blown up over the Sahara desert. All 156 passengers and 14 crew members were killed.
Where the French plane fell, the families of the victims have built a lasting and visually striking memorial to the dead. A life-size silhouette of the aircraft lies inside a dark stone circle surrounded by 170 broken mirrors, each one representing someone who died. Jutting out at the northern point, like a sundial, stands the right wing of the DC10.
Guillaume Denoix de Saint Marc was the driving force behind the memorial. His father Jean-Henri died on the DC10. Creating it was the final act in an 18-year quest for justice which cost him his business and overshadowed his marriage - but has left a lasting legacy.
On the day of the tragedy, Denoix de Saint Marc was frantically preparing a presentation for a big client. He was 26 and managed a sales and marketing company in Paris. When his mother rang to say she was worried about his father's flight, he didn't want to listen. "I was really rude, telling her I was at work and I had many important things to do," he says. When he hung up, a colleague suggested perhaps he should call back. That was when he realised his father's plane had disappeared.
He went to his mother's home to wait for news. There was none. At Roissy airport, the flight-board just said: "Delayed". Relatives had to rely on news bulletins to find out what was going on.
The fate of the flight was confirmed the next morning when a French air force plane flew overhead. It took another day for paratroopers to reach the site of the crash in Niger. When they did, they confirmed there were no survivors.
Two days later, traces of explosive were found, indicating a bomb. The French government appointed a terror specialist, Judge Jean-Louis Bruguiere, to investigate. He did not skimp on the task, transporting 15 tonnes of debris from the crash site.
In 1999, a French court found six Libyans guilty in their absence and sentenced them to life imprisonment. Libya did not admit responsibility, but paid $34m (£20.7m) in compensation that year, out of which families of the UTA victims were awarded sums ranging from 3,000 to 30,000 euros (£2,500-£25,000) depending on their relationship to the dead. This process had taken 10 years, and not all of the bereaved were compensated (only the 500 represented during the trial).
Moreover, those found guilty were still living freely in Libya - one of them was Abdullah al-Senussi, the brother-in-law of Col Gaddafi. Denoix de Saint Marc was part of an association for relatives of the victims, SOS Attentat. "We wanted justice," he says. "We wanted Libya to accept responsibility."
One morning in 2002, Denoix de Saint Marc heard on the radio that Saif al-Islam Gaddafi, Libyan leader Col Gaddafi's son, was in Paris to speak at a conference and open an exhibition of his paintings. "This was a shock for me, I was very angry," he says. "My first thought was to go to a butcher's and buy a bucket of blood to throw over him, but then I calmed down and thought maybe anger was not such a good thing."
Through a contact he managed to get a ticket to the conference, during which Saif Gaddafi spoke about UTA flight 772, declaring the case closed. At the end of his speech Denoix de Saint Marc confronted him with the words: "My father was in the DC10."
Gaddafi told him afterwards he thought Denoix de Saint Marc was going to punch him, says the Frenchman. But they started a serious discussion, in which Denoix de Saint Marc explained that the case was not closed, and the compensation paid was very low. "Although we were struggling for justice, not money, we were not satisfied."
He gave Gaddafi his business card and two days later was invited to a hotel for a meeting. At the end of a three-hour conversation, Gaddafi invited him to come to Libya. However, SOS Attentat did not support his initiative and they parted ways.
Denoix de Saint Marc began collecting details of relatives of the victims, from 18 different countries - this became the collective called Les familles de l'attentat du DC10 d'UTA. Months passed, and when no contact from Libya was forthcoming, they staged protests to renew the focus on their case. The tactic worked - in July 2003 Denoix de Saint Marc travelled to Libya with his wife Emmanuelle and his cousin Valery, who had agreed to be their lawyer.
Denoix de Saint Marc had no previous experience of negotiating. "I was a salesman, so maybe that helped," he says. "And I grew up overseas, so I had an understanding of other cultures, which helped me to understand and be understood."
"We were not asking for money," says Denoix de Saint Marc. "I said that I could not give a price to my father's life. I would prefer Gaddafi to apologise publicly, but that was not going to happen so if it was a fair amount I would accept it."
As described in his book, Mon Pere Etait Dans le DC10 (My Father Was In The DC10), the trips to Libya were fraught and occasionally surreal. During visits to Saif Gaddafi's villa outside Tripoli his tigers could be heard roaring with hunger.
The hardest thing was to negotiate the same payment for all the families - the Libyans didn't want to pay the same for African as for Western families, but Denoix de Saint Marc argued against that. "I said it was a symbol and we should pay the same amount to each victim," he says. "It was very important that we should all stay together despite our nationalities."
On 9 January 2004, Libya agreed to pay $170m (£104m) - one million for each of the 170 victims. The following day they transferred the first payment, for a quarter of the amount.
Denoix de Saint Marc's euphoria was only temporary. "I thought the story was finished after that negotiation," he says, "but then I thought that as it was money and I had to share, there was a second round of difficulty coming on."
There certainly was. He had to find the relatives concerned all over the world, to share the money - a foundation was created for that purpose.
"I had to go to Chad, Morocco, Congo, South America to find all the families, discuss it with them, and explain what happened." Many of them had not even been aware of the negotiations.
"We had to turn detective," he says. "We had to use DNA to check people's identities. I also found fake families," he says. "People pretending they were victims when they were not." Others claimed their family members were dead so they could get a bigger share of the payout.
People had the right to refuse the payment, in which case the money would return to Libya. Seven American families rejected the payment and undertook their own class action. Out of the remaining 1800 relatives from 18 countries who had a claim, only three refused their share. The last person was tracked down and paid in 2012, so the process took eight years.
Although 100% of the money was given to the families, the interest generated an income that allowed the foundation to do its work. Denoix de Saint Marc asked the board of the foundation if some of the money could be used for a memorial.
To begin with, he suggested a reconnaissance trip to the crash site, a journey that he had thought impossible until travellers, aware of the case, began to send him pictures.
From a security point of view the area is considered too dangerous for Westerners to visit, because of the Al Qaeda Islamic Maghreb. In order to visit, Denoix de Saint Marc got permission from the Minister of the Interior of Niger as well as the agreement of tribal leaders and clerics such as the Imam of Agadez. It was important to have different levels of agreement, not least because there was a Tuareg rebellion at the time. Niger offered an escort of soldiers, but they refused.
Apart from security concerns, they were going into inhospitable terrain. The Tenere is the most remote desert in the Sahara, a sea of sand the size of France. The crash site is 650 km (400 miles) from Agadez and temperatures can reach 50C. Water is difficult to find, with wells hundreds of miles apart.
In March 2007, a party undertook the long journey - two other victims' relatives accompanied Denoix de Saint Marc and his wife. They left Agadez in Niger and after a three-day drive through the desert the convoy came across the first remnants of the DC10. The French authorities had taken away the parts that carried most clues - the cockpit, the wheels, the luggage - but the rest is still lying there.
"My first feeling was anger," says Denoix de Saint Marc. "We were staggered, we couldn't speak. I remember we were walking under the midday sun - it was very hot, but we didn't feel any heat. We were just walking from one point to another, looking at the wreckage, dumbstruck.
"We were astonished. It was crazy seeing all these parts of the plane but there were also dinosaur fossils and prehistoric weapons - because in the desert everything stays there."
A documentary about the journey shows Denoix du Saint Marc and his wife Emmanuelle trying to take it all in. She calls it a sanctuary, he says it's a battlefield - "it's chaos".
"It was very emotional and disturbing at the same time," says Pierre Francois Ikias, whose 14-year-old brother Fleury le Prince was on the flight. "You wouldn't have thought that 18 years on, the shock would have been quite so palpable - but when you see the destruction, the pieces of aeroplane scattered around, the seats, the remains of people's luggage - the emotion grabs you by the throat.
"Unfortunately my brother's body was never found, so this journey was my way of grieving. While we were there, one of the drivers of the convoy found a human skull, which we buried on site. For me it really was like saying goodbye and burying my brother."
For Denoix de Saint Marc, the physical contact with what remained of the plane was very important. In his book he describes being summoned to identify his father's body, only to be dismissed again because dental records had confirmed his identity. He never saw the body - a fact that haunted him for years. He salvaged a UTA security belt which he always carries with him. "It's completely scratched and broken and it still has some sand in it," he says. "It symbolised security - unfortunately it was not enough. It reminds me of how fragile life is."
An earlier memorial had been created on site by colleagues of three Exxon employees who had died on the flight - while prospecting for oil in the area, they raised the starboard wing and attached a plaque with the names of the three victims. However the wing was not well anchored and fell over. "They had tried to make their own monument," says Denoix de Saint Marc. "I was so touched that anyone not concerned directly should do that, I wanted to keep it." The upright wing became an integral part of the design.
Denoix de Saint Marc designed the memorial to symbolise the absence of the plane, picked out in a dark stone circle. He was inspired by the Aeropostale, the pioneering company that delivered mail to French colonies in the 1920s, who used large stone circles to navigate across the Sahara - flying over a desert by sight is very difficult without landmarks, because there is no way to gauge how high up you are.
"Everybody said: 'Why build a memorial where nobody can see it?'" he says. "But I thought - planes still fly over, the passengers can see it. So I looked into how big it would have to be to be seen from the air."
They built a life-size silhouette of the plane memorial 10km (6 miles) from where it fell - both in order to retain the sanctity of the crash site and so that it would be visible by those flying overhead.
It took 140 locals from Agadez six weeks to build, largely by hand. The workers were from three main tribes: Toubou, Tuareg and Hausa - the Hausa were not used to desert conditions but wanted to help. The truck radios occasionally picked up on the Tuareg conflict nearby, but the team was left in peace. Caravans [lines of camels] stopped by to see what was going on.
"We dug a well on the route of the caravans," says Denoix de Saint Marc. This was a practical necessity but also symbolic. "Our answer after terrorism was giving water to the desert - water is life."
Building it was an adventure. "It was so hot, we were sleeping outside," he says. "I remember waking up outside the memorial every morning. I tried to do all the jobs, carrying stones, digging the well, so that I was part of all of it. Every night there were guitar concerts."
The wing was taken from an area they have named the 'sanctuary', six km (four miles) away - this is where the main part of the plane fell, and a thick plate of fused metal remains. "It's where fire melted all the bodies and infused them in the metal. It's where the missing bodies are," says Denoix de Saint Marc.
The stones for the memorial were carried by truck from 70 km (44 miles) away, and placed, by hand, in a circle around the full-size silhouette of the plane.
"As soon as possible I'd like to go back and see how the sand is playing on the stones," he says. "You cannot expect it to look the same - it is alive more or less. It's like land art. Like a tattoo. And it's also the final point of the story for me."
As well as building the memorial in the Tenere desert, they built some smaller memorials in N'Djamena in Chad, and Brazzaville. But even after paying for the lawyers, the travel and the materials, there were still 3.5 million euros (£2.9m) left. This was used to set up a foundation for victims of terrorism in France, of which Denoix de Saint Marc is now executive director.
It's sad but necessary work, he says. "I have experience of what it's like not to have that support. And I understand that it is very important to accept the situation and to go forward - to have a fantastic life but accept what has happened."
Denoix de Saint Marc's own company collapsed in 2003. "With all this going on, I couldn't take care of my clients," he says. "I lost everything. I didn't have an income - in fact half of my payment went on paying back everyone who had helped me."
The decision to carry on in this field also affected his marriage. "My wife was pretty fed up," he says. "She was not very happy when I decided to set up another association. She wanted to move on." They are no longer together.
The story took another surprising turn a year after the memorial was built, when it appeared on Google Earth.
"I had no idea you could see it on Google, that was a complete surprise," says Denoix de Saint Marc. "Wow! I was excited."
The interest in the online images means the victims of UTA flight 772 will not be forgotten.
"We want to show there is not a spirit of vengeance, just justice and peace," he says. "The universal message is that no cause can justify terrorism."
Related Internet Links
The BBC is not responsible for the content of external sites.