Syria conflict: Can peace talks end a war?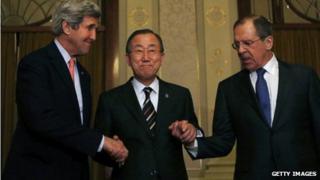 Officials with the government of Syrian President Bashar al-Assad and leaders of the Syrian opposition are meeting in Geneva this week in talks that observers hope will put them on a path to peace. But can negotiated peace talks ever end a war?
Earlier this week officials from Syria and 40 other countries, as well as opposition leaders, met in Montreux, Switzerland. The goals for the talks were vague. In the end there was yelling - and little beyond that.
The Syrian foreign minister, Walid Muallem, railed against the opposition groups, calling them "evil".
Other participants tried to put on a good front.
"Do we look happy?" asked Russian Foreign Minister Sergey Lavrov, according to the New York Times. He was posing for a photograph with US Secretary of State John Kerry and Ban Ki-moon, the UN secretary general.
The negotiations are now resuming in Geneva. UN special envoy Lakhdar Brahimi is trying to bring the rival groups together, or at least near each other. Tensions are high, and some of the participants have threatened to quit.
The conference is known as Geneva II, since it follows the US-Russian conference that took place in 2012 - back when officials from Moscow and Washington were trying to sort things out.
The rebels want a new government. Assad government officials want to remain in power. Participants will need considerable time to reach an agreement of any kind.
Historically, negotiations over peace have dragged on. The talks that led to the end of the Vietnam War took years, as Mr Kerry reminded those hoping for a speedy end to the Syria conflict.
In 1968 officials from Washington and Hanoi sat down together in Paris. They argued over big and small issues - one sticking point was the size of the negotiating table, until eventually a cease-fire agreement was reached.
That was in January 1973. The US was out of the war, yet it was not the end of the bloodshed.
"It was a failed peace agreement," says James Phillips, a fellow at the Heritage Foundation in Washington DC.
He says the Geneva talks are also doomed.
"I don't think the Syrian government is ready to negotiate its own fall from power," he says.
Officials with the Assad government know that Americans will not intervene militarily, says Peter Neumann of King's College London. "So they can just sit things out."
There is another problem, he says: the opposition leaders participating in the peace talks have little power.
"They are composed of exiles," he says. "Their influence on what happens in Syria is extremely limited."
Still, most historians agree that peace talks, however frustrating, are necessary.
They can produce results. Rebels and government officials in South Sudan, for example, have just signed a cease-fire agreement. At times negotiations work because one individual has strong-armed others into a deal.
Richard Holbrooke, a veteran diplomat, helped to orchestrate the 1995 Dayton peace accords that ended the war in Bosnia.
"He was annoying," says Neumann. "But sometimes that is the kind of person you need."
Holbrooke also had support. "He represented the combined military and political might of the United States of America," says Neumann. "Because of that he was a powerful figure."
There is no Holbrooke in Geneva. "We have no illusion that it is going to be easy," said Brahimi. "But we are going to try very hard."
More than 100,000 people have been killed in Syria, and this is the third year of the conflict. The talks are challenging, say experts, but they are a start.