France and the Roma: Cities employ tough love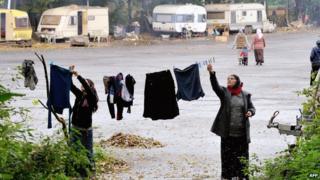 The presence in France of thousands of Roma people from Eastern Europe has been a hot national issue since 2010.
In July that year, following clashes between travellers and police in central France, conservative President Nicolas Sarkozy said the illegal camps where Roma people live were rife with "exploitation of children for begging, of prostitution and crime", and called for their destruction.
Since coming to power in 2012, the Socialists have stepped up the policy of camp clearances. France has also continued to deport thousands of foreign camp-dwellers every year, mainly to Romania.
But the Roma issue was exercising local politicians long before it broke through at national level.
The exact number of Roma people living in the country is unknown as the French government does not keep ethnic statistics - the best guess is 15,000-20,000. But what is clear is that the number has changed little since the late 1990s.
For the past decade and a half, local officials have wrestled with the question of what to do with the illegal camps - about 400 at the latest official count - that have sprung up around the country.
As few people enjoy the sight of squalid encampments on their doorstep, reactions have typically been hostile.
Last year one mayor, angered by travellers who had descended on a local farm, told a reporter that "Hitler may not have killed enough of them".
But over the past decade or so, a number of French municipalities have tried a more humane approach, aiming to give Roma people a decent place to live.
In Aubervilliers, just north of Paris, 20 Roma families were moved from an illegal camp into an "insertion village" five years ago.
Mayor Jacques Salvator says the scheme has been "extremely positive" - all but two families now live in normal housing.
The initiative does not entail tolerating illegal camps. Mr Salvator, the son of impoverished migrants himself, defends the demolitions: "I know from my own family's history what it is like to live in a slum, and I don't wish that on anyone. Those people live in unacceptable conditions."
Other multicultural Parisian suburbs - including Bagnolet, Saint-Denis, and Saint-Ouen - have set up similar schemes for Roma camp dwellers.
But many activists are unconvinced. Martin Olivera, a sociologist, points out that the "insertion projects" have limited scope.
When a camp is cleared, officials interview families to conduct a "social diagnostic" designed to determine which of them can benefit - based on education levels, language skills and job prospects.
A chosen few are then re-housed in temporary facilities, where they get basic services and schooling for a few years. Most, says Olivera, are rejected and "go to swell other camps".
Lola Schulmann from Romeurope, a collective of activists and charities, questions the logic of targeting help at a specific group and says trying to gather Roma families in one place smacks of "ghetto-isation".
Some temporary facilities are closed to outsiders, to prevent friends or relatives of residents from moving in. Gabriela Hrabanova, of the European Roma Grassroots Organisations Network, says she was "shocked" when she and a regional representative of the UN High Commissioner for Human Rights were stopped by security guards from visiting the "insertion village" in Saint-Ouen in December.
Montreuil-sous-Bois, east of Paris, has tried particularly hard to deal with the Roma issue in an inclusive way. In 2008, a fire at a disused factory put the 350 Roma people occupying it on the street.
"We had to do something to help them," local official Jacques Reznik says.
The municipality, which is controlled by Greens, first set up an emergency camp. Looking for a more durable plan, they turned to neighbouring towns for inspiration and set up a caravan camp with decent facilities partly financed by the central government.
But when it came to decide who could move there, Montreuil rejected the "social diagnostic" approach. "We did not want such a selection process," Reznik says. "Every family was accepted."
A "contract" with each was drawn up in return for a place. Recipients agreed to keep the children in schools, and look for jobs as well permanent housing.
Almost six years on, the policy has borne some fruit, Reznik notes. School attendance for Roma children is the same as for the rest of the population, and some of the adults have found jobs.
About 20 Roma families have moved out of the caravans and into prefabricated one- and two-bedroom flats.
The sites are open, with no security guards in evidence. "I used to sleep in a car, by the side of the road," a woman resident says. "This is much better."
However, Mr Reznik admits there is still a problem providing permanent housing.
And even if all of Montreuil's former camp-dwellers found homes tomorrow, the scheme will have helped only the initial families. Like other Roma "insertion projects" in France, it was never meant to be open-ended.
Montreuil does not want to be a magnet for squatters and has made it clear its temporary caravan camp will close soon.