The rise of drug overdoses in the US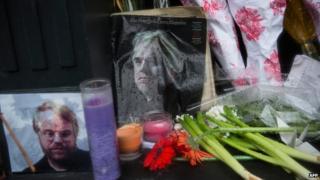 Philip Seymour Hoffman has become the latest celebrity to die from a drugs overdose, which is a growing problem in the US.
Between 2000 and 2010 the number of people that died from drug overdoses more than doubled from 17,000 to 38,000, according to the most recent figures from the Centers for Disease Control and Prevention.
In 2009, for the first time in US history, more people died from drugs overdoses than from traffic accidents or firearms, although that is partly because the numbers of gun deaths and road deaths are both decreasing. So what is causing this epidemic?
The data suggests the number of people overdosing from pharmaceutical - or prescription - drugs has trebled over that decade, just as the quantity of prescription painkillers sold to pharmacies, hospitals, and doctors' offices has quadrupled over the same period.
As a result in 2010, prescription drugs killed more than 22,100 people in the US, more than twice as many as cocaine and heroin combined.
Explaining the rise, Dr Len Paulozzi of the CDC says: "The use of opioid pain relievers has been increasing since the early 1990s and that increase has been driven by a change in the attitude of health care providers about the effectiveness of those kind of painkillers.
"Initially painkillers were reserved for people with terminal conditions such as cancer and what has changed is an increasing willingness on the part of the prescribers to use pain relievers for a variety of common but chronic conditions such as lower back pain or arthritis. There has been a parallel increase in overdoses involving that class of drugs."
There is also a huge black market for these drugs and in 2012, an estimated 12.5 million people reported using prescription painkillers without supervision from a doctor.
Interestingly, there is no correlation between the states that sell the most prescription drugs with the states that have the most deaths. For example, New Mexico has the highest number of overdoses but is ranked 32nd in terms of drugs sold. Oregon is ranked 4th in drugs sold but only 31st on death rate.
New York has tighter rules on the dispensing of prescription drugs than most other states and has a lower death rate.
"New York City in particular has become much more aggressive in terms of things like asking their providers to check the states prescription monitoring programme before they prescribe the drugs," says Dr Paulozzi. "They're mapping that data to establish where there are unusual patterns or excessive amounts of drugs being prescribed."
Looking at overdoses from illegal drugs, there is no geographic pattern. Virginia has one of the lowest death rates in the country but its neighbour West Virginia has the highest rate of all.
The data does show that some of the more rural, less populated states like Nebraska and the Dakotas have the lowest rates of drug overdose deaths - which experts attribute to accessibility and supply.
Hoffman had talked openly in the past about his misuse of prescription drugs, although it is thought that he died from a heroin overdose, just as the Glee star, Cory Monteith, did last year.
The number of heroin users in the US has doubled in the last five years and one reason is thought to be the rise in prescription drugs, because heavy users of pain relievers are more likely to start using heroin. And attempts to clamp down on the distribution of prescription drugs may have had an foreseen consequence.
"The DEA [Drug Enforcement Administration] has reported a dramatic increase in the amount of heroin being imported into the US across the Mexican border," says Dr Paulozzi. "It may be for some people who began using prescription pain relievers and became dependent on them that heroin is more available, more potent and cheaper than prescription pills on the black market."
This trend is in contrast to what's happening in Europe where heroin use is on the decrease in many of the 30 EU countries. Data also shows that the number of drug overdose deaths dropped by 20% between 2007 and 2012.
"The European trend is very much driven by what we see in the UK, Germany and Spain. They have seen a decrease in heroin use and overdoses," says Isabelle Giraudon, a scientific analyst at the European Monitoring Centre for Drugs and Drug Addiction.
"Smaller countries in Northern and Eastern Europe like Romania, Slovakia and Latvia have observed increases, however their weight in the EU total is very small."
Listen to More or Less on BBC Radio 4 and the World Service, or download the free podcast
Follow @BBCNewsMagazine on Twitter and on Facebook